The Japan Foundation, Moscow:Delivering Japanese Culture to Schools
The Japan Foundation, Moscow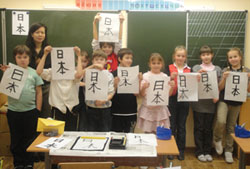 In order to bring Japanese culture close to children in Russia, the Japanese Culture Department "Japan Foundation" of the All-Russia State Library for Foreign Literature started in September 2009 to deliver lectures on Japanese culture to local schools. We ask experts on Japanese culture to hold demonstrations and workshops of ikebana (flower arrangement), tea ceremony, calligraphy, and origami. While some of these lecturers are Japanese living in Moscow, there are many Russian experts on Japanese culture in this capital city; in fact, lecturers of ikebana, tea ceremony, and origami are Russians. There are also Russian instructors of kendo, judo, karate, and aikido because these Japanese martial arts are very popular in this country. As a rare instance, there is a group of Russian musicians called "Waon" who perform traditional Japanese music.

In September 2009, we launched our official website and posted a call for application for workshop delivery to schools. It turned out that the number of applications immediately exceeded the quota of ten schools. After we closed the list, we received a number of inquiries about next call.
Workshops were delivered to nine schools between September to December 2009, receiving extremely good reactions from children and teachers. Origami in particular was the most popular subject; origami workshops were held at four out of nine schools. In the other case, children who hardly knew Japanese participated in a calligraphy workshop. Their eyes twinkled with amusement by looking at unfamiliar calligraphy tools, and they seemed to enjoy the lesson as drawing pictures rather than as writing characters. As in this case, most children participated in the workshops were not familiar with Japanese, while some had been learning the language. These delivered workshops were the first opportunity for many children to experience Japanese culture. They commented that these workshops made them familiar with Japan, the country that had been distant from them before.

We started the second call for application in this January, and ten schools have already applied. We would like to deliver Japanese culture to as many schools as we can.