The Japan Foundation, Sao Paulo:Pop Culture Overlaps with Traditional Culture
The Japan Foundation, Sao Paulo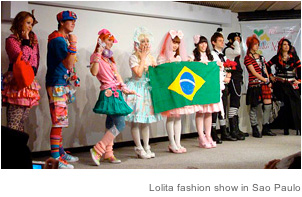 The year 2008 was the centennial of Japanese emigration to Brazil. Today, the population of Japanese descent in Brazil is about 1.5 million and the majority live in large cities. The society of Japanese descents in Brazil has tremendous influence over culture and economy of the nation comparing to those in other countries. Japanese immigrants have been successful in propagating and conveying a variety of Japanese traditional culture (music, folksongs, and performing arts) to their children. Meanwhile, another trend emerged in the 1980s when interests in contemporary Japanese culture including anime and TV games surged among the younger generation. Since then, such contemporary Japanese culture (pop culture) has been overlapping with the cultural basis that was inherited from Japanese immigrants.

TV and personal computers are the major media for propagating Japanese pop culture in Brazil. There are over 1000 social networking service (SNS) communities for anime, manga, and costume play in this country. Moreover, 175 anime-related festivals are held throughout the coutry, and the majority of them are organized by non-Japanese-Brazilians. These festivals attract the audience of about 50,000 on average, resulting in the estimation that about 10 million people nationwide participate in events related to Japanese pop culture. This figure accounts for almost ten percent of the entire population, and 75% of the participants are the youngsters in the 10-22 age group.

The Japan Foundation, Sao Paulo has been organizing pop culture activities to promote the younger generation's understanding of Japan. As part of such efforts, we hosted two projects in a row. In October, we invited Ms. Mitsuko Horie, leading singer of anime songs, to hold lectures and demostrations in Sao Paulo, Manaus, and Belem. When she sang good old anime songs in particular, many in the audience seemed to be immersed in memories of their childhood. From late November to early December, Ms. Misako Aoki, who was commissioned by Japan's Ministry of Foreign Affairs as one of Japan's "Trend Communicator of Japanese Pop Culture" or "Kawaii Ambassadors"; and Mr. Takamasa Sakurai, contents & media producer, visited Brazil. They toured Sao Paulo, Rio de Janeiro, Recife, and Brasilia to hold lectures on Japanese anime and Lolita fashion shows. In addition, they actively participated in a local pop culture event and Japan Festival to introduce Brazilian audience to the new aspects of Japan.