The Japan Foundation, Toronto:When a Tree Comes to Life : Book Reading Campaign and Book Tree Project at the Japan Foundation Toronto Library
The Japan Foundation, Toronto


Spring came. The sun shone. Trees grew.

There was one tree at the Japan Foundation Toronto (JFT) Library which grew on the enthusiasm of their patrons.

For the past few years, the JFT Library has been striving to serve our Canadian patrons better by having Saturday openings, extended library hours, increasing our collection, coordinating events and offering friendly service. In 2010, when spring came to life and through to the end of the hot summer (May 21st to September 7th), we hosted our first "Book Reading Campaign" and "Book Tree Project" at the JFT Library.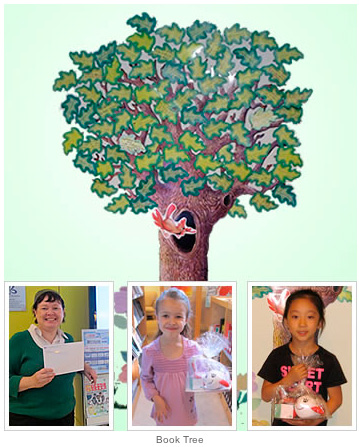 The book campaign and tree project was initiated to encourage reading and allow patrons to share their favourite books with others. With every five books or ten mangas borrowed, patrons received a ballot to enter a draw for a chance to win one of twenty-five prizes. Upon returning the books, patrons were given tree leaves to write comments about the books which they have read; thus, the tree bloomed and knowledge flourished. With the support and generous prizes from various public organizations and private sectors such as Japan Airlines, Japan National Tourist Organization, The Gardiner Museum, The Royal Ontario Museum and also, the Japan Foundation Headquarters in Tokyo, the project was a great success. As a result, the number of books checked out and visitors both increased by thirteen percent for the months of June, July and August in 2010, as compared to 2009.

When asked to comment on the most exciting part of the project, one participant said, "The more books I read, the more ballots I can get!" Another patron said, "I wanted to read the manga 'A Drifting Classroom' after reading the comments on the Book Tree leaves." One participant wrote on the leaf that, "I recommend to anyone who is studying Japanese to use the 'Japanese Graded Readers' book and CD sets".

The number tallied over one hundred sixty ballots and there were twenty-five lucky winners. Winners were determined by a draw on September 16th, 2010, performed by Mr. Masayuki Suzuki, the director of the Ja pan Foundation Toronto. Congratulations again to our winners.

Here at the JFT Library, we are aiming to provide a user-friendly library for individual and group visitors and we are looking forward to having more book-related events in the future.