The Japan Foundation, London:Back to Basics: Introducing Contemporary Japan through Food, Clothing and Shelter
The Japan Foundation, London


Once, the three most widely known symbols of Japan were the kimono, "Fuji-yama", and geisha. Nowadays, it seems that contemporary Japan is symbolised by pop culture such as manga, anime, computer games and fashion. As the old images representing Japan have been replaced by new ones, interest in Japanese culture overseas has also broadened to involve large numbers of the general public, including young people. As we seek mutual international understanding through cultural exchange, there is a constant need to provide new approaches that take into account these differences of generation, social environment, and the varied likes and interests of individuals.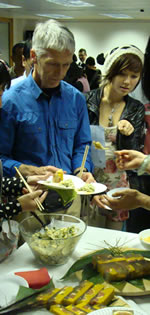 How to get more people interested in Japan? How to lower the threshold to Japanese culture, as it were? Here at the Japan Foundation in London, we thought that one way might be to use the basic elements of human life: "food, clothing and shelter", and in particular food and diet, as a starting point to bring people into contact with, and give them a taste of, Japan. So it was that last year we implemented a number of projects incorporating the idea of "food".

One of these events was the lecture on "Shojin Ryori" (Sept 16th, 2010) given by shojin ryori expert Toshio Tanahashi who joined us from Japan. There are countless restaurants serving Japanese food in London, and it seems that Japanese food has acquired the dual image of on the one hand being a high class, healthy cuisine served in elegant surroundings, and on the other having a casual menu and popular appeal. Even so, a lecture on the philosophy, ingredients and techniques of "Shojin Ryori", accompanied by a tasting session, was something out of the ordinary and went down very well. I think our new approach succeeded in giving people an intimate taste of Japanese food culture.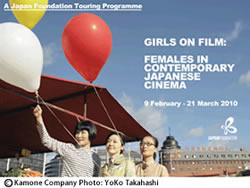 Last winter's touring film programme which made its way around the UK featured in its line-up the film "Kamome Diner" (Kamome Shokudo). Set in a small Japanese restaurant in a European town, it depicts the friendships that develop between the Japanese and European people who gather there, through the bonds established by food. In December, the film "The Chef of the South Pole" (Nankyoku Ryorinin) was screened as part of the "Premiere Japan" film festival, held jointly with the Japanese Embassy. Then, with the New Year came "Taste of Japan," a taster day of food-related Japanese language and culture, held at the end of January.

Last September, "Japan Matsuri" was held in London for the second year running, attended by fifty thousand visitors. The autumn also brought "Hyper Japan": a festival aimed mainly at young people. The Japanese food stalls proved extremely popular at both events, amply demonstrating the appeal and allure of the basic element of "food".

As for "clothing", the exhibition "30 Years of Japanese Fashion" has been running at the Barbican Centre since last autumn.

In the area of "shelter", Vicky Richardson, editor of a specialist architecture and design magazine, gave a lecture on contemporary Japanese architecture and led a conversation with Sohei Imamura, an architect from Japan in January 2010, and in December we held a lecture on Japanese houses featuring former Japan Foundation Fellow Dr. Inge Daniels. Dr. Daniels is also involved in an exhibition called "At Home in Japan" to be held from March to August 2011 at the Geffrye Museum, known for its displays of real and recreated interiors.

In the realm of public buildings, architect Kuma Kengo made the news when he won the competition to design the Victoria & Albert Museum's branch museum in Scotland.

As contemporary society becomes more and more segmented, the three elements of "food, clothing and shelter" remain the basics of our lives. I hope we can continue to value these basics, all the while searching for unique ways of looking at them.