What Can Art and Culture Do for Peacemaking?--Exploring the possibilities of collaboration between art, culture, and academia
Yasuhiro Takehara
Asia and Oceania Section, Japanese Studies and Intellectual Exchange Department
The international symposium "Reflecting Conflicts Through Cultural Initiatives: Perspectives from Southeast Asia," co-hosted by the Goethe-Institut, the Japan Foundation and the Bangkok Art and Culture Centre, was held in Bangkok, Thailand, on July 18 and 19, 2011.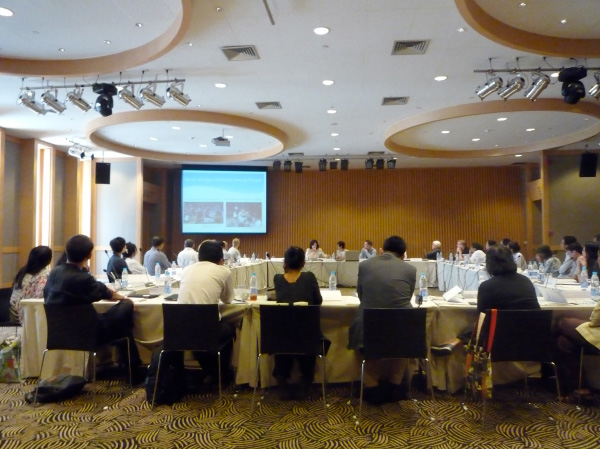 The symposium in progress
The symposium provided an opportunity to discuss whether culture can contribute to peace-making in the wake of conflict, and, if so, what specific role it can play. For many years, the Japan Foundation and the Goethe-Institut have offered cultural exchange programs, including Japanese and German language programs, for people in Thailand. Recently, though, I have noticed that many people no longer enjoy the peaceful lifestyle that would allow them to join such programs. Much of the cause can be attributed to political and economic imbalances, the effects of which are now becoming apparent in the form of various social conflicts. Similar situations, of varying degrees of severity, can be seen in Thailand's neighboring countries too. Bearing in mind that the symposium would approach the problem, not from a political perspective, but from the perspective of the relationship between various cultural activities and people, and taking advantage of Bangkok's location as a regional hub for Southeast Asia, a total of 33 people from different countries who are deeply involved in art and culture gathered at the Bangkok Art and Culture Centre to share information and opinions.
Even though the symposium didn't intend to send a political message, the connection between culture and peacemaking obviously becomes clearer in a politically-charged context. Therefore, the first half of the symposium was devoted to keynote speeches by three researchers in international politics, A. Croissant, T. Meyer and Akiko Fukushima. I was particularly impressed by Croissant's remark that there are conflicts that appear to be cultural struggles because language, religion, or other cultural elements are referred to in such a way as to mask the real causes of the conflict. Meyer said that democracy is an exceptional system in that it regards culture as dynamic and can be tolerant of any culture, and stressed the value of civil rights as a means of extending that democracy in tangible form to every individual. Fukushima presented some case studies to examine the feasibility of "healing" cultural programs that provide a shared time and place for dialogue. She also pointed out some of the limitations and other factors that must be taken into account, such as political pressure and local needs.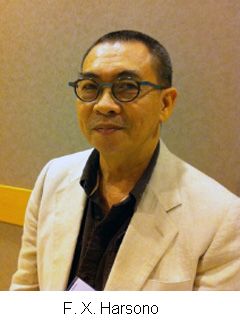 After the three keynote speeches, 21 professionals from different fields, including an illustrator, a painter, a singer, a journalist, a curator, a graphic designer, an architect, a writer, a poet, a photographer, an actress, a political scientist, and a sculptor, got together to talk about what artistic activities they had been involved with in the aftermath of conflict, and what impact their activities had had. I was struck by the following comments by F. X. Harsono, an Indonesian artist with distinctive round glasses and a genial manner: "Under the Suharto administration, not only was art neglected, but during the time of China's Cultural Revolution, Indonesians of Chinese descent were forced to adopt Javanese names, signs written in Chinese disappeared from the streets, and we couldn't celebrate the traditional Chinese New Year. When I showed the video performance 'Rewriting the erased name,' in which I recalled my childhood memory of the name change, I realized that, through the act of reclaiming my real name, I felt for the first time in my life a sense of liberation, and pride in myself, whereas until then, I had felt like a second-class citizen in Indonesia."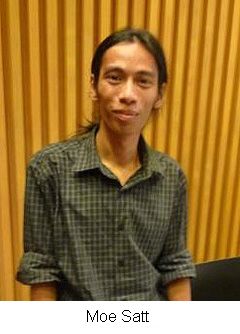 Moe Satt, a Burmese artist wearing a gentle smile on his lean face, talked about the annual festival "Beyond Pressure," of which he is founder and director. I was surprised to learn that his major in college was zoology. He spoke to me between the sessions, his face full of hope, saying, "I think it is important for people in Burma and elsewhere to show, through our bodies, our determination to transcend the pressure that limits human action and development, and also to present an image of what a world 'beyond the pressure' would be like."
Every year, Satt has to submit detailed information about the festival and its participants to the authorities more than three months prior to the event. Sometimes guest artists from abroad are refused permission to attend. Acting with courage and flexibility, Satt carries on despite these daunting experiences. It is no wonder that the audience was captivated by his words.
In addition to those I have mentioned, there were many other fascinating artists and researchers among the participants. Lively conversations broke out here and there during the breaks, and there was literally an artistic happening when Wen Lee, a Singaporean artist, took out his guitar and began to sing. Unfortunately, I wasn't able to jot down his improvised lyrics, but I have the impression that it started with the word "culture," and must have been inspired by the day's discussion.


Left: The venue: the Bangkok Art and Culture Centre Right: Lee's impromptu performance during the break
Looking back on the two-day symposium, I am struck by how many favorable comments I heard from both sides about how the event was conducted, with academic and theoretical frameworks presented by the researchers, followed by the artists explaining their activities from the perspective of lived experience. I believe the positive comments were due to the stimulation each side felt as a result of learning from a perspective different from their own.