Message from Kuwait Book Fair: "I love Japan!!"
Yuko Tachibana
Film, TV, and Publication Section, Arts and Culture Department
Japan exhibited at the Kuwait Book Fair for the first time in 2011, as the event marked its 36th year, and Japan and Kuwait celebrated 50 years of friendship.
An international book fair is a trade show for books where publishers and other groups from around the world set up booths to display and sell their wares. The Japan Foundation, in collaboration with the Publishers Association for Cultural Exchange, participates in 10 to 15 book fairs in various regions every year. With the help of Japan Foundation centers overseas, and local Japanese embassies, we open Japanese booths in order to share our culture with the world via the printed word. Japanese books are hard to come by in many of the countries where the Japan Foundation participates in these fairs, so local Japanophiles flock to the booth every year. The booth is especially popular with young people who are interested in the Japanese language and manga comics.
This year was no exception, with numerous visitors, most of whom expressed great delight, saying, "When I heard that Japan would have a booth here for the first time, I was really excited about coming to see it."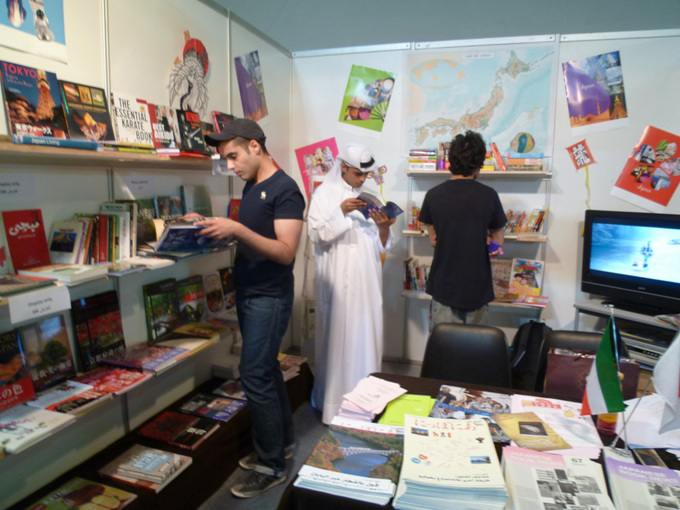 The display was full of variety, including texts in Japanese, English, and Arabic, but the most popular, of course, were the manga. We set up an eye-catching display in the back of the booth, where people could browse at their leisure. However, when we opened, we noticed that visitors hovered outside the entrance, and peered at the books from a distance. We asked a student about reading habits in Kuwait, and he explained that it is not customary to read books in bookstores; in fact, it is considered akin to stealing information. Instead, when people go to a store, they quickly pick up the book they want, and take it straight to the cash register. Cafes, too, are seen as places to get together with friends and enjoy conversation, rather than to sit and linger over a book as we tend to do in Japan. So many people in Kuwait look forward to the book fair as a once-a-year opportunity to take their time looking over the bookshelves. After we heard that, we hired some exchange students to help us greet visitors to the booth, and to encourage the remarkably shy Kuwaitis to come in and read, not just the books out front, but the ones inside as well. Although they were hesitant at first, eventually a lot of people came into the booth, picking up the titles that appealed to them, and slowly looking through them.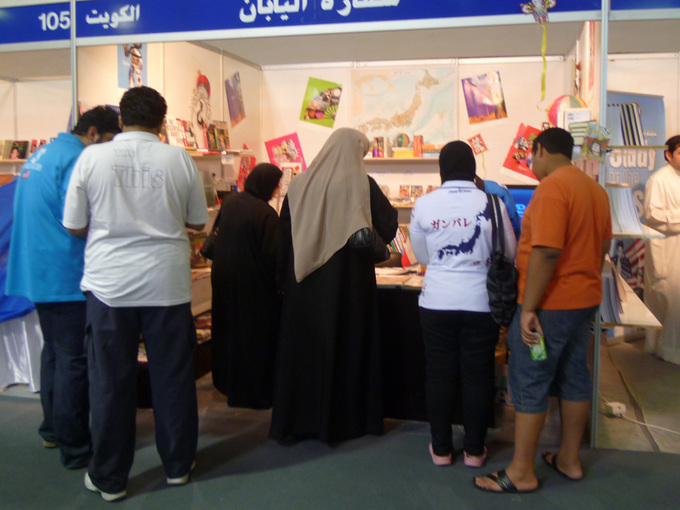 A visitor to the booth wears a polo shirt bearing the slogan "Gambare Nippon" (Stay strong, Japan!)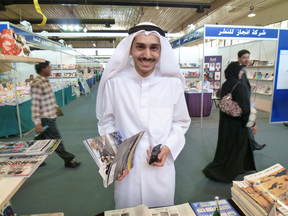 This smiling young man loves Japan, and visited the booth time after time during the fair. He is particularly keen on Japanese singer Mai Kuraki, and took out his iPhone to play us one of her songs.
When we sang along, he was absolutely thrilled, and hummed along with us, playing one new song after another. We asked how he came to be a fan of Mai Kuraki, and he explained that ever since he'd heard her sing the theme song for Meitantei Konan (Detective Conan), he'd been buying her CDs as soon as they came out. It seems that children in Middle Eastern homes have been watching Japanese cartoons on TV for years. Everyone knows Captain Tsubasa and Chibi Maruko-chan; One Piece, NARUTO, and Slam Dunk are quite popular too.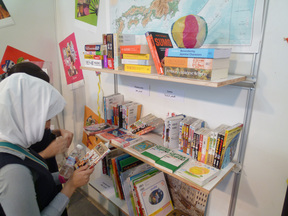 This little girl is a big fan of One Piece, and when we told her that we had some of the manga, a grin spread across her face and she made a beeline for the comic section. It was really cute to watch her holding the manga and leafing through it page by page, even though she couldn't read the Japanese. She couldn't believe she was actually holding the original of her favorite cartoon in her own hands, and, unable to contain her joy, hopped up and down, squealing, her whole body bursting with delight. Her companion was a girl who had gotten interested in Japanese because of manga, and told us happily that she had already started teaching herself the language using the website "Erin's Challenge! I can speak Japanese." She introduced herself in Japanese, and when we told her she was cute, she thanked us shyly, saying "Arigato" with a really sweet smile.
Every single person who visited the Japanese booth was truly fond of Japan, and said very nice things like "I want to visit Japan someday," or "I'd like to study Japanese." They were all saddened by the earthquake, and it warmed our hearts when people would make a special trip to the booth to ask seriously what they could do to help Japan. Feeling such passion for Japan in far-away Kuwait, we can only hope that the ties between our countries will deepen even further in the future, as we celebrate the 50th anniversary of our friendship.
36th Kuwait Book Fair
Date: October 19 - October 29, 201
Participants: 22 countries (of which 13 are from the Middle East)
Publishers: 518 companies


Left: Ambassador Komizo presents Kuwait's Commissioner for Cultural Affairs with a Basic Japanese Learner's Dictionary
Right: The Japanese Booth


Left: An all-girl group of elementary students arrives by bus
Right: A bookstore in the city of Kuwait agreed to carry the Basic Japanese Learner's Dictionary


Left: Elementary school children ask to have their names written in Japanese
Right: Exterior of the exhibition space


Left: Four days before the exhibition, there is not a trace of the display. (The long booth on the left is Saudi Arabia's.)
Right: How the Saudi booth looked four days later.


Left: The United Arab Emirates booth. They went to great expense compared to the other booths.
Right: A little boy makes a point of coming back to the Japanese booth to try a kendama toy.