Report on Overseas Performances in Mexico and Peru by Okazaki Art Theatre
2020.10.26
Shinohara Yukari
(Performing Arts Section, Arts and Culture Department, The Japan Foundation)
In December 2019, the Japan Foundation sponsored a Latin American tour by the theater company Okazaki Art Theatre, led by playwright/director Kamisato Yudai. Mr. Kamisato's great-grandparents migrated to Peru from Japan during the Taisho Era (1912-1926), and he himself was born in Lima, Peru. Mr. Kamisato has created numerous plays that grapple with themes of immigration and crossing borders. In 2018, he was awarded the 62nd Kishida Prize for Drama in recognition of his work based on his experiences in South America. His plays had previously been presented worldwide, including in Australia, Belgium, France and Indonesia. However, this tour was particularly noteworthy in that it marked his first performances in Latin America.
The featured production of the Latin American tour was +51 Aviación, San Borja, a tale of a young Japanese director. Together with the ghost of Sano Seki - who worked in Tokyo during the Taisho Era, subsequently fled to Mexico and came to be revered as the "father of Mexican theater" - the protagonist journeys to Tokyo, Okinawa, and Peru, where he is finally reunited with his grandmother.
The tour itinerary followed in the same footsteps as the characters in the play, with performances in Mexico and Peru following rehearsals in Tokyo and Okinawa. Mr. Kamisato's grandmother, who currently resides in Lima, also came to watch the performance. I oversaw this program for approximately nine months, from the pre-production period searching for venues and conducting surveys, to the actual tour where I accompanied the company on their two-week journey. Here is my report on how the performances were received and the reactions of local residents.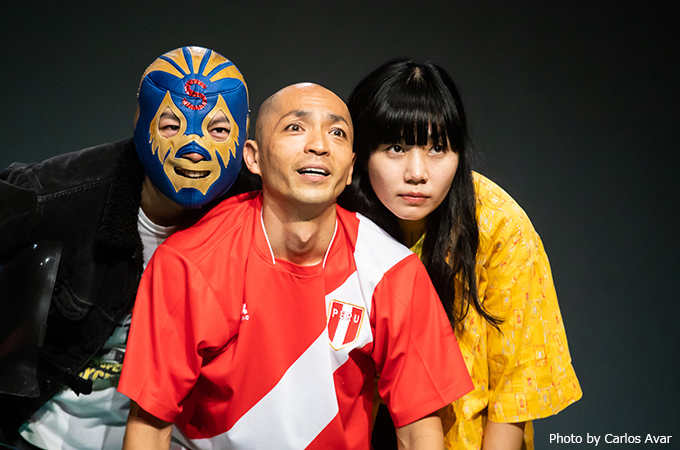 +51 Aviación, San Borja cast: (from left) Neji Pijin, Fukunaga Takefumi and Inatsugu Miho (Benito Juarez Theater in Mexico City)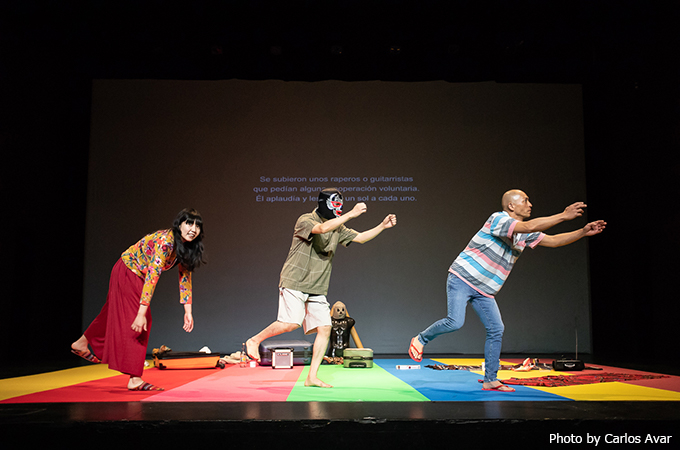 The performance highlighted unique theatrical elocution and physical expressions. (Benito Juarez Theater in Mexico City).
●Mexico
Mexico City is approximately 14 hours from Tokyo via direct flight. With the performance just three days from our arrival, our physical condition was completely off-kilter because of altitude sickness and jet lag. At the airport, all of our props underwent strict customs inspections, which meant that the production staff had no choice but to hurry straight to the theater without taking a rest. At the venue, we met with the Mexican theater staff and immediately rushed to set up the stage.
Although I had been exchanging emails with the theater's production staff for half a year, there were quite a few issues I learned about only after arriving at the actual venue. I moved ahead with preparations by discussing details closely with the stage managers and the sound and lighting crews on both the Japanese and Mexican sides. The Mexican staff were extremely supportive. "If there are any problems, don't hesitate to tell us," they said. If something was missing, the stage manager himself would run out to buy what we needed. I learned later that the Mexican staff had been looking forward to working with their Japanese counterparts. The Mexican staff were delighted and lined up when we asked their permission to write out their names in Japanese on masking tape and attach it to them.
Meanwhile, Mr. Kamisato and the three actors headed off to a press event sponsored by the theater. Their upcoming performance of contemporary Japanese theater was covered by numerous media. Amid a flurry of questions such as, "What's the connection between Japan and Mexico?" and "What are your thoughts on Sano Seki's production methods?" it was Mr. Kamisato's theory on theater and the enthusiasm of the actors that attracted particular attention.
Mr. Kamisato explained that "drama is born the instant a change occurs when someone receives a message from somebody else." He added, "I produced this work as a 'message' that would spur people's imaginations about Japanese immigrants, who are now becoming a distant memory in Japan. For this reason, I believe the audience, as the recipient of the actors' message, is actually the protagonist of this play. I hope the audience can experience a broad sense of "crossing borders" from the dual perspectives of both people who migrated and those who couldn't."
The actors also described their thoughts about performing on stage as messengers. The three actors cast for the tour hail from different geographic regions and theater scenes. All of them were making their first visit to Latin America. The actors revealed their aspirations, saying, "Although our lines will be subtitled in Spanish, I think there are numerous ways to communicate our message to the audience through the sound of the Japanese language and our physical movements." They added, "We want the audience to enjoy with us the journey of 'I' who serves as the navigator and Sano Seki."
Theater productions with themes about "crossing borders" are popular in Mexico, where there is a shared border with the United States. The performance attracted a wide-ranging audience that included Hugo Salcedo, director of The Crossing which depicted the tragedy of Mexican immigrants crossing the border in a truck.
Following the performance, spectators offered their comments. "The performance was abstract yet very complex and stimulating. It sparked my understanding of a different culture." Another spectator noted, "This is a very important theme. Immigrants involve all of us." Mr. Salcedo also praised the performance, "The story of Japanese immigrants is barely known in Mexico, so it was fresh and absolutely fantastic. The actors and director were superb and expressed complex emotions in a subtle way. The cross-border theme is well-suited for theatrical exchange between different countries. I look forward to seeing more work by Mr. Kamisato."
Many in the audience lingered in their seats and exchanged their impressions until the venue closed. The performance seemed to have conveyed a breadth of messages to the audience in Mexico, where recent international circumstances such as immigration issues have shaken the country.
●Peru
After the performance in Mexico finished in a resounding success, we travelled to Peru on an approximately six-hour flight. Though both cities are situated in Latin America, Lima has a lower altitude and higher average temperature than Mexico City. The most noticeable difference between the two cities, however, was the presence of Japan in Lima. Streets are filled with Japanese restaurants. When people exchanged business cards, we often found them bearing Japanese surnames. This should come as no surprise. Peru has an ethnic Japanese population of approximately 100,000, the largest number of ethnic Japanese in Latin America after Brazil. Even among the Peruvian staff at the theater and the media who came for interviews, there were more than a few people with Japanese relatives or partners, and we were welcomed warmly. In contrast, contemporary Japanese culture in Lima is limited, so there was a keen interest in a performance of contemporary Japanese theater. The theater staff were very supportive in Lima as well. With the performance approaching in three days, preparations took place from morning till night.
In the days leading up to the performance, we visited the Ryoichi Jinnai Recreation Center, a symbol of the kinship with the ethnic Japanese community in Peru. The Center, which also appears in the play, is a so-called daycare service facility that is frequented daily by more than 100 elderly persons, primarily second-generation ethnic Japanese. When we visited the center, I felt like we were in Japan, and yet the conversations were in a mixture of Spanish and halting Japanese, greetings were made with low bows interspersed with hugs and kisses, and many of the nurses were Peruvian. Despite this scene full of contradictions, the cultures of both countries appeared to blend naturally into one without any discomfort. The actors made their rounds exchanging greetings as they sharply observed the actual scene encountered by "I" in the play. The elderly smiled when interacting with the young actors who had journeyed from afar to play the roles of their ancestors.
At the performance, along with local theater aficionados, the audience included those with some connection to Japan, such as staff from the Ryoichi Jinnai Recreation Center. Among those present was Mr. Kamisato's grandmother herself, who arrived in a wheelchair. In the play, "I" comes to visit "Grandma," who lives in Lima and watches Japanese morning dramas in the evening and the noontime amateur singing contests at night. In one scene, she proclaims, "I wish I could visit Okinawa again, but I don't think I can. I'm too old. I've given up." I was very moved by the sight of the audience listening attentively to these distinctly rhythmic lines. Laughter and applause emerged from the audience in scenes describing the "reckless driving of Peruvian drivers" and "homeless adorned in Inca traditional clothing."
These portrayals were from the unique perspective of Peruvian-born Kamisato. Despite being purely fictional, they also had the persuasive power of being aligned with reality. Audience members gave their impressions of the performance. One spectator commented, "With a language barrier, this work was a challenge, but seeing Peru through the eyes of their culture and having the opportunity to experience contemporary Japanese theater were refreshing." Another audience member said, "The performance was very interesting. This was the first time I've watched Japanese actors perform and I thought it was a marvelous interpretation. I like Peru as seen from their perspective." Finally, another viewer added, "I thought the direction was interesting. I learned much about Japanese culture and empathy. I would like to learn more."
At a post-performance talk session, Mr. Kamisato was asked, "How does your connection with Peru influence your work?" He responded, "Although I'm a descendant of Japanese immigrants who settled in Peru, I was raised in Japan so there's a distance. However, I think it's important to cherish that distance." Perhaps Mr. Kamisato is able to deliver such a strong message precisely because he is an outsider.
The artistic director of the theater also sent a congratulatory message. "To my knowledge, this is the first time a Japanese contemporary theater has performed in Peru, so this is a remarkable achievement." Peru's leading newspaper El Commercio selected this work as one of the best dramatic art productions of 2019.
Immediately after the tour, Mr. Kamisato recounted his experience in Peru as follows. (To see the full text, please refer to Mr. Kamisato's blog post dated December 29, 2019.)
Lima, the capital of Peru, is where my 91-year-old grandmother lives. Lima is also home to the Ryoichi Jinnai Recreation Center (a daycare facility), which appears in the play, as well as Aviación Street in the San Borja district, from which the play takes its title. The staff who welcomed us were enthusiastic and the venue was more compact than in Mexico City. Above all, it appeared the actors' bodies reacted differently to the decrease in altitude and the high humidity. In Lima, we received a response that was different from anywhere else I have presented my work. When one of the actors started talking about the city of Lima, the audience, who seemed to be watching with skepticism up until then, leaned in and laughed. They commented that their awareness had shifted after watching the play and that they could see their own city from an outside perspective.
I am not yet ready to write much about the Lima performance. On the final day, staff from the Ryoichi Jinnai Recreation Center, my grandmother's friend Isabel (who also appears in the play) and my grandmother all came to see the show. Even though the play is based on my own personal experience, I believed I handled those episodes as I would just another element while creating a work of art. However, I became emotional during the scene in Okinawa.
My grandmother was sitting in the front row. She didn't seem to understand she was the inspiration for the story. However, the people from the Ryoichi Jinnai Recreation Center congratulated my grandmother in chorus. When I completed this work five years ago, I never could have even imagined that this was going to happen.
In the play, there is a line, "My grandmother says she heard Japanese bread is delicious. I'd like to bring some next time, but it'll probably be difficult." As it turns out, instead of bread I brought this play. In the end, I didn't get to hear my grandmother's impressions on the play. After five years, here in Lima I was overcome with emotions I couldn't quite explain.
Here I am, feeling sentimental and also confused. I can't put it into words, but this play has been fully developed in happiness.
I don't know whether I'll stage this work again. However, the play was very well received here and there is now talk of a possible new project in Lima. I leave the things I cannot express in words as they are and look forward to creating and presenting new work around the world.
On the final day of the tour, a local artistic director made Mr. Kamisato an offer to collaborate on the creation of a new production using Peruvian actors. There are hopes that Mr. Kamisato will play an increasingly active international role in the future as an up-and-coming director bridging Japan and other countries.
Internationalization is movement. The movement of people and information tends to be associated with the concept of starting and ending points, an inside and an outside. But these boundaries are extremely vague. At the same time, there are some things that come into focus only by being aware of boundaries. Interacting with the cultures of other countries also involves learning about oneself, and these intercultural exchanges enrich people. The process of realizing international performances itself is the essence of international exchange. The curtain rises only when there is a sense of respect among all people surrounding the stage, including not only the audience but the staff of both countries. This made me feel many possibilities in this endeavor. I hope that theater exchange between Japan and Latin America, and ultimately exchanges with the entire world, will flourish further in the future.
References: Theatre Yearbook 2019 Mexico: Theater That Crosses Over the "Wall" (Centre of International Theatre Institute (ITI/UNESCO) pub.) by Yoshikawa Emiko, Professor, Department of Hispanic Studies, Sophia University.

Okazaki Art Theatre  https://okazaki-art-theatre.com/en/
Founded as a group for staging theatre productions directed by Kamisato Yudai in 2003, Okazaki Art Theatre has participated in Festival/Tokyo for three consecutive years from 2010 to 2012. The company performed Hemispherical Red and Black at the Taipei Arts Festival in 2012, and has held numerous overseas performances. In 2016 the company was invited to perform +51 Aviación San Borja at the Sydney Festival in Australia, Kunstenfestivaldesarts in Belgium and Festival d'Automne à Paris in France. In July 2020, the company participated in the Festival Theaterformen 2020, an international performing arts festival held in Braunschweig, Germany (held online).