Hatsune Miku, the New Social Phenomenon
Hiroyuki Itoh
CEO, Crypton Future Media, INC.
Virtual singer Hatsune Miku is a "VOCALOID," or vocal android, sold by Crypton Future Media, INC. Since her launch in 2007, she has become a sensational hit not just in Japan but also overseas, and the much-awaited English version will be released in the summer of 2013. In this article, Hiroyuki Itoh, the creator of Hatsune Miku, talks about what is happening at the forefront of this music software technology that has become part of our cultural content worldwide.
Lecture by Developer of Hatsune Miku, Demonstration of Enshu Tea Ceremony, and Screening of Doraemon
---
"Offers come in from abroad every day"
Requests for Hatsune Miku concerts come in from all over the world. Most of them are from countries I've never been to, so I'd like to visit as many of these places as I can.
One of the concerts overseas that left a strong impression on me was the very first time we showed Hatsune Miku outside of Japan.
This was in 2010, when we held a screening of the concert "Miku no hi daikanshasai (Miku's Big Thank You Day)" at the New York Comic Con. The concert hall was already packed when I arrived there, and there was a long line of fans who couldn't get in, so we quickly opened another venue for these people.
And in 2011, Miku performed her first live concert at the Nokia Theatre during the Anime Expo 2011 in Los Angeles. Tickets were sold out in two weeks, so we arranged additional seats to make a total of 5,000. This made me realize that Hatsune Miku was far more widely known in the U.S. than I'd imagined.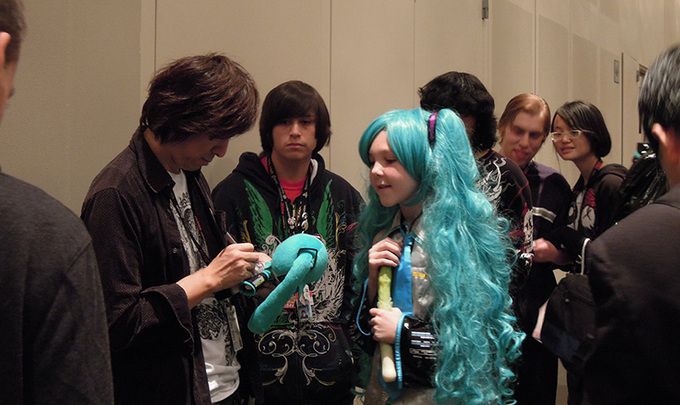 At the New York Anime Festival

Keynote speech at the Anime Expo 2011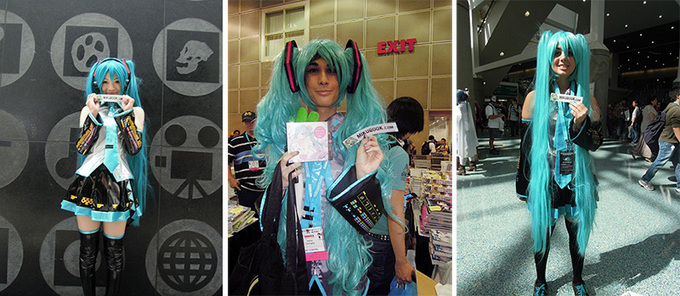 Hatsune Miku cosplayers (people who dress up as characters of anime, manga, game, etc.) at the Anime Expo 2012
The most recent concerts were held in Taiwan and Hong Kong in October 2012, drawing 7,000 and 6,000 fans respectively. We've held a concert in Singapore as well. Hatsune Miku is more popular in Asia than in the U.S. In Hong Kong, most of her fans are in the junior-high and high school age group, while in Japan, middle-aged men make up a large segment, and Taiwanese fans fall somewhere between those two.
After a concert in Hong Kong, a female student from Beijing came up to me to tell me she'd ridden 30 hours on the train just to see Miku's concert. And she would ride another 30 hours back to Beijing the next day. Now, that made me really happy.
These days, for some reason, we received a lot of offers from places near Russia, such as Kiev in Ukraine. Many people think that electricity is all you need to put on a Hatsune Miku concert, but of course you need much more than that, and the cost is considerable, so unfortunately we can't say yes to every request that comes in.
At concerts everywhere around the world, the fans hum the phrases of the songs and sing along in Japanese. Every time I see this happening before my very eyes, I realize that, in a way, we are promoting Japanese culture to people overseas. At performances abroad, we try to incorporate the works of local creators into our concerts, by adding a song to the album, or using a drawing for the poster. For example, when we released a CD in Taiwan, we used an illustration drawn by a Taiwanese high school girl. We try to involve as many local people as possible in order to add to the aspect of international exchange.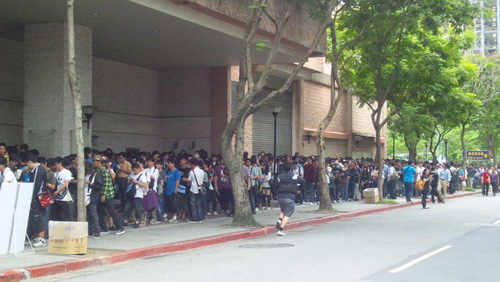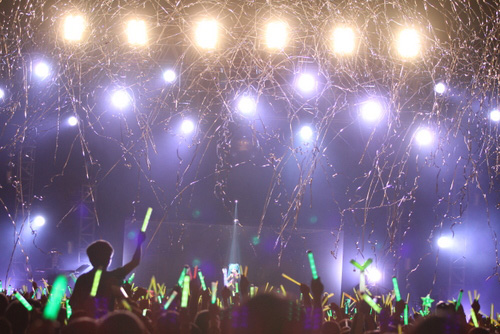 The concert at Taiwan was packed with 7,000 fans.
The birth of "Hatsune Miku"
It's been 18 years since I started up a company specialized in computer music. I myself used to make electronic music too. VOCALOID refers to a singing voice synthesis technology developed by Yamaha Corporation and the name of its application software: to put it simply, it's music software that creates a singing voice when a melody and lyrics are typed in.
In the meantime, there is a technology featuring "virtual instruments," which allows you to play musical instruments like the piano or drums, or even have orchestra play music by using a computer.
I'd wanted to use a "singing voice" as a virtual instrument, and VOCALOID was a perfect fit for that. That's how a "singing voice" became part of our product lineup and eventually led the way to the birth of Hatsune Miku.
We used the illustration on the package to appeal to consumers with the idea of a singing persona--we thought the concept of "a singer inside the computer" would be easier for people to understand. Using the visual image of the "real" person who supplied us the voice samples would have been too vivid, so we decided to use an anime character.
The first software named "MEIKO" was made in 2004. Since it was received well, we created a more sophisticated character that became "Hatsune Miku."
We've developed other products since then, but Hatsune Miku is still the most popular.
Changes in values
So how do I see Hatsune Miku's phenomenal popularity that's spreading all over the world? Traditionally, content has been created by professional artists or creators, promoted by companies, advertised by the mass media, and finally distributed and sold by retailers. This applies not only to anime but also to music; music starts as a product. It lands on shelves in a package designed by the company to sell what's inside. It's protected by the law so that pirated copies won't be made, and the regions for distribution are set: for example, Japan or North America. This is a business model based on the convention of paying a price in exchange for a product (replica). The method of sharing products on the Internet, and having them spread throughout society, did not exist.
But the starting point for the content and music of the VOCALOID differs completely from that of existing business models, and the way of producing things is totally different too: here, people make their own music for fun and share it on the Internet. The songs aren't originally composed with business in mind.
In this Internet era, one's personal information can easily travel around the world. Thus, the message that an author wants to convey spreads all over the globe as content on the Internet; this, I believe, has become a radically new form of creation.
A song written by a consumer comes to be included in the list of karaoke songs, and then it's played at concerts and attracts people. This is a new marketing scheme using the Internet which I think will spread more and more. And what started this is none other than Hatsune Miku.
We are now experiencing a social transition where people's values are changing. Values are diversifying, the way people think about money is changing, and I now sense the beginnings of an economy that isn't based on capitalism but on a different motivation.
And in that sense, I believe soft content will become very important. Take, for example, something that can be represented by the "Like" button on Facebook. The number of "Likes" is a barometer of popularity and of your feelings as well. No one has spoken out loud about the importance of these emotional barometers yet, but in the times ahead I think that values based on the heart will become increasingly significant.

Video from "Miku no hi daikanshasai (Miku's Big Thank You Day)"
(Photos: Crypton Future Media, INC.)
(Interviewed and edited by Kanae Rachi, the Japan Foundation Information Center)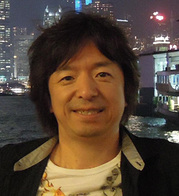 Hiroyuki Itoh
CEO of Crypton Future Media, INC. Born in 1965 in Hokkaido. Founded Crypton Future Media, INC. in 1995 at Sapporo. The company now has over 50 business partners in the U.S., Europe, and other countries around the world, and sells over a million sound contents based on the licenses in Japan. The company's team philosophy is "Expressing ideas with sound.
Japan Expo
2013 in France
Lecture by Developer of Hatsune Miku, Demonstration of Enshu Tea Ceremony, and Screening of Doraemon
cosplay
Hatsune Miku Project Diva