Persisting Inclusive Peace Process: A Fresh Thinking
Lahpai Seng Raw
Founder and Former Director, the Metta Development Foundation


Myanmar marks the third anniversary, in 2014, of its transition from military rule to a nominally civil government. Nevertheless, Myanmar still has a long and difficult road ahead of it before achieving democratization in its truest sense, with challenges including constitutional reform, issues concerning ethnic minorities and religious conflict. While interest and support from the international community continues to be important, the efforts and tremendous sacrifices, with which Myanmar citizens have sought brighter future and peaceful society, will hopefully play an increasingly significant role in this nation-building process.
Lahpai Seng Raw is one such individual who has made long-term interventions in regenerating and empowering war-torn and disaster-affected areas, using her unique ability to work with both the military regime and anti-government forces. The Japan Foundation invited Seng Raw to Japan and hosted her lecture to share her valuable experiences with Japanese audiences. In this lecture, she discussed the driving force behind her decision to get involved in social development despite such challenging circumstances. Furthermore, she also talked about her hopes and the challenges she foresees amid Myanmar's changing political and social landscape.

(The following lecture was recorded at JFIC Hall "Sakura," the Japan Foundation on March 12, 2014.)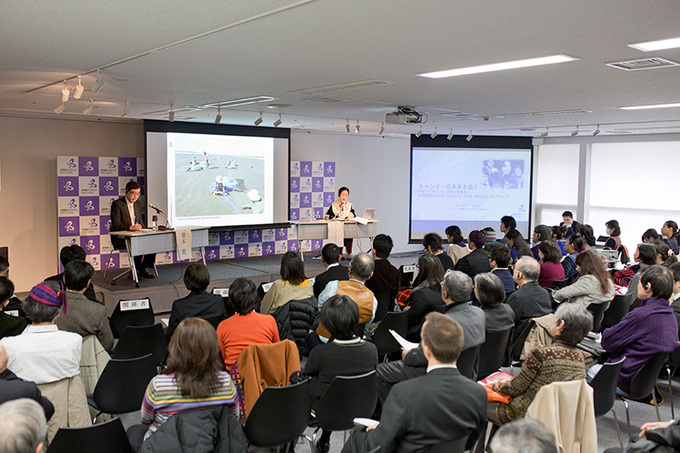 Civil conflict in Myanmar

An agreement was officially made in 1947, granting Burma's full independence from Great Britain, and the major Burmese ethnic groups made a commitment to form a union and live in harmony and equal partnership. However, following the declaration of the country's independence in 1948, the various ethnic minority groups soon found that successive governments, which were led by the Burman majority, failed to uphold the commitment made in 1947. It is this neglected promise that lies at the root of the conflicts between the various central government administrations and Myanmar's diverse ethnic groups - conflicts that remain unresolved to this day.



"Peace" and the establishment of the Metta Development Foundation

As background, in 1987 I was asked by my uncle, the Chairman of the Kachin Independence Organization, to volunteer to help families and children displaced by the on-going conflict on the Sino-Burmese border. This first-hand encounter with the suffering of those forced to flee from war moved me to begin social and humanitarian work. Then in late 1989, with the collapse of the powerful Communist Party of Burma, the military government offered "peace" deals with 17 armed opposition groups, which allowed armed ethnic forces to maintain their territory without disarmament. As ceasefire negotiations continued, the government encouraged the promotion of development initiatives. As part of this, I was allowed to establish the Metta Development Foundation (Metta), which was conceived as a secular, non-profit, social development organization, dedicated to supporting the evolution of self-reliant communities in a peaceful society. Metta's efforts have of course also benefited from the cooperation and funding offered by our international partners.





Recovering from the conflict and rebuilding communities

There was a need to change the patterns of militarization that had long been afflicting community life and strength in Myanmar. The task for Metta was to assist the affected communities to recover and rebuild and the tool we used and continue to use is called participatory action research (PAR). It encourages communities to identify their resources and needs, analyze them, and manage small-scale community-led projects. These locally-based projects have also contributed to the emergence of community-based organizations (CBOs). Although transforming a society through promoting self-reliance and equality in conflict-affected rural communities is difficult and time-consuming, trained volunteers using PAR tools have proven that it is possible even after years of oppression and instability.
Another tool Metta employs is our unique Farmer Field School Program, which has been highly effective in rebuilding communities. A defining characteristic of the program is that it concentrates not only on providing agricultural training in schools in the field, but also on providing a framework for reintegrating cease-fire groups into civil society. By bringing together farmers, members of faith-based groups, CBOs and ceasefire groups, it has been instrumental in fostering trust and peace, and uniting members of a community towards the goal of development. Furthermore, the program promotes social change through a consensus-based decision-making process.
Metta's efforts have spread far beyond the upland countryside that suffered under civil war. Following Cyclone Nargis (A cyclone that was formed in the central Bay of Bengal on April 27, 2008. It brought deadly severe damage, such as heavy rains, floods, and gales to the southwest areas in Myanmar, mainly in Ayeyarwady Region, and also in Bago Region and Mon State.), many ethnic Kachin and PaO facilitators left their homes and ventured to the devastated areas of the Irrawaddy Delta to assist in the recovery from the disaster, thus managing to also forge partnerships across geographical and cultural boundaries.



Overcoming the challenges

I will now turn to the question of difficulties we have faced. First of all, Metta initially lacked the necessary human resources to meet the requirement of international donors. Fortunately a wealth of friends from around the world who have visited Metta, seen its work on the ground, and shared its vision of a peaceful and productive society, have volunteered to fill in the gaps. Specifically, a variety of international NGOs have invested in our organizational development, while others have sponsored staff capacity-building.
A more persistent challenge is encouraging and maintaining community ownership of projects. Because we started at a time when even politicians were not able to express their grievances in the open, it was necessary to begin with small and modest projects that helped build consensus among demoralized villagers and encouraged them to work together. Furthermore, we would ideally have wanted to continue working with the same communities even after the three year project cycles came to an end. However, due to constraints on resources and time, and the call for tangible results as required by the framework of donors, we were forced to move on to new communities who were also in need.
An additional challenge is the fact that unscrupulous and ill-considered international aid will undo the growing empowerment of individuals and communities that have been stunted by repression, torn apart by conflict or simply flattened by natural disasters. With big donors and money pouring into Myanmar, there is a grave danger that they will arrive with their own agendas, instrumentalize the local groups, and destroy the progress we have been making all these years. The rebuilding communities are still vulnerable and in the fledgling stage of trying to determine their own destiny.
Nevertheless, it has been and still is a source of great pleasure for me to work with people across Myanmar, from different ethnic groups and from different walks of life, and I really believe that no person is an island. From my own experience I believe it is possible, whatever the circumstances, for the affected populations and civil society organizations to share a vision and together realize a common agenda. Even communities wasting away under the most adverse conditions can be brought to life, and I find it truly encouraging that a local NGO was able to play such a facilitating role, even under a military government.






Hope for change?

Since President Thein Sein assumed office in March 2011 we have seen a truce between the ruling Union Solidarity and Development Party (USDP) and the opposition National League for Democracy (NLD), as well as an amendment to the Election Law to allow the NLD to participate in future elections. The government has also abolished pre-publication censorship, relaxed Internet and press controls, and expanded the right of assembly. These reforms were followed up by 15 amnesties, and the Thein Sein government has since released a total of 1,071 political prisoners.
The President also sought to solve the armed ethnic conflicts, successfully reaching ceasefire agreements with 14 groups. This has fostered dialogue in different parts of the country between the ethnic opposition and government representatives regarding the necessary guarantees for political reform for reaching a nationwide ceasefire agreement. As things stand, many observers believe the potential for reconciliation between the central government and the country's disillusioned and defiant ethnic minority groups is higher than ever.



Obstacles remain

Nevertheless there have also been major setbacks and contradictory developments during the past three years, with violence and conflicts erupting once again. Among the challenges are the limited progress made toward amending a flawed constitution, continued armed conflicts despite the much-touted impending nationwide ceasefire agreement, and a lack of any serious attempt to resolve sectarian strife in Rakhine State.
In particular, the latest conflicts have created over 500,000 internally displaced persons (IDPs) nationwide. 100,000 Kachin IDPs remain on the border with China, while up to 140,000 Muslims have been displaced and often confined in Rakhine State. In fact, during the past three years half of Metta's project communities in the Kachin State have had their homes razed to the ground and they have been forced to seek refuge in IDP camps. The fact is that no matter what material help we provide the IDPs, and no matter what efforts we make to empower them, as long as the root causes of armed conflict remain unresolved, the cycle of displacement, poverty, violence, human rights violation and resettlement will continue.
Additionally, one large barrier to peace in our country is the resource trade. Many of these natural resources are located in the ethnic states which have experienced prolonged armed conflict, while in places where armed conflict has decreased, abuses such as land-grabbing, rights violations, and environmental destruction have increased. This has led many to wonder if there really is any difference between war and peace.
On the other hand, what is encouraging is that we now have a greater presence of civil society. In my view, the transformation process will be faster in regions where community mobilisers are strong and where civil society works well with all stakeholders, including state and non-state actors, as well as political parties.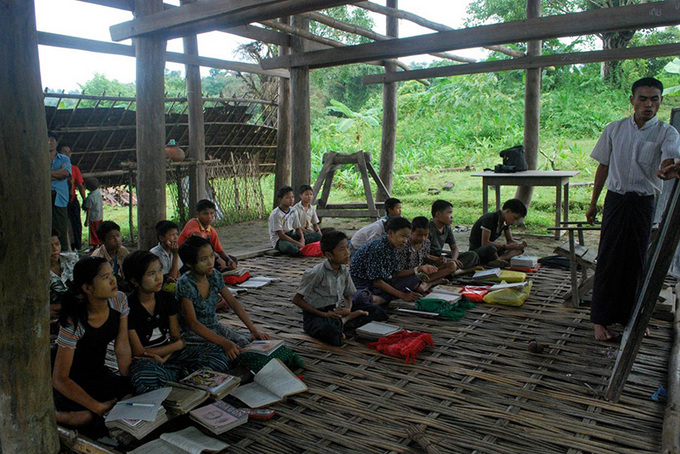 A village in Rakhine State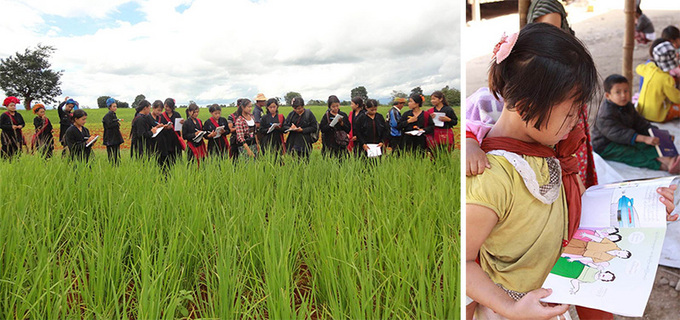 (Left) PaO Region, (Right) Psycho-social support is essential for children in the IDP camps in Kachin State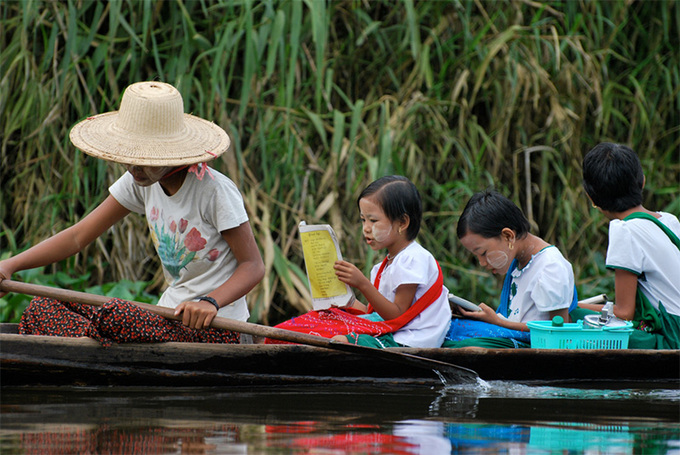 A village in Ayeyarwady Region



Empowerment for all

At this point in time, it is not realistic to expect civil society's work for peace to be on the same level throughout the country. Nor will the competence to act be equally spread. The harsh reality is that the socio-economic gap between ethnic minorities and the majority ruling ethnic group is so wide that a more level playing field needs to be created first. We need to narrow the space between the educational opportunities available to the Burman urbanites and to the ethnic minorities in the rural areas. This inequality alone prevents the establishment of true democracy.
Nevertheless I want to emphasize that successful social transformation requires the empowerment and involvement of all communities, as well as support for local organizations. To create peace we must include everyone. The country's pivotal moment for change is here and now, and the role of NGOs and CBOs is more crucial than ever. We cannot allow the peace process to be a solely government-driven, top-down process.
Instead what we need is a comprehensive peace process involving grassroots people and civil societies, not just military and political leaders. We have to include a broad spectrum of stakeholders in the process, otherwise we could end up with a number of disgruntled groups who might be unwilling or unable to contribute to the transformation because their needs were never properly considered. The more stakeholders we have, the more people are going to identify with the process, defend it and work to make it a success.
This includes expatriate Myanmars. Those of you who have been champions of the democracy movement must recharge yourselves, and work harder than before. I urge you to participate actively and ensure the policy-makers of the country you live in understand the reality on the ground in Myanmar so that they are able to provide us with effective support.

Peace is a social state and building robust civil societies is the most effective response to the challenges that the transition period brings. Investing in healthy, engaged and democratic civil societies is critical to any reform because it looks beyond the immediate needs.



The continued need for political reform

Although Myanmar has had three constitutions since independence the government remains a centralized unitary system. Since 1962, there has been only one party in power, and the military's presence throughout the government is seemingly indomitable. As such, if amendments to the current 2008 constitution are not made, and issues of political power and resource-sharing are not addressed, there is a real danger of a new generation of ethnic grievances developing in the country at the very time when peace and reconciliation should be its greatest priority. This is exactly what occurred in 1948, 1962 and 1988, when ethnic grievances were left unaddressed and the result was continuing state failure.
This tragic history of state failure should not repeat itself during the present political transition, as the country prepares for elections in 2015. If the parties of the ethnic nationalities are unwilling or unable to participate in the elections, then they will have no elected representation in the transition process. We need a parliament that represents the whole of the electorate and all people. It is therefore clear that the work of rebuilding communities will continue for some years to come, until our country is able to find ways to resolve political differences.



What can Japan do?

To the Japanese people who are concerned about the state of our country, and to the Japanese government I would say the following. Many needs remain in our country but we are doing our best to support reconciliation and build up capacity for self-sufficiency and peace. We thus hope that Japan will support the extension of education in our ethnic states and encourage the expansion of civil society. Moreover, we hope that Japanese investment will help set a positive example for international investors in allowing for the participation of those immediately affected, in sharing responsibility and rewards among all stakeholders, in respecting the environment and, overall, complementing the peace process that is so vital to the further maturity of Myanmar.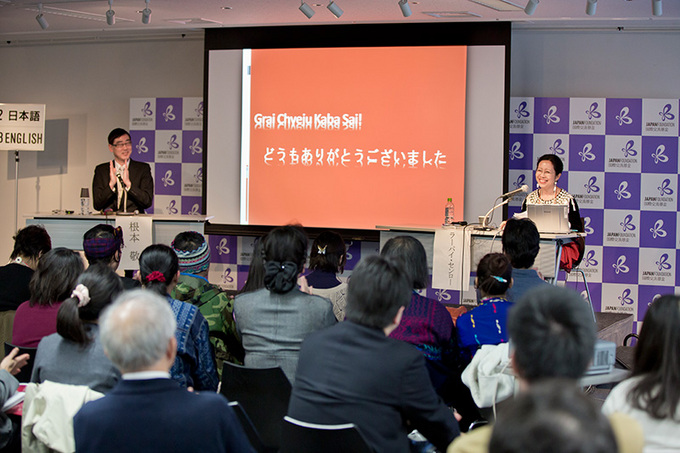 (Lecture photos: Kenichi Aikawa)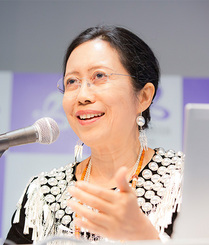 Lahpai Seng Raw
Founder and Former Director, the Metta Development Foundation. Seng Raw is an ethnic Kachin woman and a Christian. She is a Yangon University graduate. Between 1990 and 1997, she worked in Bangkok as a development officer for the Representative Office of Kachin Affairs, the humanitarian wing of the Kachin Independent Organization. Her main focus was the improvement of the social welfare of women, youth and children, particularly in terms of income generation activities and education.
Following the ceasefire process between Myanmar's military government and ethnic groups in the 1990s, Seng Raw returned to Myanmar in 1997, and founded and directed Metta to provide assistance to refugees and internally displaced populations. Metta has since become one of the most recognized NGOs in Myanmar for the support activities it provides in collaboration with a wide variety of stakeholders in areas across the country that have been affected by conflict or natural disasters.
After 14 years leading Metta, Seng Raw retired in September 2011 and is now committed to addressing underlying issues of conflicts and regressions. She also sits on the Board of Metta, the Shalom Foundation and Swissaid-Myanmar. In addition, Seng Raw is the recipient of the 2013 Ramon Magsaysay Award, regarded as the highest recognition in Asia for humanitarian efforts.