Art and Technology in Japan: Present, Past, and Future
Minoru Hatanaka (Chief Curator, NTT InterCommunication Center [ICC])
The Japan Foundation Asia Center and the Arts Council Tokyo (Tokyo Metropolitan Foundation for History and Culture) co-hosted the international symposium for media art "Art & Technology: Changing Times, Contemporary Trends, Future Platforms" on July 9, 2016. The goal of the initiative is to promote the creation and spread of innovative forms of arts and culture, such as media art, through the application of groundbreaking technologies.

Minoru Hatanaka, Chief Curator of NTT InterCommunication Center [ICC], who has worked on numerous media art exhibitions and spoke at the symposium, kindly contributed this article on the transformations and current state of arts and technology in Japan, as well as perspectives for their future development.
Nowadays, we have numerous opportunities to encounter artistic expressions created using various technologies, such as audio visual devices, computers, and the Internet. A growing number of artists are applying such technologies to pursue creative activities in various fields. Against this backdrop, art and technology are rarely seen as opposing forces. In that sense, the impression created by the expression "art and technology" today differs from the expectations that these words projected in the past for some form of collaboration between two techniques thought to have different origins belonging to two distinctive fields.

In the 20th century, collaborations between art and technology developed in the context of the relationship of fine arts with society. These collaborations were not limited simply to utilization of technology as a direct means of expression, and the relationship of mutual influence between art and technology spanned a broad range of creative activities, including expressions inspired by technology and the social phenomena created through it and new materials born from industrial technologies. For instance, in the 20th century, artistic movements such as Futurism and pop art emerged as a reaction to the increasing presence of technology in modern society. These trends demonstrate the mutual impact that art and technology had on each other.

In Japan, technology art emerged in the 1950s under the pioneering influence of Experimental Workshop, a group of artists from the fields of music, fine arts, literature, and theater, which incorporated new technologies into its expressive activities. The movement gained momentum through the 1960s, mainly from the late period of high economic growth toward the Japan World Exposition held in Osaka in 1970. As for the movement that formed the foundations of media art, it began in the second half of the 1970s with video art, and gradually developed against the backdrop of the advancement of video and computer graphics and the spread of personal computers in the late 1980s.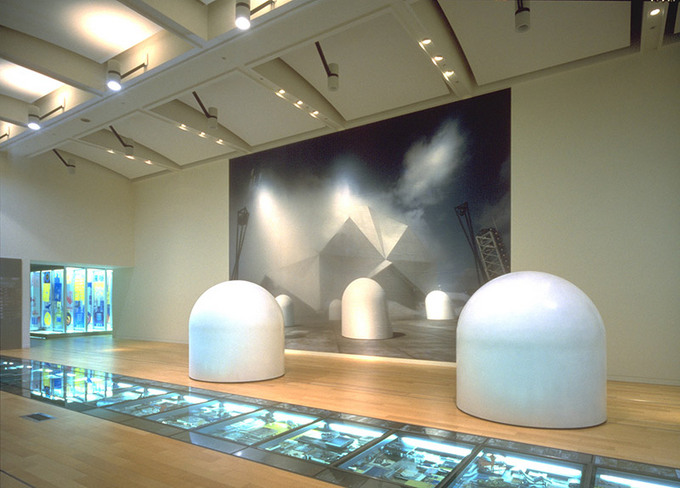 Recreation of the Pepsi Pavilion at the Japan World Exposition and Robert Breer's Floats (1970/2003). E.A.T. - The Story of Experiments in Art and Technology (2003).
Photo: Kozo Takayama, courtesy of NTT InterCommunication Center [ICC]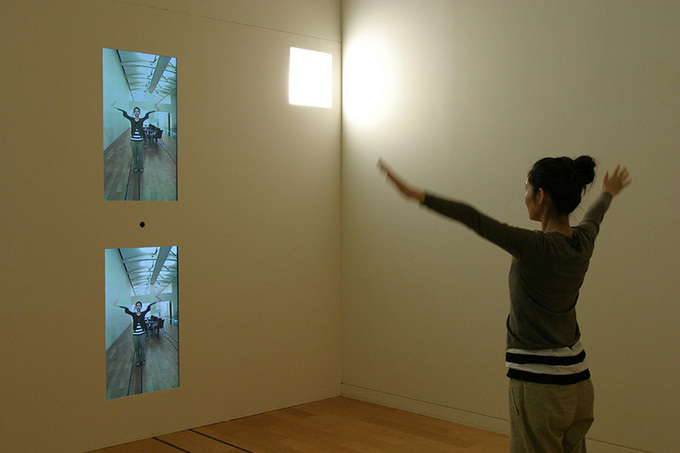 Toshio Iwai, Another Time, Another Space (1993)
Installation view of the exhibition Open Space (2006)
Photo courtesy of NTT InterCommunication Center [ICC]
Then, in the mid-1990s, media art, including overseas trends, began attracting attention as a new art movement. These developments were triggered mainly by the arrival of the multimedia age associated with higher computer processing speeds and enhanced telecommunication environment. Based on these trends, interactive art, an experience-based/participatory form of art, in which the artwork is not simply an object for observation, but is transformed through the intervention of the audience, is considered as the representative form of media art. Furthermore, in the late 1990s, the potential and creativity of computer science became applicable in the field of media art as well, giving rise to virtual reality (VR)-based research on artificial reality and research on life systems using artificial life. Numerous foreign works of media art created as part of such research were introduced to Japan.

These developments demonstrate that each time a new technology emerged, Japanese technology art produced a new artistic trend. The advent of the Internet, for instance, triggered the rise of art forms such as network art and software art that can be developed on the Internet. Consequently, it cannot be denied that such art forms were not easily recognized as mainstream art of their time, and rather have been perceived as transient fads. Today, however, as the performance of computers and peripheral technologies improves rapidly and their prices fall, the image of media artworks is changing. Against the backdrop of the high permeation rate of media technologies, including the global spread and generalization of the Internet, we are witnessing the emergence of "post-Internet art." Furthermore, the digital fabrication trend triggered by the widespread adoption of three-dimensional printers and laser cutters is not limited to media art, but expands into the fields of design and contemporary art. Often, it makes inroads into the entertainment field, and expands into a broader movement with an even wider range of expressions. Moreover, various technologies, which in the past did not share common ground with fine arts, such as biotechnologies and space development technologies, are now trying to establish contact with art.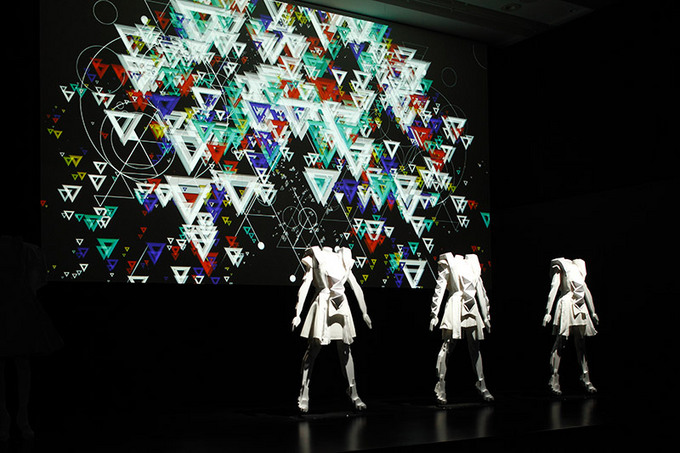 Installation view of Perfume WORLD TOUR 2nd intro
Rhizomatiks inspired by Perfume Exhibition (2013)
Photo: Keizo Kioku, courtesy of NTT InterCommunication Center [ICC]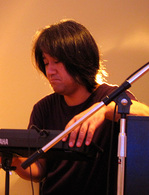 Minoru Hatanaka
Chief Curator of NTT InterCommunication Center [ICC]. Born in 1968, Minoru Hatanaka graduated from the Department of Art Science at Tama Art University. He has been involved in the activities of ICC since 1996, prior to the opening of the facility. The exhibitions he has curated include Sound Art - Sound as Media (2000), sounding spaces (2003), silent dialogue (2007), Exploration in Possible Spaces (2010), Vibration of Entities (2010), and [Internet Art Future]--Reality in Post Internet Era (2012). He has also curated solo exhibitions of artists, such as Dumb Type, Maywa Denki, Laurie Anderson, Kazuhiko Hachiya, Rhizomatiks, Arata Isozaki, Yoshihide Otomo, and John Wood and Paul Harrison.