Believing in Ties on a Personal Level: 47 University Students from Japan and China, a Week under the Same Roof
Editors of Wochi Kochi Magazine
Marking the 40th anniversary of the normalization of diplomatic relations between Japan and China, 21 university students from Japan, selected via an open call, and 26 university students from China, who volunteer at Centers for "face-to-face exchanges" operated across China by the Japan Foundation China Center, took part in a week-long exchange camp starting from August 5 in the city of Yanji in the Yanbian Korean Autonomous Prefecture near China's border with North Korea. Through room sharing, homestay, an experience of different cultures, and discussions, the program sought to offer future leaders of Japan-China exchange the opportunities to experience close communication with dedication of heart, body, and soul, and to explore ideal exchange schemes for building interpersonal trust that extends beyond national and cultural boundaries.


The Japan Foundation China Center offers opportunities to have heart-to-heart communication especially towards the youth in Japan and China. Three programs/activities of the Japan Foundation China Center are:
1. Long-term invitation program for Chinese high school students
2. Centers for "face-to-face exchanges"
3. Building a better network


(Left) Yanji Airport, (Right) Yanbian University
Against a backdrop of the recent tension in Japan-China relations, students from both countries felt some degree of anxiety before leaving for the exchange camp. Maho Yamazaki, a program participant from Japan, commented on her impression towards China at the time.
"Japanese people, for the most part, might have a negative image of China. The general impression is that the Chinese are unhygienic--this comes from the poisoned gyoza dumplings incident that shocked our nation in 2010--or they don't wait their turn in line, or they easily get angry. When I told my family and friends I was going to Northeast China, everyone worried my safety, and some even feared for my life. No other country that has such close relations with Japan would cause so much concern. This is true of the other participants as well. Many were nervous about actually visiting China, even though they were excited about the exchange program." (Maho Yamazaki)
However, once the program kicked off, the participants soon realized their worries were groundless. A major feature of the summer program was "diversity." Chinese students came from 11 different regions, while the Japanese were from seven different prefectures.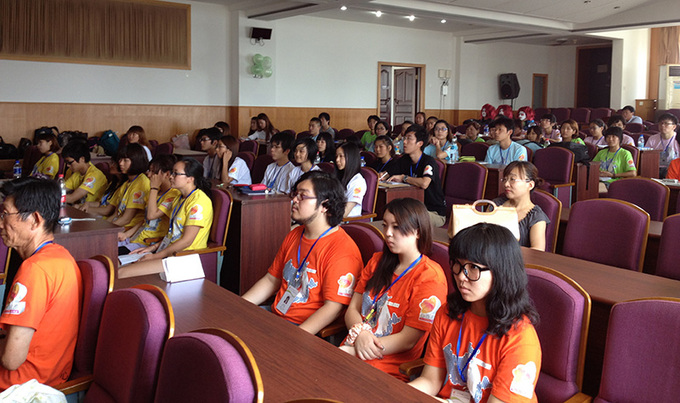 Opening ceremony
"Each of us came from a region with a distinct culture, being proud of our own culture. When we spoke, we wanted the listeners to understand our background and develop an interest in it. And when we listened, we enjoyed the others' stories as much as the speakers did and listened with all our heart. The program was infused with this 'heart'--everyone made an effort to accept each other. The atmosphere intermingled with various cultures was wonderful. Even though we didn't share a common language, by respecting and embracing each other's culture, I felt we got to know a great deal about one another." (Maho Yamazaki)
One participant from the city of Hangzhou, China, Su Hao, describes how he felt about the experience of getting in touch with different cultures.
"This was the first time I had ever spent so many days under the same roof with people from Japan or from different parts of China. The experience of sharing rooms and meals with others helped me to open up. I was able to accept cultures and customs different from mine, and even enjoy them." (Su Hao)
In the four-day program, the participants spent much time together staying at a campsite with Korean-style houses and preparing Korean cuisine, and at night forming a circle around a bonfire. The time flew by as they climbed Changbai Mountain on the border between China and North Korea, went on a river rafting ride, experienced Korean culture and etiquette, and lived in homestay with an ethnic Korean student's family.
As Su Hao says, camping and preparing Korean cuisine and gathering around a bonfire was new to--and a memorable experience for--many Chinese students coming from different ethnic backgrounds scattered across a vast land. The participants also developed a strong bond to one another through activities like mountain climbing and river rafting, which required teamwork to achieve a common goal.



Camping and preparing Korean cuisine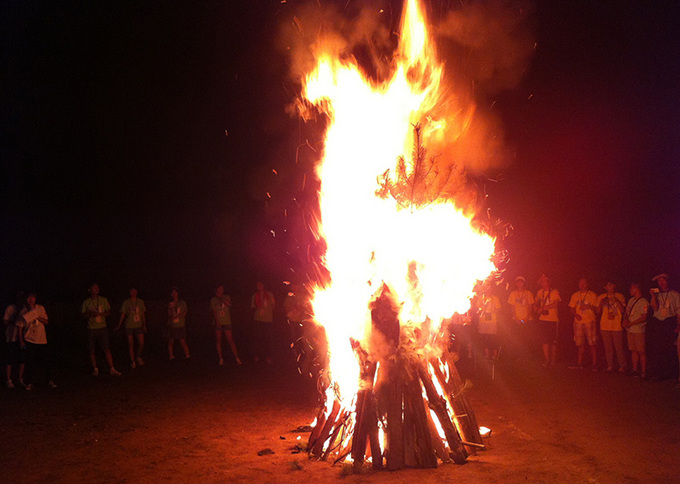 Bonfire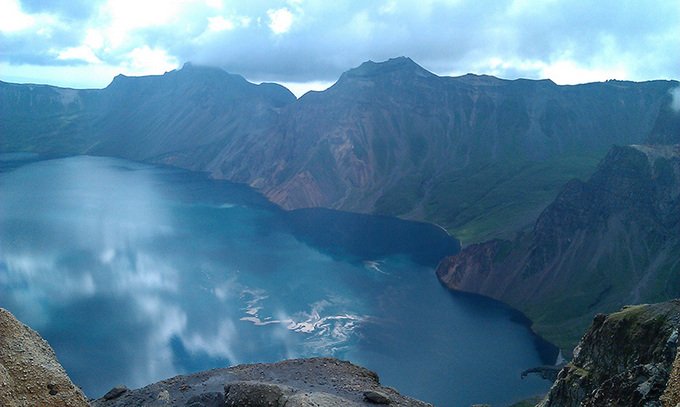 Climbing Changbai Mountain


River rafting


Experiencing Korean culture and etiquette


Homestay with an ethnic Korean student's family
At the end of the program, each team of students gave a presentation on their action plan for strengthening friendship between Japan and China. Maho Yamazaki says the process of preparing the presentation was "a process of reflecting on all we had seen and heard during the days in Yanji, and discussing how we felt and had changed, and thinking about what we were now capable of doing for the friendship."
Having spent several days together, the students could have the chance not only to talk about superficial plans but also to take their discussions a step further.
"We could have a frank discussion, sharing our views on some troublesome differences in culture. On the one hand, Chinese students said the typical Japanese response 'either way is OK' is false kindness and leads nowhere. On the other, Japanese students said Chinese people are too straightforward and inconsiderate of others.
We also talked about a historical issue--a sensitive topic not to be discussed lightly. Some Chinese students said their parents were still anti-Japanese or flat-out disliked Japanese people. Others said we shouldn't be trapped by our history: the past is the past, the present is the present, the future is the future.
Quite often, I hear people say they avoid the subject of history so as not to rock the boat. But for students to get to know each other well, we have to talk things through, and I feel we can't do that without discussing our history. True, there's a risk. Our views might clash. We might find we don't understand each other after all. But we're students and not yet working adults. This may be the only time we can express our honest views and make the effort to find middle ground and understand each other." (Maho Yamazaki)
The action plans drafted by the teams of students--these youths capable of thinking outside the confines of the past and focusing on the future--included ideas to increase opportunities for exchange through the Internet or hands-on programs, like developing a Japan-China exchange website, starting a blog to share information about the two countries, and team members visiting each other's hometown to gain a better understanding of different backgrounds. One team said the biggest problem was misunderstanding, and that in fact the members' images of regions other than their own had changed through their experiences in the program.
Apart from the team presentations, some students came up with their individual action plans.
"I want to conduct research into Japanology and inform the Chinese about the country and people of Japan." (Su Hao)
"I will cherish the connections I made as a student through this program, and tell everyone about it--not only my family but also my friends and students at my university. I want to join a study abroad program in Japan, and after I graduate, work at a Japanese company in China. In that way I can promote economic exchange between our countries." (Fan Fan)



Final presentations
One student each representing Japan and China summed up the program.
"Although our time together was brief, we discovered that through close interaction we could exchange words, laughs, and feelings beyond cultural boundaries. What we experienced in this summer program has helped me to build confidence, and I believe it will form the foundation for each of us to lead China-Japan exchange in different fields in the future. Exchange between the two countries doesn't happen only on a political or economic level. Building ties on a personal level, as we did in this summer program, is an important form of exchange that I can make happen as a student. I hope to tell many people about this program and encourage them to enjoy the same experiences." (Su Hao)
"In this program, we've sowed the seeds of Japan-China friendship in our hearts. Whether these seeds will sprout leaves and bloom flowers depends on ourselves. This is not the end but the beginning. Our seeds may not bloom for years to come. But I hope each of us here nurtures our unique seeds until they do bloom, and however little, makes a difference in society. We may be weak, but we're not powerless." (Maho Yamazaki)
The students from both Japan and China have felt, and we have witnessed, that their understanding of each other has changed from strangers in a foreign land, whom they knew only vaguely from portrayals in the media, to friends with familiar faces, all through the simple experience of spending time together. In this era of complex relations between Japan and China, one big accomplishment of the program is that it inspired a number of participants to expand their network of Japan-China exchange.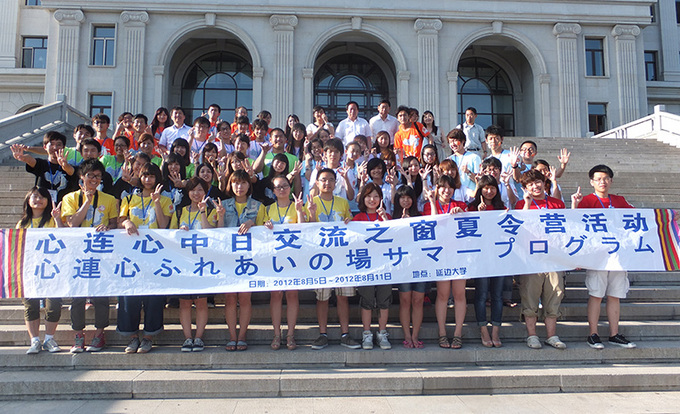 With cooperation from:
Maho Yamazaki (Waseda University, Tokyo)
Su Hao (Zhejiang Gongshang University, Hangzhou)
Fan Fan (Guanghua College of Changchun University, Changchun)