The Present Form of Art Observed in Myanmar, Cambodia, and Laos
Andrew Markle (Art writer)
Yuko Mohri (Artist) and Azusa Hashimoto (Assistant Curator at the National Museum of Art, Osaka))
Motoyuki Shitamichi (Artist) and Kyongfa Che (Curator at the Museum of Contemporary Art Tokyo)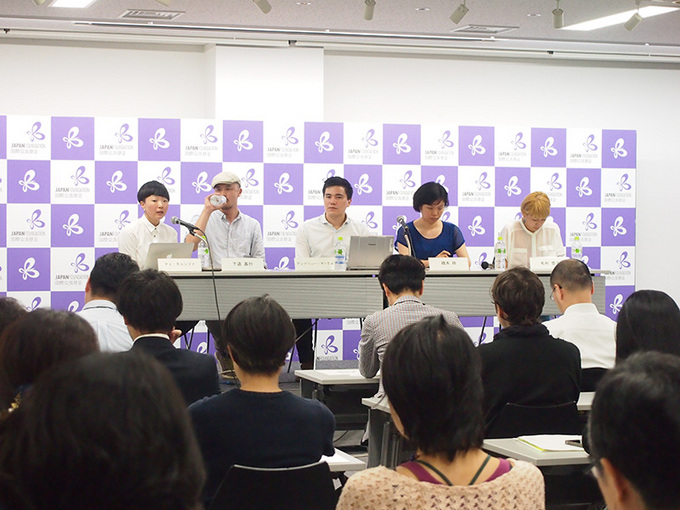 From February through March 2014, the Japan Foundation dispatched three pairs of Japanese artists and curators to Myanmar, Laos, and Cambodia, where they conducted art-related research with the objective of expanding exchanges and cooperation between Japan and these three countries in the field of art.
The research aimed to shed light on how artists, living in the midst of the intense social changes that take place in the complex historical context of each country, are taking the expressive initiatives and facing historical and social challenges. Moreover, while contemporary art has its roots in the Western culture and history and is defined in the extension and context of their comparative relations, in the three countries where the research was implemented, unique and original expressive forms that reflect the culture and local characteristics of each country have become established as modern art in the true sense of the term. This raises the question of whether it is possible to define the activities of local artists through the means of contemporary art that tend to be limited by Western discourse and systems.
Upon returning to Japan, the artists and curators participated in Art in Contemporary/Contemporary Art - Myanmar, Laos, Cambodia, a symposium organized by the Japan Foundation, at which they presented their reports on the contemporary art scene in each country and explored possibilities for future art exchange.

(Excerpt from the records of the symposium held on May 27, 2014, at the Japan Foundation JFIC Hall "Sakura")



Myanmar: modalities for non-coercive cultural exchange
Andrew Markle (Art Writer)
*The research travel was accompanied by artist Koki Tanaka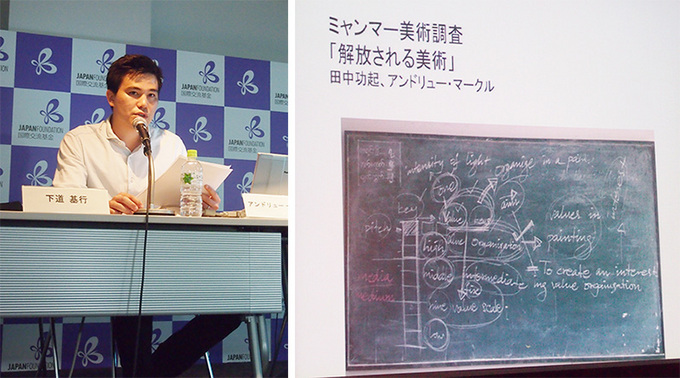 As a multi-ethnic and multi-religious nation, Myanmar faces numerous conflicts and social issues that originate in its unique social composition. The Japanese public is acquainted with the issue of the house arrest imposed on human-rights activist Aung San Suu Kyi by the military junta, but in fact, since a constitutional referendum held in 2008, the regime in Myanmar has shown signs of democratization, accompanied by efforts to attract investment from foreign companies. Together with Koki Tanaka, I engaged in research with the main objective of understanding how contemporary Burmese artists reflect their nation's historical background in their works, and how they perceive Myanmar's local art history as well as the history of international contemporary art.

My first impression of the contemporary art scene in Myanmar was that it is similar to the art scene in China of some 30 years ago. Despite the fact that Western art techniques and methodologies, such as the use of perspective and realism, were introduced there in the beginning of the 20th century, the principles of modernism, which came next, did not find their way into Myanmar until relatively recently, and now contemporary art forms rooted in the legacy of modernism are flowing into the country to create a unique climate for creative expression, particularly in Yangon. In the context of these dramatic transformations, artists are pursuing new ideas and new approaches to the creative process
The National University of Arts and Culture, Yangon, however, has adopted as its mission the protection of the traditional arts of Myanmar--fine arts, theater, traditional dance, traditional music, etc.--from the influence of foreign culture. This stance clearly demonstrates the establishment's resistance to efforts to introduce and promote contemporary art. Instead, support for the popularization of contemporary art in Myanmar is provided by Institut Francais, an organization that promotes French culture, and Goethe-Institut, a German cultural organization that opened a branch in Myanmar in February 2014.
But these efforts, too, are not without problems. In light of their institutional frameworks and their connection to diplomatic missions, the abovementioned organizations create an art community that caters more to the foreign residents of Myanmar than to the local people, and are designed as showcases of, respectively, French and German contemporary art and culture. In a sense, they impose existing European art concepts onto the local art community, so it is necessary to consider the possibility that such institutions may actually undermine the ability of Burmese artists to independently develop their own art scene.




Left: Classroom in the Department of Painting, National University of Arts and Culture, Yangon,
Photo: Koki Tanaka
Right: Aung Ko In Transit, exhibition at the Goethe Institut, Myanmar
Photo: Koki Tanaka

During our research, we visited approximately 10 cultural facilities and organizations, and met with some 30 artists. We were particularly interested in self-organized groups of artists who shared generational sensibilities with us, such as the group loosely known as "Another 7 Artists," centered around graduates of the National University of Arts and Culture, Yangon. Although we were not able to see it in person, the art space "7000 Padauk" was established experimentally by Mrat Lunn Htwann, a Burmese artist born in 1981, and the American art researcher Nathalie Johnston, and ran for a short period during early 2013. Set up in a Yangon row house that was scheduled for demolition, this temporary free space enabled artists to gather and conduct a diverse range of art projects: exhibitions, performances, screenings, talk events, etc. These trends suggest that flexible and extra-institutional organizational methods that do not rely on fixed infrastructure and cultural facilities might be best suited for the current art climate in Yangon.
In light of these observations, we propose a joint project with Burmese artists to translate international books on contemporary art history and theory into Burmese. The purpose of the project is to develop a critical awareness of the global history of art through cooperative translation work. We believe it will also be effective in establishing opportunities for artists and curators with diverse cultural backgrounds to engage in exchange and communication on an equal basis.




Left: Lokanat Galleries 43rd Anniversary Art Exhibition
Photo: Koki Tanaka
Right: Phyoe Kyi On the Other Side, TS1 Gallery
Photo courtesy of the artist and TS1 Gallery, Yangon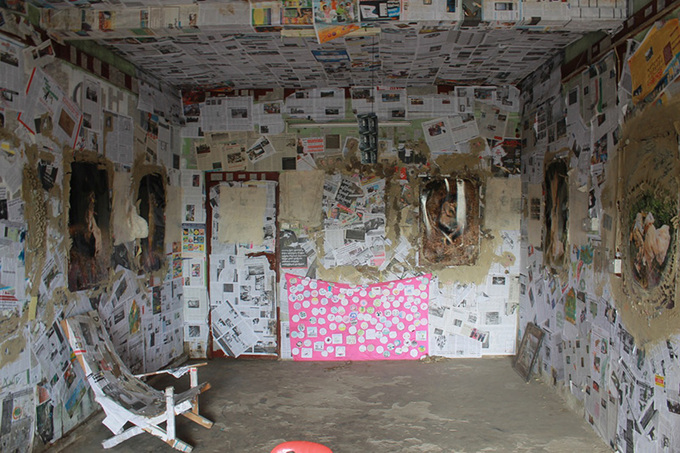 Exhibition at "7000 Padauk"
Photo courtesy of Nathalie Johnston



Laos: a country where art functions as technology
Yuko Mohri (Artist)
Azusa Hashimoto (Assistant Curator at the National Museum of Art, Osaka)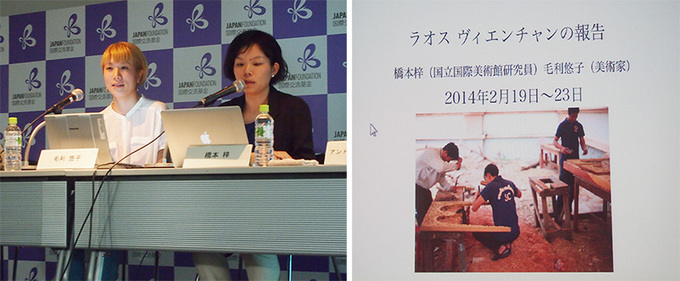 In my first solo exhibition about Laos, which I, Yuko Mohri, named Everyday Laos, I created my works inspired by a utopic vision of a country about which I knew very little. This time around, we were actually given an opportunity to visit Laos, so we engaged in research even before our trip. We found out that the art scene in Laos and contemporary art, in particular, can hardly be described as active and booming. Against this backdrop, we established as the main theme of our on-site research the significance of pop-culture and sub-culture (music, cinema, magazines, etc.), which are areas of interest even for the Japanese people, and their presence in the life of the people of Laos.
Laos is a small country sandwiched between Thailand and Vietnam, with a population of approximately 6.5 million. It has a low GDP and literacy rate, and is hardly an affluent country, but some 80% of the population is engaged in agriculture, the food self-sufficiency ratio is high, so the country has the appeal of a relaxed and comfortable living environment. Today, Laos is a one-party regime governed by the Lao People's Revolutionary Party, but the country is enjoying an inflow of culture from the neighboring countries of Thailand and Vietnam. Fashion magazines from these two countries are sold on the market, and people can watch TV and listen to music freely.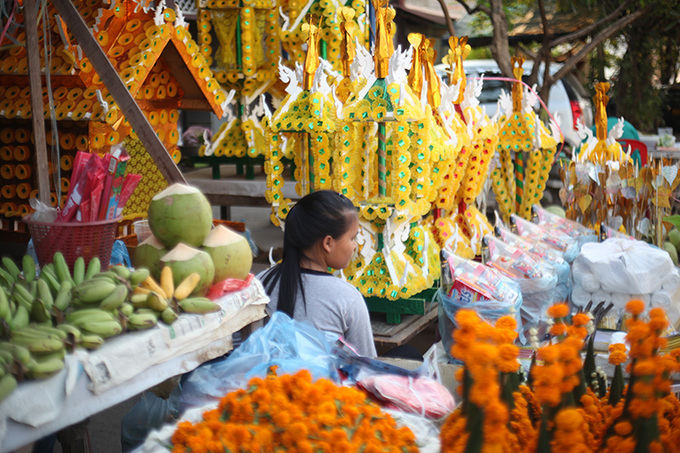 A market street in Vientiane (offerings for an opening-eye ceremony of a Buddhist statue)
Photo: Yuko Mohri

First, we visited the National Institute of Fine Arts, an educational institution with the statute of a college. In Laos, there is no equivalent of the art universities in Japan. The National Institute of Fine Arts offers five courses in the fields of painting, graphic arts, sculpture, design, and traditional arts and restoration.
After graduation, some of the students become art teachers or join companies in the private sector, but the majority chooses a career path as public servants in governmental organizations such as the Ministry of Information, Culture and Tourism or the police. In Laos, it is extremely rare for art school graduates to develop a career based on artistic activities. Instead, they engage in projects for creation of historical and genre paintings to be displayed in the Lao People's Army History Museum, public sculpture projects, or creation of community pamphlets for illiterate minorities.
There are some very rare cases of artists who present their works in Singapore, or artists who manage galleries, but society overall perceives art as a set of vocational skills. The concept of art as a means for expressing individuality or academic ideas has not yet set roots in Laotian society.




National Institute of Fine Arts
Photo: Yuko Mohri

Most of the few galleries and art-related NPOs can hardly be called organizations that deal with contemporary art on a professional level, as they focus their efforts exclusively on educational and social activities in the provincial regions of Laos. The Cubic Gallery, an exceptional case of an art space that ventures into sale of artwork, is run by a director of an advertising company who also operates a consulting business. In cooperation with artist who have studied in Canada and French film director, the gallery organizes workshops with the objective of boosting the level of art education in Laos. The Participatory Development Training Centre (PADETC), a pioneering all-Laotian organization, comprises seven NPOs, one of which, Dok Lao Media Service, is actively engaged in initiatives for production of documentary movies and provision of technical guidance.




Left: The exterior of PADETC, the mother organization of Dok Lao Media Service
Photo: Yuko Mohri
Right: Dok Lao Media Service
Photo: Yuko Mohri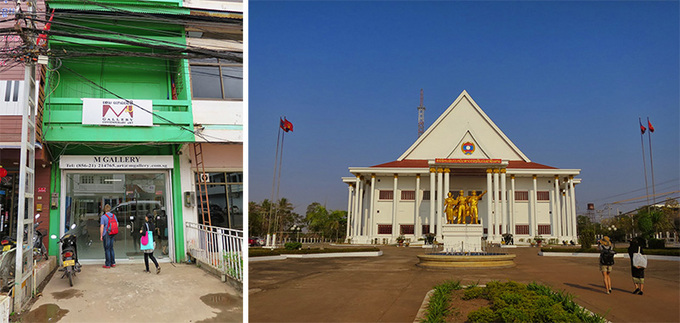 Left: M Gallery
Right: Lao People's Army History Museum

With its easy-going and relaxed national character, comfortable living environment, and an art scene free from the excessive impact of Western-type markets, Laos appears to be a tranquil and peaceful country, but under the surface lurk numerous contradictions and issues.。
The art-related officials and relevant quarters whom we met through our research, spoke of the necessity to promote and disseminate education, and learn more about Laos and its society. One of the people whom we met used the words "open your eyes," but in them we see a reflection of the various obstacles that confront the people of Laos.





Cambodia: in search of lost memories
Motoyuki Shitamichi (Artist)
Kyongfa Che (Curator at the Museum of Contemporary Art Tokyo)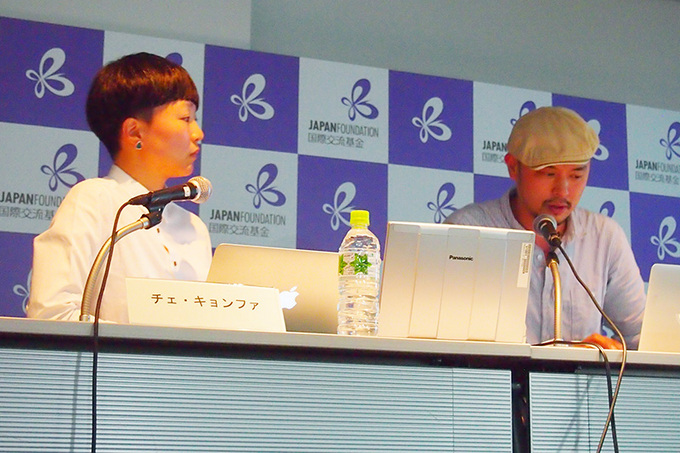 Initially, when the plan for this overseas research project emerged, we were offered the common theme of "archeological remains." Cambodia is well-known for the Angkor Wat temple complex, a UNESCO World Heritage site, but our research theme is not limited to specific historical remains. Rather, it encompasses a broad range of issues, such as how to confront historical events that took place in the past, and eventually how to live with them.
We therefore established as the major objective of our research exploration of the activities implemented by local artists through the perspective of the massacres that occurred in Cambodia in the past.

Let's take a look at Cambodia's modern history. After a period of occupation by the Japanese empire during World War II, Cambodia re-established its status as a protectorate of France (from the 19th through to the 20th century, Cambodia was administered as part of the colony of French Indochina). In 1953, it gained independence from France. The Vietnam War, which started in 1960, however, plunged Cambodia into a period of civil unrest. From 1975, for a period of four years, the Communist Party of Kampuchea (Khmer Rouge) led by Pol Pot carried out the Cambodian Genocide, killing between 1 million and 3 million people.
This historical disaster cast a dark shadow on Cambodia's art scene. Many artists were murdered in the genocide, and vast amounts of orally-transmitted culture were lost forever. The rich educational environment, in which artists from various countries came to Cambodia to teach in the country's art schools, was destroyed in the rise of Khmer Rouge.
The art scene in Cambodia today is composed of two types of artists: artists who have experienced life in refugee camps or have sought refuge abroad in the 1970s, and young artists of the baby-boom generation from 1980 onwards. Their artistic sensitivity enables them to feel the imperiousness of the drastic changes under way in Cambodian society.




Left: A street in Phnom Penh
Photo: Motoyuki Shitamichi
Right: Cambodia-Japan Friendship Bridge (left), and a bridge currently under construction by China (right)
Photo: Motoyuki Shitamichi

Compared with Myanmar and Laos, the capital of Cambodia, Phnom Penh is developing rapidly, and it is relatively easy to come across expressive trends that could be rightfully called contemporary art. Since, however, there are no educational institutions that specialize in teaching contemporary art, artists who have returned to Cambodia from abroad since the 1980s have been acting as mentors with the mission to connect Cambodia with the international art scene. Furthermore, like in Myanmar, Institut Francais and other foreign institutions serve as hubs for cultural exchange with the European art zone.
SA SA BASSAC is a well-known gallery that implements various projects with the participation of artists active abroad, and at the time of our visit to Cambodia, it was organizing a symposium on the theme of performing arts. The dynamic discussions on the relationship between contemporary dance trends that are on the rise in Cambodia today and dance traditions, and on the impact of bodily expression on art reflected the acute nature of the major issue at hand, namely, how should art respond to social changes?

We would like to introduce several of the artists who we met during our research.
Photographer Kim Hak visited the port town where a royal villa stood during the period of French colonization, and created artwork that depicts, in the role of a storyteller, an elderly woman who used to work at the villa. Vandy Rattana, who creates visual works, has attracted much domestic and international attention for his series of photographs and a video The Bomb Ponds, which examine the remains of a bombing campaign during the Cambodian Civil War: craters that, during the rainy season, fill with water. Today, Vandy is reportedly creating a series of artwork dedicated to the memory of his older sister who died as a child.
The work of these two artists clearly conveys the importance of memory, particularly memory of the genocide carried out by Khmer Rouge and the civil war, as an essential theme in the Cambodian art scene and the ways to pass on such memory and denounce history. We believe this corresponds with Shitamichi's artwork that traces the current modalities of historical remains from the period of Japanese rule scattered throughout Asia.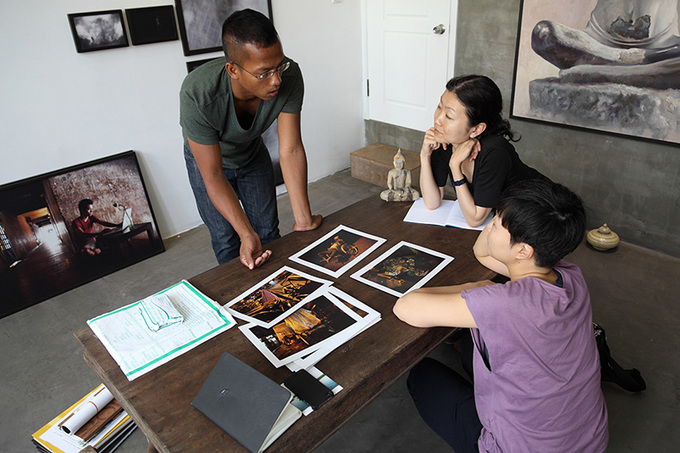 Visit in the studio of photographer Kim Hak
Photo: Motoyuki Shitamichi



Left: Royal University of Fine Arts
Photo: Motoyuki Shitamichi
Right: Visit in the home/studio of artist Khvay Samnang
Photo: Motoyuki Shitamichi

(Edit: Taisuke Shimanuki)

* Original text in Japanese, translated to English by the Japan Foundation



Andrew Markle
Art Writer/Editor
Andrew Markle is the former Deputy Editor of ArtAsiaPacific and currently serves as Deputy Editor of the international edition of ART iT. He also contributes to the foreign art magazine frieze. The main topic of his articles is contemporary art events in Asia with a focus on Japan.



Yuko Mohri
Artist
By skillfully placing three-dimensional objects reconstructed from everyday commodities, junk, or machine parts in an exhibition environment, Mohri creates installations that project a sense of invisible forces, such as magnetic forces, gravitation, light, and temperature. Her main solo exhibitions are Circus Bloomberg Pavilion, Museum of Contemporary Art Tokyo, 2012) and Orochi (Waitingroom, 2013). She has also participated in numerous group exhibitions in Japan and abroad, including Art & Music - Search for New Synesthesia (Museum of Contemporary Art Tokyo, 2012), and Media/Art Kitchen (National Gallery of Indonesia, 2013).



Azusa Hashimoto
Curator at the National Museum of Art, Osaka
Hashimoto completed her doctoral coursework at the Graduate School of Human and Environmental Studies, Kyoto University. Hashimoto has been working as a curator at the National Museum of Art, Osaka since 2008. She organized Kaza Ana/Air Hole: Another Form of Conceptualism from Asia (National Museum of Art, Osaka, 2011), The Deconstruction of the "I": An Experiment by Kashihara Etsutomu (National Museum of Art, Osaka, 2012), and jointly curated Omnilogue: Alternating Currents (Perth Institute of Contemporary Arts and the Japan Foundation, 2011). She worked on the joint translation of Suspensions of Perception by Jonathan Crary (Heibonsha, 2005).



Motoyuki Shitamichi
Artist
Shitamichi graduated from Musashino Art University's Department of Painting in 2001. For a period of four years after graduation, he traveled around Japan in his spare time, surveying and photographing the remains of military structures and in 2005 published his work as Senso no Katachi/Ramnants (Little More). For one of his subsequent projects, he traveled in search of paintings left by his grandfather, which he presented as a collection of photographs Sunday Painter in an exhibition and a handbound book. In 2006, he traveled outside the borders of Japan and examined the current status of remains from the period of Japan's colonial rule, which he presented in the work (torii). One of his most recent projects is bridge, a collection of snapshots of "bridge-like structures" made of wooden boards or blocks across canals, etc. Currently, in his works he uses photographs and text to express an overwhelming awareness of the surrounding scenery, including the modalities of persistence and disappearance of things/matters, and the modalities of the landscape that encompasses them. He continues his expressive work based on travel and fieldwork.



Kyongfa Che
Curator at the Museum of Contemporary Art Tokyo
After acquiring a Master's Degree in Art History and Theory from Goldsmiths, University of London, Che completed a post MA course in Critical Studies at the Malmö Art Academy in Sweden. She worked as an independent curator before assuming her current position at the Museum of Contemporary Art Tokyo. Her recent major exhibitions include Omnilogue: Journey to the West (joint project, Lalit Kala Academy, New Delhi, 2012), Fog Dossier (Artsonje Center, Seoul, 2010), The Demon of Comparisons, Electric Palm Tree (joint project, Stedelijk Museum Bureau Amsterdam, 2009), and OK Video Festival (joint project, National Gallery of Indonesia, Jakarta, 2005), etc.