Together with the Readers Regardless of the Era Ryo Asai's First Visit to Korea
Dialogue between Ryo Asai (novelist) and Chung Serang (novelist)


Around the same time as the Seoul International Book Fair 2014 was held, the Japan Foundation, Seoul welcomed Ryo Asai, the youngest recipient of the Naoki Prize in post-war times, to Korea and organized a dialogue between young Japanese and Korean writers, the preview and special screening of the movie "Kirishima, bukatsu yamerutteyo" (The Kirishima Thing) (2012) based on his novel and recently launched in Korea, as well as a dialogue event with Korean readers. This is Asai's first overseas visit as a novelist. This article features the open dialogue between Asai and Korea's young female writer, Chung Serang, which covered a wide range of topics including Japanese and Korean literature and young people in the era of SNS.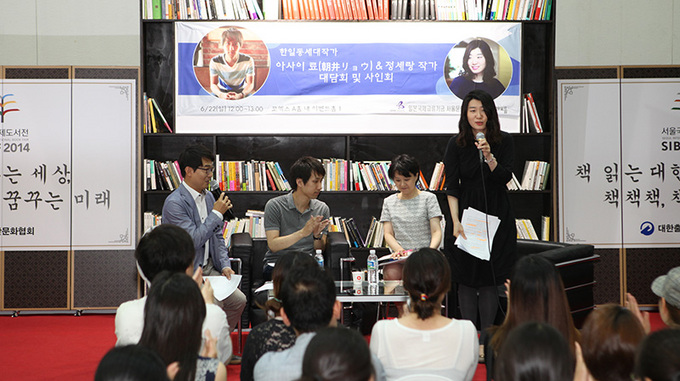 What were your first impressions of each other?

Emcee: Ryo Asai's literary works provide an excellent insight into the workings of the minds of Japan's youths. Similarly, Chung Serang, who is one of Korea's leading young writers, will speak for young writers and people in Korea and talk to us today about the thoughts of Korean youths. Could you both tell us what your first impressions of each other were when you met today for the first time? Ms. Chung, as a writer yourself, could you also tell us your impressions of Mr. Asai's works?

Chung Serang: As all who have read Mr. Asai's works well know, he is a very insightful person, so I was a little nervous for fear that he would give a deep analysis to my lies and pretenses and reveal everything. However, it turned out that he is a very friendly and nice person. There are many writers who are skillful storytellers. However, it is very difficult to find a writer who is adept at capturing the atmosphere around the story. Mr. Asai is such a writer who is good at doing that, and creates sophisticated and elaborate novels that are very hard to be summarized. So, I hope you read his books.

Emcee: Mr. Asai, have you met with readers and spoken with them directly in such a setting in Japan?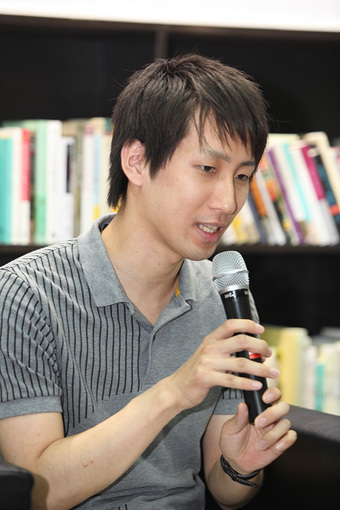 Ryo Asai: While there are also such events in Japan, the Japanese people are very shy and humble... so even if they attend an event to meet the person they like, they do not say loudly, "I like you!" In Japan, I don't receive as much applause as I did here, therefore I am very happy to receive such a warm welcome from everyone here today. I have heard that Ms. Chung holds many such exchanges with her readers. Do you usually participate in talk events like this with your readers?

Chung: Yes. In fact, I am quite shy, so I worry if readers will be disappointed when they meet me in person thinking that they might say, "Just reading her books was much better than meeting her." Still, I have a strong desire to meet with them. I attempt to incorporate the most important inner aspects of myself into my works, so I am really curious to find out what kinds of people my readers are. It appears that many of my fans are nice, friendly women, and I would like to write many novels for these kind sisters.



The similar sense of distance with the novel

Emcee: Ms. Chung, you told that you personally had empathy with Mr. Asai many times when you read his books. I found several things you two have in common. Both of you focus on the everyday lives of your friends through the contents written on websites (such as blogs and Twitter). In fact, Ms. Chung's work, "Koredake chikaku ni" (As Close as This) seems to portray the lives of the people close to us through the aperture of a digital single-lens reflex camera. Young writers these days appear to be using somewhat cinematic techniques.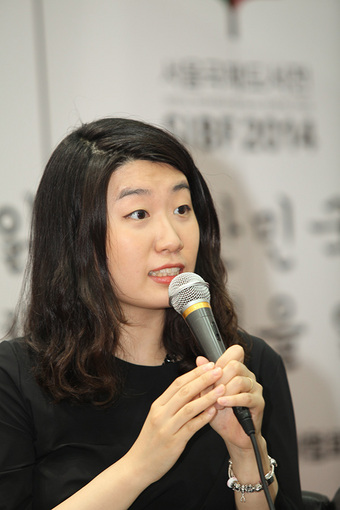 Chung:I have also constantly written novels that deviate from typical writing techniques. Mr. Asai's novel, "Kirishima, bukatsu yamerutteyo" (The Kirishima Thing) was actually cinematized, wasn't it? I heard that it has gained considerable popularity in Japan. I had read the book before the movie premiered in Korea and there was something that I was curious about. I wondered why this person decided to use the novel as the medium. This story could have been well depicted through other forms of media too, so I wanted to know the reason why Mr. Asai chose the novel in the era when vision is the very medium which draws most attention.

Asai: I think that the first trigger that had initially encouraged me to write novels had a big influence on my decision. Like Ms. Chung, I began writing novels when I was about four or five years old. At that time, I could not use computers, nor did I think about using a recorder. The only tools that I could use then were a pen and paper Therefore, the way to deliver my own thoughts using a pen and paper deep rooted in me.

Chung: I often think like that. This job can be completely done by myself at the lowest cost, and I can write freely without any restrictions. I'm glad to know that you feel the same way. There are some writers who perceive literature as religion and their own god, and others who are unemotional about literature. I have heard that Mr. Asai keeps a certain distance from literature without getting too close to it.

Asai: Yes, that is what I feel. I think that it's impossible to separate myself from the novel. However, I keep a relationship between the novel, which is not interdependent on one another rather than taking it as something like the absolute God just like you said. I believe this is because there are other things I like except novels. I have heard that Ms. Chung loves history. You also have something that you like apart from novels, so I am sure that you get down to the novel keeping the similar distance to mine.



Let's produce a collaborative work someday!

Chung: We talked about producing a book in collaboration with Korean, Chinese, and Japanese writers someday.

Emcee: I believe some of you here have already read it. Korean writer Gong Ji-young produced a collaborative work with Japanese writer Hitonari Tsuji, titled "Ai no ato ni kuru mono" (Things That Come After Love). This love story was written from both viewpoints of the male and female protagonists. What do you think of doing this kind of things some time?

Chung: Those who have read our works might have already known, and the lead characters of our novels are both a sort of herbivorous type. They are not passionate. Would it be possible for us to produce a passionate story?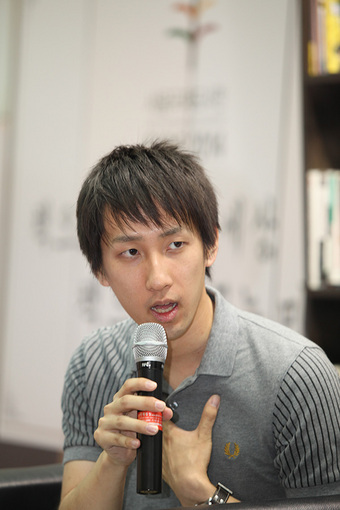 Asai: Well, I will write the story from the perspective of the woman, while Ms. Chung from the perspective of the man, and then we can avoid focusing on this issue (laughter). Ms. Chung, from which perspective do you find it easier to write: of the man or the woman?

Chung: It used to be easier for me to write from the woman's perspective, but recently, I found it easier to write from the man's perspective when I wrote thinking how would my younger brother behave in this situation. Hence, I can now write from the man's perspective.

Asai: I have an elder sister too. Due to her influence, it became easier for me to write stories from the woman's perspective. We are quite similar, aren't we? If we work on a collaborative work, we may end up producing the two same works!

Chung: I was also a volleyball player when I was a high school student, and you wrote about volleyball in the novel "Kirishima, bukatsu yamerutteyo" (The Kirishima Thing). Yes, I do feel that we are indeed very similar. Although we were born in different countries, I feel that we have followed the similar paths in life.



The growing popularity of SNS and dilemma of youths

Emcee: Both Ms. Chung and Mr. Asai write novels that focus on the relationship of people around you and give a fresh insight into it from the perspective of new media. I would like to talk with you about youths in Korea and Japan. Ms. Chung, what do you think of the reality and dilemma with which Korean youths are faced? Mr. Asai, what do you think when you look at Japanese youths' human relationship? This is the material and topic that young writers have to deal with in their works. Please tell your opinion.

Chung: At one time, I found a common sense of failure in young writers and their works in Korea. Our generation went through a difficult period without identifying our own positions; therefore our novels more or less reflected this difficulty. Looking at the works created by Japanese writers, I feel that there is a strong sense of optimism while there are concerns about the similar problems. I found some senses of freedom getting away from authority in their novels. Then, I would like to know what topic Japanese writers are currently interested in.


Asai: What I feel as a man who actually lives in Japan is that as a result of that we think too much about self-identity, we tend to have an exclusive attitude toward others, in other words, an increasing number of young people communicate in the way that lowers the position of others in order to secure their own position. I think that this trend came to be seen in the midst of the growing popularity of SNS. In my novels, I wish to explore the ridiculous and comic aspects of being able to observe myself from an objective point of view.

Chung: In "Nanimono" (Somebody), the character who frequently emerges on Twitter is completely different from what the person actually is. You have skillfully portrayed the character that is usually cheerful and positive and have high self-esteem. I believe that those who are interested in the subject would really enjoy reading the story, but it did give me some goose bumps. The phenomenon occurring on SNS explains that there is a certain distance between SNS and the users. Mr. Asai is drawing attention from all parts of Japan not only for his works, but also as an individual. As you are a popular personality, you are watched not just for your novels. In that sense, do you feel some pressure?

Asai:  When I appear on television, for example, only the good aspects of my image are selected and shown, which is very similar to SNS in that sense. Hence, I sometimes feel fear about being judged by only what people see on television. Only the tip of the iceberg is being shown to others, so these days, I think a lot how I can express the rest in my novels. I have read some of the materials about Ms. Chung's works. For example, as for "Koredake chikaku ni" (As Close as This), I felt that you have depicted something that is very close to your inner self. "Yaeba ga mitai" (I Want to See Your Double Teeth) has nine small works within the work itself, and I felt that you had written this as a fiction rather than as something drawn from inside yourself. Which is your driving force - the desire to present a realistic portrayal of your inner self, or the willingness to produce a highly accomplished fiction?

Chung: This is what often troubles me. I feel that the real world without modifications lacks something that attracts readers, so when I create a character, I shuffle about five people including my friends or other people around me whom I have observed. By doing so, I am able to create a person who is quite realistic yet unique at the same time, because he or she is a combination of five different people. Hence, just like assembling a puzzle or putting together Lego blocks, when I gently press the gap between the reality and fiction, my characters have stronger and more unique personalities.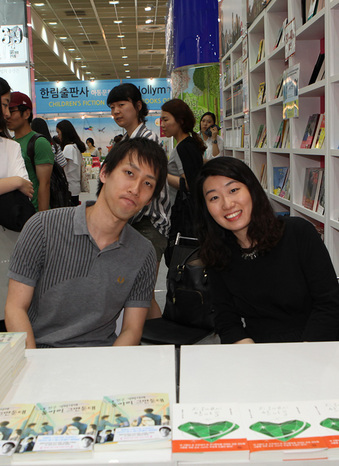 Asai: Recently, I have also thought that if I write about the reality in a realistic manner, it will lose its attractiveness, or there will be no point reading the novel. Japanese novels are appraised for the reality, or the extent to which the readers have empathy with them. In other words, the focus is often placed on how realistically a writer is able to depict a story. What do Korean readers focus on when they read a novel? Do they focus on the reality, or the level of completeness as a fiction?

Chung: I think that Korean literature seems to be somewhat in the oppressing mood. The reality is that you are not highly recognized for writing a novel whose contents are cheerful and positive, or having a sense of speed. With an increasing number of young writers, I think that this has to change gradually, and is supposed to change. In this sense, I presume that we will have more opportunities to interact with Japanese writers. I would like to ask you a question. Mr. Asai, you have already become a writer who represents your generation. Don't you feel being pressured by the expectation that comes with being a representative of a certain generation? In fact, it is not easy for one person to represent one generation, is it?

Asai: To be honest, I have not felt yet that I have become a representative writer of my generation. However, I have also recently begun to feel that I cannot continue saying such things any longer. Different people encourage me that I have to work hard and lead young Japanese writers, so I have to be fully aware of my position, and stand before many people to sincerely communicate with my readers like Ms. Chung. I need to do something which I can do taking a broad perspective of the entire publishing industry.

Emcee: One more last thing. What message do you have for your readers in Korea?

Chung: I think it is a pity that writers who should be introduced to both countries are not properly introduced. I hope that readers and writers stay close together till both parties grow old. I would like to make many good friends, just like Mr. Ryo Asai.

Asai: Personally, I felt that I had written about a smaller part of the small country called Japan. However, having the opportunity to speak to so many people even in Korea, I could gain greater confidence to believe in myself more. It was inspiring for me to know that there are so many people including Ms. Chung who listened to me. I also feel that Japanese readers of novels probably do not read as many foreign writers' works as their Korean counterparts do. Having read the materials about Ms. Chung's works this time, I am certain that Japanese readers would also like them. Therefore, I wish that all of us including myself would learn more about the literary world beyond national borders.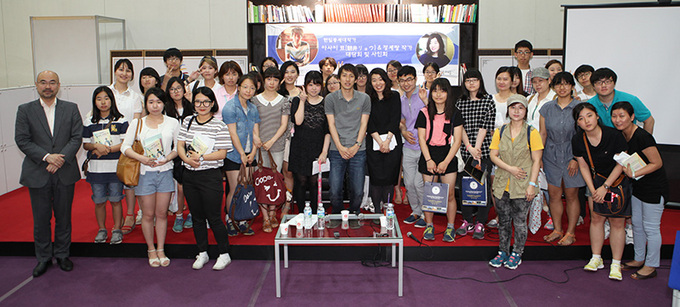 Group photograph with Korean readers who attended the event





Ryo Asai
Novelist
Born in 1989 in Gifu Prefecture. Asai is a graduate of the School of Culture, Media and Society, Waseda University. In 2009, he received the 22nd Shosetsu Subaru New Writers Award for his novel, "Kirishima, bukatsu yamerutteyo" (The Kirishima Thing). He also published many works while still in school including "Cheer danshi!!" (winning the 3rd Tenryu Literature Award selected by high school students), which he had written after interviewing a male cheerleading team, "Hoshi yadori no koe" and "Moichido umareru" (nominated for the Naoki Prize in the second half of 2012), and "Shojyo wa sotsugyo shinai". In January, 2013, he received the 148th Naoki Prize for "Nanimono" (Somebody). Asai is the first awardee who was born in the Heisei era in the history of the prize as well as the youngest male recipient. Then, he received the 29th Joji Tsubota Literature Prize for "Sekai chizu no shitagaki". His latest work is "Supedo no 3".

Chung Serang
Novelist
Born in 1984 and made her debut as a writer in 2010 with the publication of "Dream, Dream, Dream" in the journal, "Fantastic," and Naver's "Today's Literature". In March, 2014, she received the Changbi Prize for "Koredake chikaku ni" (As Close as This). "Yaeba ga mitai" (I Want to See Your Double Teeth) and "Chikyu de hana dake" are her novels.