The Japan Cultural Institute in Rome:An Event on the Tiber Island "Un'isola del Giappone"
The Japan Cultural Institute in Rome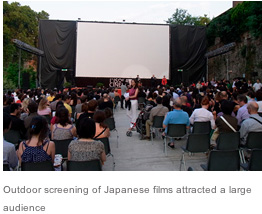 On July 6 and 7, an event to introduce Japanese culture called "Un'isola del Giappone" took place on the Tiber Island (Isola Tiberina), a small island on the Tiber River in Rome. The organizers were : the Japan Cultural Institute in Rome, L'ISOLA del CINEMA, the Embassy of Japan in Italy,Fondazione Italia Giappone (Italia-Japan Foundation), JRO (Organization to P romote Japanese Restaurants A broad), and Hasegawa Saketen, each of them is engaging in propagating Japanese culture from various perspectives.

This was the second occasion following the first one in last year, at which Prime Minister at the time, Taro Aso who was visiting Italy for G8 Summit, participated in the opening ceremony. While the last year's Un'isola del Giappone was limited to the invited guests, this year it was open to the public and 600 tickets for each day have been completely sold out, indicating Italians' high interest in Japanese culture.



This year's Un'isola del Giappone opened on July 6 with the opening address by the Mayor of Rome, Gianni Alemanno, followed by a live performance of GIBIER du MARI, a band led by a Japanese actress and singer Mari Natsuki, and a screening of a film "Dear Doctor". On July 7, a live performance of traditional Kagoshima dance, Japanese opera "Yuzuru", and a screening of animation film "Summer Wars" were presented.
In addition, Japanese food and sake tasting time was provided on both days, attracting many visitors. It has been long since Japanese food became very popular in Italy, so the tasting time was a huge success. Stalls of Japanese restaurants lined up along the river, just like food stands at a summer festival in Japan. Some of Italian visitors wore Yukata, making people feel like they were actually visiting Japan, and such feeling added flavor to Japanese dishes, sake, and beer served at stalls.

Film screenings were also held outdoors, so the audience saw the films in pleasant night air. Both films received warm ovations from the audience at the end of screenings. Although it was already past midnight, the audience seemed content with the films and strolled along the river to go home. These two nights were valuable occasion to experience the summer of Japan in Rome.