Activity Reports:Japanese-Language Education Overseas:Training Program for the U.S. Teachers of the Japanese Language for 2010
From June 18 to July 17, 2010, an intensive four-week training course for K-16 Japanese-language teachers from U.S. was held at the Japan Foundation Japanese Language Institute, Urawa in cooperation with the Alliance of Associations of Teachers of Japanese (AATJ).
While the budget for foreign-language education in the U.S. has been shrinking, Japanese-language education across the country needs reinforcement of its basis. This demand increases the importance of the articulation of Japanese-language education from elementary to higher education and cross-state and cross-regional collaboration. Moreover, the National Standards for Foreign Language Education has been recently introduced to the elementary and secondary education in the U.S. requiring that teachers give lessons of foreign languages in association with history, literature, and culture of the target countries. Therefore, Japanese-language teachers need to gain knowledge of these fields.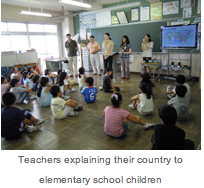 Given such circumstance, 20 teachers who are teaching Japanese at elementary and secondary schools and colleges across the country participated in this training program. This program aimed at introducing Japanese culture in Japanese-language lessons and developing teaching materials by using the state-of-the-art web technology (such as Google Docs), so a wide range of issues was covered by lectures on Japanese culture ('J-Pop', 'Japanese Manga and Anime') and practice (Rakugo and others), lectures and exercise of the latest technology, and a lecture on the current situation of language education in the U.S., as well as extra-curricular activities including study trip and visit to elementary schools.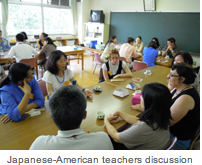 The final task of the program was to develop a practical teaching material in a group of two to three participants by using the technology they learned. They produced the materials on interesting subjects such as "Culture of Public Bath," "Declining birthrate and gender role," "Endangered species," and "Shukatsu (Job hunting)."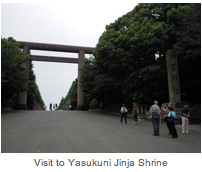 Participants commented on the program that they discovered Japan that they had never expected before, and that they were eager to use the latest technology in their classrooms.