Challenges we face as citizens of East Asia: The Future Leaders Forum 2010: China-Japan-Korea
Makoto Moriya
Asia and Oceania Section
Japanese Studies and Intellectual Exchange Dept.
The Japan Foundation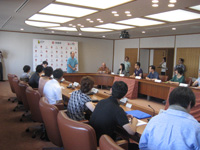 The Future Leaders Forum: China-Japan-Korea" is an event that has been jointly organized by the Japan Foundation, the Korea Foundation and the All-China Youth Federation since 2002; the 8th annual forum was held in July and August in 2010.
The forum gives future leaders from the three nations an opportunity to get together and hold intensive discussions on common issues so that they can cultivate a sense of mutual trust and build long-lasting networks of friendship. Candidates are drawn from six areas: government, bureaucracy, academia, business, journalism and non-profit organizations (NPOs) to participate in the residential style program during which they travel around the three countries. Forum activities include seminars by experts in various fields, debates, visits to related institutions, and participation in cultural events.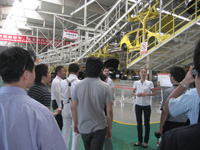 The forum schedule for 2010 was as follows:
July 29-August 1: Jeju-do, Korea
August 1-August 5: Okinawa, Japan
August 5-August 8: Shanghai/Ningbo, China
The programs were planned based on the year's main theme, "Vision 2030 for Northeast Asia," and the sub-themes decided by each country: Japan "Civil Society," China "Developing a Low Carbon Economy," Korea "Security." The eighteen participants spent eleven days in Jeju-do, Okinawa, Shanghai and Ningbo, and held heated debates on these topics.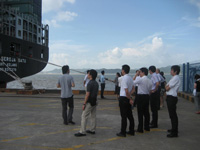 In Okinawa, in keeping with the sub-theme of "civil society," the program focused on sessions where participants exchanged views with local NPO leaders. The agenda included a courtesy call to Governor Hirokazu Nakaima of Okinawa, an eye-opening lecture by Professor Kurayoshi Takara of the University of the Ryukyus on the history of East Asia and the Ryukyu Islands, and a visit to the Okinawa Prefectural Peace Memorial Museum. Comments from the participants included "I didn't know that China, Korea and Okinawa were so closely connected historically and culturally," and "Through our discussion, I realized how differently NPOs and NGOs (non-governmental organization) are perceived in each country. Going forward, we must start thinking in terms of what we can do to address these issues as citizens of East Asia."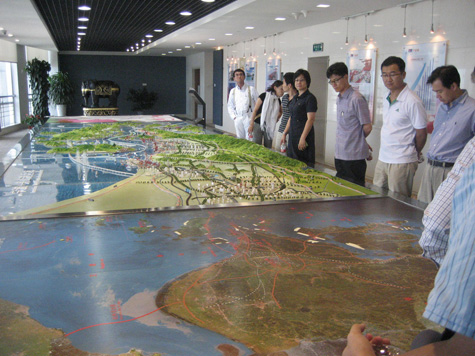 The participants seemed a little uncomfortable with each other at first, but after several days sharing room and board, casual conversations developed into frank debate, and opinions flew back and forth without constraint. By the final days of the forum in Ningbo, they felt strong ties to the comrades with whom they had enjoyed verbal battles. The people who took part in the program were all between 30 and 45 years old, and we were delighted to hear the comment from one of them who said: "I never thought I would find life-long friends in Japan, Korea and China at my age!"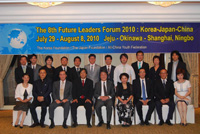 We are pleased to report that the 2010 forum was successfully completed, but this end also marks a new beginning. It is our hope that the network of friendship built here will be kept alive, and will be extended to include past participants and those who are already leaders in the three countries. We also must work to spread the feeling of unity fostered among the participants. There is still a lot of work to do, but we believe that these small links will further strengthen the bonds among the three nations, and will contribute to peace and stability in Northeast Asia, which is the true aim of the forum.