The Japan Foundation, New York:Discussing U.S.-Japan Relations from Various Perspectives - "The U.S.-Japan Network for the Future" Workshop in Washington D.C. / June 14 to 18, 2010
The Japan Foundation, New York


Former U.S. Ambassador to Japan, Mike Mansfield once said, "The U.S.-Japan relationship is the most important bilateral relationship in the world, bar none." In this globalized world of the 21st century, the U.S. and Japan together are facing a vast number of global issues that require both countries to cooperate fully with each other, making the importance of this bilateral relation ever more significant.

Bearing this in mind, the Japan Foundation Center for Global Partnership (CGP) launched a new program "U.S.-Japan Network for the Future" in collaboration with the Maureen and Mike Mansfield Foundation to honor Ambassador Mansfield's achievements and to engage various individuals from a broad spectrum of fields within U.S.-Japan exchange.

This two-year program targets Japan specialists in their early to mid-career stages who are expected to be involved in policy and opinion-making in the U.S. in the near future. Through an open competition, 15 specialists were selected; they are scholars and officials of NGOs, think-tanks, and the U.S. government with diverse expertise from all regions of the U.S.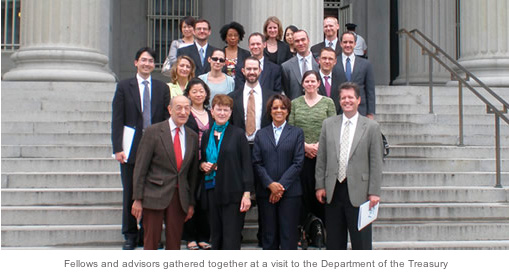 This program aims to offer them the opportunity to build a network of contacts in the field of policy-making in both U.S. and Japan as well as to deepen their understanding of the diverse issues common to our two countries, while building a close network amongst the participants themselves.

One of the program's scheduled workshops was held in mid-June. Taking advantage of the Washington D.C. location, there were discussions with U.S. senior government officials and correspondents from Japanese media, visits to the Pentagon and the Department of the Treasury. In addition, training sessions were provided to enhance their ability to write persuasive op-ed pieces and to practice effective interviews techniques.

Participants will gather together again for a two-day retreat in Montana in October 2010 and a week-long Japan study trip in the spring of 2011. Through these activities and experiences they are expected to broaden their perspectives on the U.S.-Japan relationship and nurture friendship among themselves as future leaders who share a deep interest in Japan.