The Japan Foundation, Seoul:The Vitality of Kurosawa's Films
The Japan Foundation, Seoul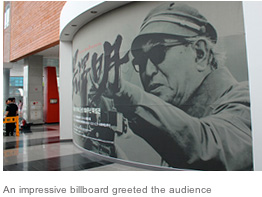 The great Japanese film director Akira Kurosawa was born in 1910. In 2010, "The 100th Anniversary Film Festival of Akira Kurosawa's Birth" took place in Seoul and Pusan to commemorate the centennial. This is a traveling film festival that will appear in Asian countries and uses the Japan Foundation's collection of new prints of Kurosawa's films. The Japan Foundation, Seoul organized this event in Korea together with four co-organizers: Korean Film Archive; Film Forum; Public information and Cultural Center, Embassy of Japan in Korea; and Cinematheque Pusan. 23 films of the legendary filmmaker were shown from July 1 to August 29, including seven films that had never been shown in Korea before. It was the most extensive Kurosawa retrospective ever held in this country that attracted a huge audience.

Mr. Ahn Sung-ki, the most respected actor in Korea and many other Korean filmmakers, actors, and film critiques gathered to greet the special guests for this film festival: Mr. Tatsuya Nakadai, a leading Japanese actor who starred in "Yojinbo", "Kagemusha" and "Ran", and Ms. Teruyo Nogami, a scripter who has been working with Kurosawa since "Rashomon." This attracted further public attention.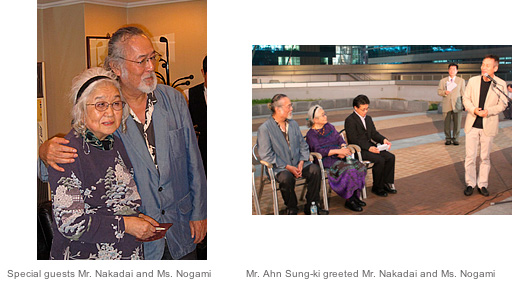 Regarding the vitality of Kurosawa's films, Mr. Nakadai said, "Mr. Kurosawa left us the films that are equally stimulating and thrilling to the audience five years, 100 years, and even 200 years later. I hope we can contribute to the world peace through the exchange of films between Japan and Korea." Ms. Nogami added, "By wining the Golden Lion Prize at the Venice Film Festival, 'Rashomon' opened the door to the world for the Japanese films. The film had the power to give hope to Japanese people who lost hope and self-confidence after the defeat of Japan in World War II." The audience enthusiastically asked them questions one after another.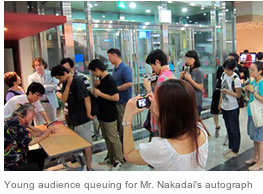 The venue in Seoul was Korean Film Archive where the audience of 15,194 people in total was enraptured by Kurosawa's films for 22 days, and all the seats were filled for 16 screenings, which was the record-breaking success for the Archive. This film festival thoroughly exhibited the vitality of Kurosawa's films by attracting such a tremendous interest and sympathy among the young audience in Korea in a short period of time.

"The 100th Anniversary Film Festival of Akira Kurosawa's Birth" will go on a tour in four Asian countries, namely Philippine, Indonesia, Thailand, and Malaysia until March 2011 (the detailed schedule is TBD). A tidal wave of enthusiasm stirred up in Korea will sweep these countries.