Learning Japanese Through Anime & Manga--the 11th JAPAN EXPO in Paris--
Shuji Takatori
The Japan Foundation, Manila
The 11th annual JAPAN EXPO, the world's largest festival celebrating Japanese popular culture, took place in Paris, France, from July 1-4, 2010, organized by the SEFA EVENT company and held at the Paris Nord Villepinte Exhibition Center. The Japan Foundation's exhibition introduced the entertaining world of Japanese language to a large number of interested visitors.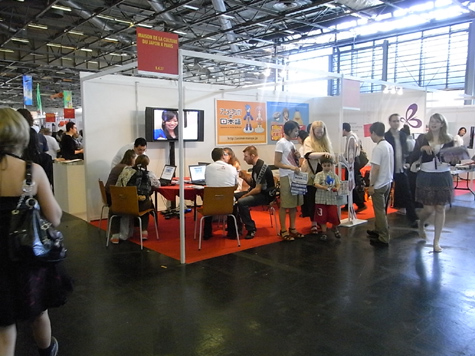 Visitors checking out the Japanese language website at our booth
Introducing Japan through Pop Culture
JAPAN EXPO is a huge extravaganza, attracting fans of Japanese culture such as manga, anime, games, music, fashion, and sports. In 2010, the event drew more than 150,000 people over four days, the majority of them French. France is known as the world's second largest manga market after Japan. Most of the visitors were in their late teens and 20s, but there were also families with small children, and some people over 30.
Eighty percent of the floor space was dedicated to popular culture, with booths, events, and film screenings about manga, anime, and games; there were also a lot of people enjoying cosplay. Another section was reserved for traditional Japanese culture, such as budo (martial arts), and sports, as well as information about tourism and Japanese language studies.
The Japan Foundation organized a concert by Wadaiko MAKOTO, a Japanese drum troupe, on a stage built specifically for them. The dynamic performance had such an impact that even the cosplayers wandering about the hall found themselves stopping in front of the stage to enjoy the show.In the traditional culture zone, the Japan Foundation set up a booth where we welcomed visitors to check out two Japanese language learning websites that were set up this year.
The first is "Japanese in Anime & Manga," an E-learning site that allows visitors to have fun while learning Japanese phrases and expressions often used by characters in manga and anime. The second is the online version of the educational video "Erin's Challenge! I Can Speak Japanese," a program featuring Japanese actresses Ellie Toyota and Kana Kurashina that is broadcast in ten countries abroad as well as on NHK Educational TV in Japan. The story follows Erin, an exchange student who arrives at a Japanese high school, as she learns about Japan's culture and language. Based on innovative learning materials, the website uses a series of skits about Erin's experiences in Japan, along with explanations by CG anime characters, to help users develop both language skills and cultural understanding. The website also contains numerous features available only online.
Increased Access to the E-Learning Websites
During the expo, approximately 200 visitors stopped by to explore these new websites on computers set up at our booth. While most people browsed through the beginner level contents such as greetings and other common phrases, some played games and did quizzes, and still others went on to tackle the more advanced level conversation exercises. The Japan Foundation also set up a stand where Japanese staff showed visitors how to write their own names in katakana, answered questions about Japanese language studies, and provided information on upcoming events at the Japan Cultural Institute in Paris.
To our delight, the two websites we introduced at the JAPAN EXPO have seen an increase in access from French visitors since the opening day of the event. Going forward, we will continue to promote the two websites by taking advantage of opportunities to introduce them at various public events and creating further links to websites frequented by pop-culture fans. In addition, we hope to improve the site's accessibility and enrich the contents with more useful information and exciting features.
We look forward to seeing an increasing number of pop-culture fans take an interest in the Japanese language and culture, or pursue Japanese studies in the future.