Three Values of Culture and the Role of Cultural Organizations--Expectations for the Future
Sumiko Kumakura
Professor, Tokyo University of the Arts
Last spring, I was invited by the British Council to participate in a study tour in the U.K. observing local cultural programs to encourage social inclusion (*1).
In the past, when we went on such tours, we would be left amazed by the extensive cultural infrastructure of the West. It was so impressive that it was often the only thing covered in trip reports. When these study tours led to international exchange programs, they were usually large-scale projects between public art museums, theaters and festivals.
This time, however, the Japanese NPOs that had joined the trip started working on international exchange activities with their British counterparts as soon as they got back, making me keenly aware that the time has changed.
For example, an NPO that organizes art activities with homeless people in Yokohama and Kamagasaki, Osaka, held a workshop with a facilitator invited from a British NPO that stages opera performances by homeless people. In Awaji Island, a grassroots group offering community-based cultural programs invited an expert from a cultural think tank and consulting company in the U.K. for a seminar on organizational operations and assessment. The speed with which the study tour participants utilized the knowledge and networks they had acquired during the trip heralded a new era of cultural exchange.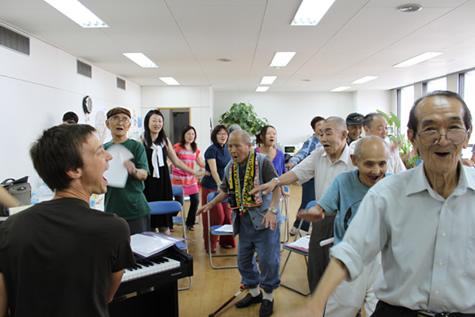 *Caption A British facilitator holding a workshop in Kamagasaki, Osaka
(C) British Council
Three Values of Culture: Intrinsic Value, Instrumental Value and Institutional Value
Both the British Council, which organized the study tour, and the Japan Foundation are the government-related institutions specializing in international cultural exchange. What is the role of these organizations? What is a position for international cultural support organizations in society to begin with?
While acting as a panelist at a symposium hosted by the Japan Foundation in March 2010 (*2), I heard an interesting story which could serve as a clue to answering these questions.
The main speaker of the symposium was Professor John Holden (*3), who was one of the founders of Demos (*4), a British think-tank focused on power and politics, and who remains an associate at the institute. Both his personality and presentation were intriguing, but even more so was the cultural value triangle he cited to illustrate the relationships among the public, government and cultural organizations, which he has published on the Demos website (*5).

Source: John Holden, Cultural Value and the Crisis of Legitimacy:Why culture needs a democratic mandate, 2006 http://www.demos.co.uk/people/johnholden
Holden uses two overlapping triangles to describe cultural value. The triangle in the back represents the three groups of people who play a role in culture, namely the public, politicians and policy makers and professionals. The one at the front indicates the three values created by publicly financed culture. Where the triangles overlap, we can clearly see which cultural value is prioritized by which group.
Let's take a closer look at this notion. At the top of the triangle is the public. People are intellectually and emotionally inspired by the subjective experience of culture, as audience members or readers, for example. Holden uses the term "intrinsic value" to describe the fundamental reason that people engage in cultural activities, that is, the immediate feeling we have when we see an opera and think, "This is fun!" or go to an art museum, and say, "I like this painting."
Politicians and policy-makers are placed on the lower right-hand corner of the triangle. They view culture as a social tool, and pursue its instrumental value, defined in terms of the contribution culture makes to the economy or public welfare. According to Holden, when people see a play, their reaction is simply "That was great!" whereas politicians and policy-makers look for quantifiable value, asking "Will it promote tourism?" or "Will it have a positive economic effect?"
The third element of the triangle is professionals, and they focus on institutional value. It is difficult to clearly explain in Japanese the full meaning of the word "institutional". It encompasses the organizational value produced by professional organizations that allows culture to play a more effective role in society. It incorporates the short-term social value pursued by politicians and policy-makers, as well as the subjective, intuitive aspect sought by the general public, and can be thought of as a long-term institutional or public value which drives society forward through culture.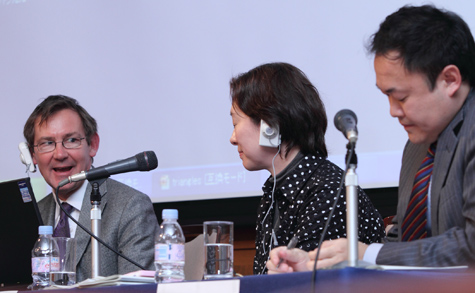 Professor Holden explaining the triangles at the symposium
(C) Satoru Seki
In his paper, Holden suggests that cultural institutions including theaters and art museums should be regarded as not mere "sites of experience" but as "creators of value." Depending on the strategies adopted and the way they are used in relation to society, such institutions can either create or destroy the institutional value of mutual understanding and trust among the public, the joy of shared experiences, and the sense of belonging that results from such experience.
Holden emphasizes that the three cultural values are not mutually exclusive but complementary, illustrating the point with the example of a student who goes to an art museum. Standing before a work of art, the student thinks, "This is beautiful". This artistic and emotional experience constitutes intrinsic value for him. If this experience stimulates his creativity and his grades improve, the instrumental value sought by politicians and policy-makers is generated. Furthermore, if this deeper understanding of his own and other cultures leads him to develop an awareness of the relation between himself and the world, and enhances his sense of community and belonging to society, then the third value is created.
This example shows a positive relationship among the three values and their synergy. But the overlapped triangles show us how different each of these three "actors" responds even when exposed to the very same cultural experience.
Holden issued a warning call for cultural organizations, and suggested that paying attention to these three different viewpoints is effective in identifying flaws in a cultural system. Lately, cultural institutions have been focusing purely on their relations with government in an effort to expand budgets, and treating citizens as mere recipients of what they offer. Thus, they have not developed a cultural planning system that involves the public in any creative way. What then would a cultural value triangle look like for the British Council and the Japan Foundation?
What we want from international cultural exchange organizations: Focus on supporting citizen groups, not government
In Holden's theory, the diagram takes the form of an equilateral triangle, but what are these triangles like in reality? Aren't the angles skewed, not balanced?
Cultural organizations, the third point of the triangle, are not recognized as widely as they should be in Japan. If these institutions move closer and closer to politicians and policy makers, they will completely overlap, destroying the triangle and leaving only instrumental and intrinsic values.
If that were to happen in the case of the Japan Foundation, for example, the organization would promote Japanese cultural projects overseas only at the convenience of the government, or to boost the administration's popularity among Japanese citizens.
There is a tendency to overlook the importance of cultural organizations in creating long-lasting institutional value globally, and their role as agents that can maintain an appropriate distance with a government while giving due consideration to national policies. This, however, is at the heart of international cultural exchange that transcends borders and race.
How about the relationship with the public? In the field of art, centers such as the Japan Foundation offer a wide range of high quality programs to promote Japanese culture. Yet, these organizations should be playing the role not only of "presenter," directly introducing Japanese culture to people in other countries, but also of intermediary.
More specifically, they should help cultural presenters in the public and private sectors so that these institutes can step up their programs for international cultural exchange. Unfortunately, we cannot say that such finely-tuned support is provided in Japan.
Nevertheless, right after I came back from the study tour, I saw program coordinators fueled by enthusiasm from the tour, encouraging and supporting civil organizations to engage in international exchange activities. This showed me that these professionals are eager to work with the public and successfully fulfilling their roles as intermediaries, which, I must say, is not a common attitude among public cultural support institutions in Japan. Often, such organizations avoid working in close cooperation with the groups that provide cultural support to the public directly.
Do small NPOs in Japan and abroad know about the Japan Foundation? When they encounter problems, do they have a coordinator they can turn to? Unless Japanese cultural organizations are willing to engage concretely with society, they cannot be creators of institutional value.
On the side of Holden's triangle linking cultural organizations and the public, there can in fact be many other organizations and institutions. Although the diagram shows the two connected by a straight line, if you enlarged the image you would see that this is actually an intricate network consisting of numerous people.
I look forward to seeing the Japan Foundation contribute further to establishing an international exchange program for the 21st century in which various grassroots organizations exist in a network of multiple connections with people in all directions.
*1 Details and a report on the study tour are available on the British Council website. Click here for details on the joint project with homeless people.

*2 Values Without Borders: 'Cultural Diplomacy' Starts At Home, a symposium held on Thursday, March 11, 2010 at the International House of Japan, co-hosted by the Japan Foundation, the British Council, and the Association for Corporate Support of the Arts. The program consisted of a public lecture by Professor John Holden and comments by Professor Sumiko Kumakura, Tokyo University of the Arts, and Professor Yasushi Watanabe, Keio University. Click here for an outline of the symposium.

*3 John Holden (Visiting Professor at City University, an Associate at Demos in the UK) Professor Holden was previously Head of Culture at the leading British think tank Demos until September 2008. He holds master's degrees in law and art history and specializes in cultural policies. He has been involved in numerous projects across the cultural sector, from libraries to music to heritage. He was a main organizer of the conference on valuing culture in June 2003 and has been working on the topic of cultural value thereafter. He has attended many conferences in the UK as well as in Finland, the U.S., Australia and New Zealand. He is currently a member of the Management Committee of the Clore Leadership Programme.

*4 For more information on Demos, visit the following website. Many publications including the one introduced here are available for free download. http://www.demos.co.uk/people/johnholden

*5 The report cited here is John Holden, Cultural Value and the Crisis of Legitimacy:Why culture needs a democratic mandate, 2006. It is also available on the Demo's website above.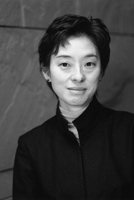 Sumiko Kumakura
Professor, Department of Musical Creativity and the Environment, Tokyo University of the Arts
Professor Kumakura studied at the Universite Paris X and earned a Bachelor of Arts in French Literature and Aesthetics and Science of Arts from Keio University and a Masters Degree in Philosophy from the Graduate School of Keio University. She worked for Kigyo Mecenat Kyogikai (the Association for Corporate Support of the Arts) from 1992 to 2002. She is involved in research and development of support for the arts by corporations, foundations, and community-based art projects. She has been in her present post since 2002. She specializes in the areas of cultural support and arts management.