Why Japanese Novels Are Popular in South Korea―Publishing Environments in Japan and South Korea
Akira Tateno
Article contributor / Korean-Japanese translator
Japanese novels are regulars on the South Korean bestseller list
Kyobo Book Centre, one of the largest bookstore in Seoul's Gwanghwamun, is always busy with people. After an extensive renovation last year, the store has become brighter and even more convenient. Customers vary, from young women to mothers with children to businesspersons and to middle and high school students. Japanese tourists also visit the store, as it has been featured in travel guides lately and carries not only books but also CDs, DVDs, accessories, and a variety of other goods perfect for souvenirs.
The most crowded place in the store is the "new releases in literature" section, which is set in a prime location near the entrance. As a renowned bookstore in South Korea, Kyobo Book Centre dedicates plenty of space to literature books.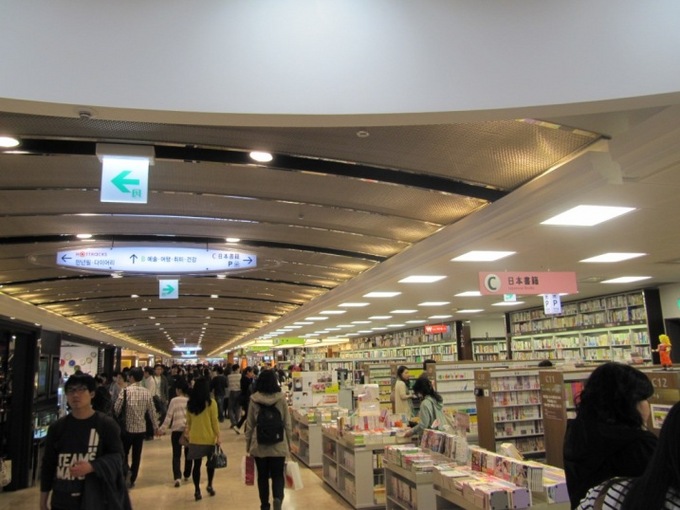 The section is packed with Korean novels, essays, corpuses, and translated books, and bestsellers are put on prominent display. Japanese bestselling authors, such as Haruki Murakami, Keigo Higashino, and Kaori Ekuni, have secured permanent spots on the shelves.
Although there is a separate section for translated works, Japanese literature (Japanese novels translated into Korean) receives special treatment, with a big table and shelf of its own. The sheer variety--even if here is only translated books--matches up to major bookstores in Japan. This section always attracts young women.
The Japanese literature section carries a varied selection of books. It starts with Japanese classics, including The Tale of Genji and Manyoshu, and the works of great masters of Japanese literature, such as Basho, Soseki Natsume, Ogai Mori, Kenji Miyazawa, Yasunari Kawabata, and Junichiro Tanizaki, and goes on to a collection of well-known contemporary writers, such as Yasushi Inoue, Ayako Miura, and Kenzaburo Oe, as well as representative works and new releases of those popular in Japan, such as Haruki Murakami, Keigo Higashino, Kaori Ekuni, Hideo Okuda, Banana Yoshimoto, Jiro Asada, Miyuki Miyabe, and Junichi Watanabe. I even found a book by a young woman writer I had never heard of before.
As South Korean readers are not accustomed to Japanese Bunkobon, or portable paperbacks, these Japanese novels are published in larger hardcover sizes with a strong presence in the bookstore. Their beautiful binding and covers are well received by Korean women.
Japanese literature is so prominently featured because it has achieved wide acceptance and bestselling status in South Korea. The fact that other major South Korean bookstores, including Youngpoong Bookstore, Bandi & Luni's, and Books Libro, also have similar Japanese literature sections proves that the special treatment is not unique to Kyobo Book Centre.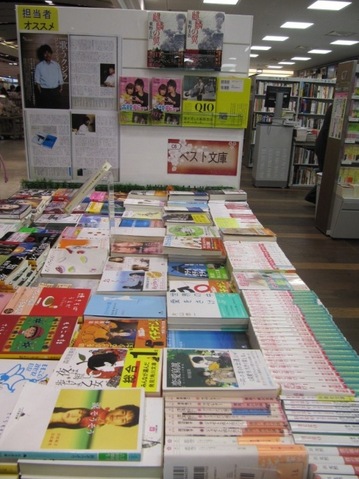 The Japanese literature section in Kyobo Book Centre closely resembles a bookstore in Japan. There is even a sign that says "Our picks" in Japanese.
Over 800 translated Japanese literature books released a year
The increased popularity of Japanese literature, especially of novels, can also be seen in publication statistics. In South Korea, about 40,000 titles were released from January to December 2010, of which literature accounted for 20.3% (8,192 titles). That is, one in five new releases fell under the category of literature. Translated books accounted for 28.3% of literature, with a total of 2,323 titles. The percentage is very high, considering that it is less than 8% in Japan.
Another interesting statistic is the ranking of translated literature books published in South Korea by country of origin. The top country was Japan with 832 titles (35.8%), leaving far behind the U.S. (21.4%), the U.K. (12.5%), and France. In other words, Japanese books accounted for a significant 10.2% of all literature, meaning one in 10 newly-released literature books was translated from Japanese.
The 832 Japanese literature books published in 2010 compares to a peak of 886 in 2009. From 2001 to 2010, the total amounts to as many as 5,680. Novels account for 78.2% of Japanese literature, which means other genres are included. But still, Japanese novels enjoy great popularity in Korea.
Only 260 translated works of Japanese literature were published in 2001. In 2006, however, there were more than 500, and the number jumped to 700, then 800, in 2007 and after. The year 2006 clearly marked a breakthrough for Japanese literature in South Korea.
Behind the trend is a recent major change in South Korean society
A more direct indicator of the great demand for Japanese novels is the "Proportion of Korean and Japanese novels: 100 bestsellers of the year" based on online and offline sales at Kyobo Book Centre, which compares data from 2001 to 2010. As can be seen in the graph below, Korean and Japanese novels have been evenly matched since 2004.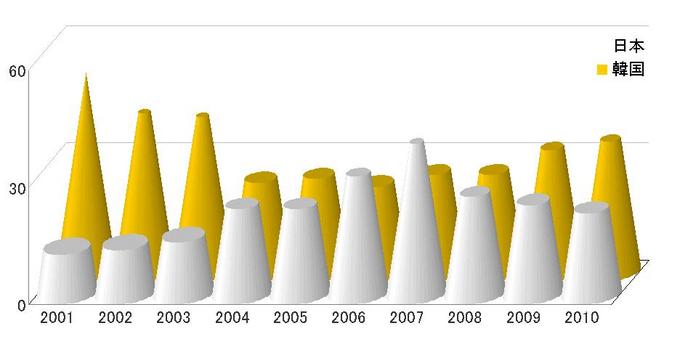 Proportion of Korean and Japanese novels: 100 bestsellers of the year (Source: Kyobo Book Centre)
Why have Japanese novels moved into the mainstream of the South Korean publishing market? One reason is that Koreans have become more familiar with Japan after recent major events, such as the Seoul Olympics in 1988, the co-hosting of the 2002 FIFA World Cup by Japan and South Korea, the opening of Japanese culture under Kim Dae-jung's administration (1998-2003), and the increase in Korean tourists to Japan as a result of the policy. But behind all this is the fact that South Korean society has gone through a drastic change. Its shift from military dictatorship to citizen-oriented democracy freed the country from various regulations and allowed the people to start focusing on individual rights, accepting different lifestyles, and recognizing each other's identity.
Japan has a longer history in such a way of life, which motivates the Korean people to read Japanese literature and learn more about Japanese feelings and lifestyles. In this sense, Japanese novels--particularly autobiographies--are known for their rich form of written expression. The themes and writing methods are vivid and varied, making the novels irresistible. Someone once said to me that Japanese literature is refreshing because the story unfolds from a certain individual's perspective.
Only 21 translated Korean literature books published in Japan a year
So far, I have discussed the circumstance surrounding translated Japanese books published in South Korea. Now, let me look at translated Korean books published in Japan. My focus here is again on literature. The number of Korean books published in Japan is incomparably lower than the over 800 Japanese books published in Korea: from 2001 to 2010, only 212, or an average of 21.2 books a year.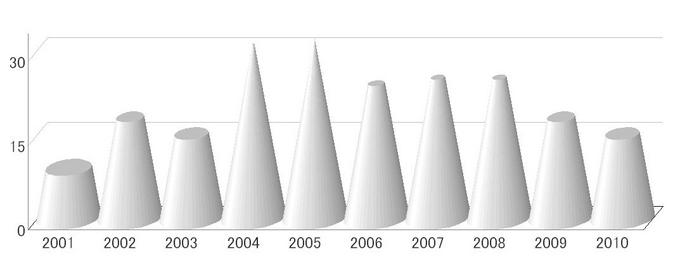 Number of Korean literature books published in Japan (Source: author's research)
Comparing the number of titles released from 2008 to 2010, for example, while 2,555 Japanese books were published in South Korea, only 58 Korean books were published in Japan. In addition, Japan's population is 2.6 times that of Korea. If put under the same demographic conditions, the gap between the numbers of translated books released in both countries would widen further. If you compare the figures for translated books, the number in Japan is only one fiftieth (2.2%) that in South Korea.
Considering the average of 21 Korean books published in Japan per year, it is no wonder that Japanese people are not familiar with Korean literature titles or authors. Korean TV drama series, movies, and K-Pop music have made a huge hit in Japan during the past few years, and Japanese bookstores are full of related publications including original books, scenarios, novelizations, guides introducing Korean stars and film locations, and magazines. You would expect more and more Korean novels to be reaching Japan, too. Excluding those books that take advantage of the Korean boom, however, Korean literature books are very limited in Japan's publishing industry.
Why is Korean literature given very few chances of release in Japan? Most Japanese publishers that I asked gave the same answer: they don't sell. In Korea, on the other hand, Japanese books are published one after another because they do sell. Publishing is a business; the publication of translated books depends on whether they will sell or not.
Japanese readers have yet to discover how interesting Korean literature is
Sales projections are surely not the only determiner of the gap between the numbers of translated books released in Korea and Japan. The majority opinion was that, despite their recent popularity, Korean movies or TV series would not be successful in the Japanese market. Promoters in both Korea and Japan racked their brains and went through much trial and error before they became widely accepted. And yet not all releases have attained commercial success; more than half have ended in failure. The hot sellers receive a lot of coverage, making us think that Korean creations are always a hit, but unfortunately this is not the case.
Since very little Korean literature has been introduced in Japan, Japanese readers have yet to discover how interesting and dynamic the Korean world of compassion and oppression is. An average of 21 titles a year is far from satisfactory. If releases increase to 30, and then to 50, sooner or later one will surely get attention in the Japanese market.
Planners and editors in Japanese publishing companies only assume that Korean literature will not sell, without even looking at the content. It is also a great setback that not many people in the Japanese publishing industry understand South Korea's circumstances or the Korean language.
Tsuyoshi Kusanagi, a member of the Japanese idol group SMAP, recently translated Lee Chul-hwan's collection of short stories and published it under the title Tsuki no machi, yama no machi (Town of the Moon, Town of the Mountain, Wani Books). Thanks to the popularity of Kusanagi, the book became a major topic in Japan and made a good start, selling 150,000 copies. Han Su-san's Gunkanjima published at the end of 2009 has also gone through four print runs despite its serious theme about forced laborers in coal mines during World War II. If promoted in creative ways, Korean literature will indeed sell well and Japanese readers will get an opportunity to discover its fascinating world.
A route needs to be developed to provide Japanese publishers, editors, and readers with accurate Korean publishing information. Training translators and providing them with proper support are important, too. Publishers need to build relationships of constant cooperation with the Korean Cultural Center, the Daesan Foundation, and other Korean organizations that offer publication support.
If a publishing environment is gradually built up through these efforts, at least 50 titles of Korean literature can be released in Japan per year. It will be a significant step to fostering a renewed awareness of Korean literature among Japanese readers.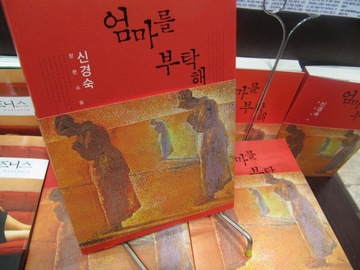 The 2009 bestseller Please Look After Mom by Shin Kyung-sook has been published in many countries including the U.S. and China.
Akira Tateno

Born in Dalian, China, Tateno graduated from the Faculty of Economics at Hosei University and worked for the Tokyo Metropolitan Government. He is a board member of the Publishers Association for Cultural Exchange and a member of the Japanese Society of Publishing Studies. In October 2001, he was granted a publishing culture merit award by the Minister of Culture, Sports and Tourism of South Korea. He has written Kankokushiki hassoho (Korean Way of Thinking, NHK Publishing), co-written Kankoku no shuppan jijo (Publishing Environment in Korea, Media Pal), translated Bundanjidai no hotei (Courtroom After the Division of Korea, Iwanami Shoten) and Gendai kankoku shakai wo shirutameno handobukku (Handbook of Modern Korean Society, Akashi Shoten), co-translated Souru no jinmingun (People's Army in Seoul, Shakaihyoronsha), and co-edited the 10-volume Shin kankoku tokuhon (New Korean Reader, Shakaihyoronsha). He has contributed Kaigai syuppan nyusu kankoku (Foreign News in Publishing: South Korea) to the late month editions of Shuppan News magazine since 1989.