World-Famous Yayoi Kusama's First Solo Exhibition in Vietnam
Yayoi Kusama
Celebrating the 40th anniversary of the establishment of diplomatic relations between Japan and Vietnam, the Japan Foundation presented "YAYOI KUSAMA: Obsessions," Yoyoi Kusama's first-ever solo exhibition in Vietnam, at the Japan Foundation Center for Cultural Exchange in Vietnam, from May 25, 2013.
The courtyard of the Center was filled with 1,500 silver balls representing the artist's famed installation Narcissus Garden. A further nine huge pieces called Guidepost to the New Space occupied the parking area at the back of the courtyard.
The entire exhibition hall became the venue for an installation of huge red and white polka dot balloons and mirrors titled Dots Obsession, while the annex kitchen was given over to I'm Here, but Nothing, a colorful installation where visitors can experience the illusive confusion of two and three dimensions.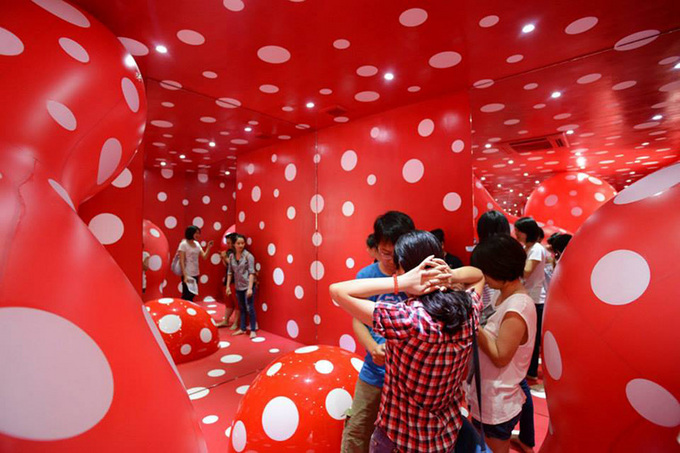 The Japan Foundation Center for Cultural Exchange in Vietnam has been serving as a platform to promote Japanese culture, cultural exchange, and creative activities to the people of Vietnam. The Kusama world, which were shown by making full use of the buildings and courtyard of the Center, received high acclaim from a wide range of visitors, from the Vietnam media and art circles to the general public.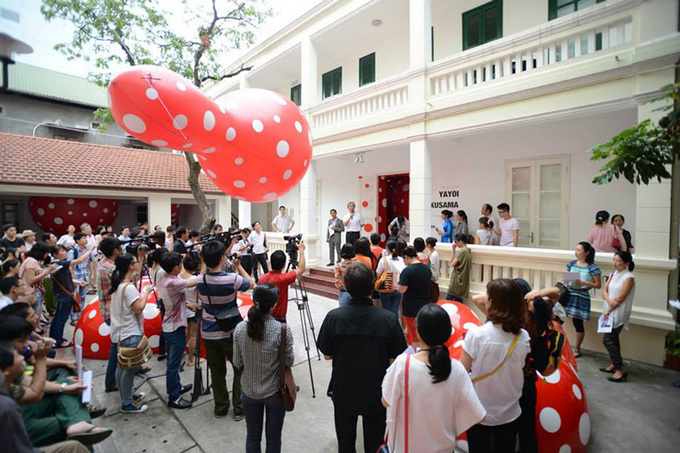 The following is a special message from the artist on the occasion of her first exhibition in Vietnam.
---
I am a lifetime artist making the best effort every day to create a plethora of works ranging from infinite polka dots and Net paintings, a variety of sculptures and video works to fashion design, novels and poems, to name but a few, in all of which I left tremendous messages about my energy for living, thoughts and philosophy.
Nowadays a lot of people in the world suffer from murders, wars and terrorisms.
I have been sending a message "LOVE FOREVER" through my works. Everyone, let's pray for the world's happiness, with love.
My works, in which my soul of happiness is deeply embedded, will help to make the world happy, merciful and peaceful.
My deepest wish is to deliver love and peace through my works exhibited here to everyone in Hanoi who loves art.
I would be moved again and very much happy from the bottom of my heart if you could feel my message even just a little through my works.
With a good will for happiness, I wish for Vietnam and Hanoi's continuous development.
May 2013
Tokyo
Yayoi Kusama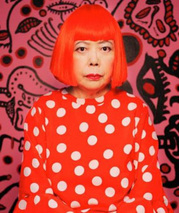 Yayoi Kusama
Avant-garde sculptor, painter and novelist. Born in Nagano Prefecture, she began to paint using polka-dot and net-pattern as motifs at around age of 10, and went on to create fantastic paintings in water colors, pastels and oils.
She moved to the United States in 1957. In 1966, she presented her Narcissus Garden installation at the 33rd International Art Exhibition of the Venice Biennale. She also launched media-related activities, such as film production and newspaper publication.
From 1996, she focused her activities on showing her works at New York galleries, and for two consecutive seasons, 1995/96 and 1996/97, she was selected as the Best Gallery Show by the International Association of Art Critics.
The year 2012 saw the launch of a national tour of recent works, beginning at the National Museum of Art, Osaka. In the same year, a retrospective of her works was shown at Tate Modern (London) and the Whitney Museum of American Art (New York), and new works were presented at Victoria Miro Gallery in London. In 2012 she also collaborated with Louis Vuitton creative director Marc Jacobs to produce "LOUIS VUITTON x YAYOI KUSAMA Collection." Now in her 80s, she continues to produce works with her full creative energies.