Between Action and The Unknown: The Art of Kazuo Shiraga and Sadamasa Motonaga
Gabriel Ritter (Assistant Curator, the Dallas Museum of Art)


The Japan Foundation, together with the Dallas Museum of Art (Texas), presents Between Action and the Unknown: The Art of Kazuo Shiraga and Sadamasa Motonaga. It is a retrospective exhibition of the Gutai Art Association (Gutai) and shown until July 19, 2015. One of the curators of the exhibition, Gabriel Ritter contributed an article about its highlight.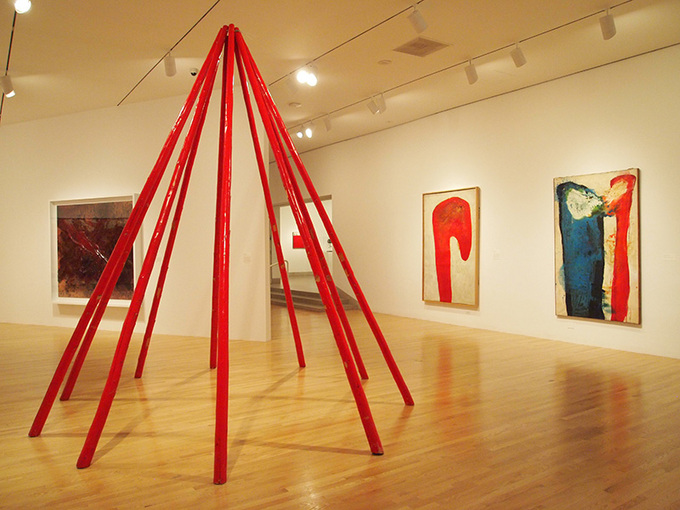 Photo courtesy of Koichi Kawasaki



Attention to Gutai

The reception of the Gutai Art Association in the United States has changed dramatically from its New York debut at the Martha Jackson Gallery in 1958 when the critic Dore Ashton called the show "disappointing." At this time, Gutai was being compared directly to the Abstract Expressionism of Jackson Pollock and the New York School, and was thus seen as derivative. It was not until artists such as Allan Kaprow acknowledged Gutai as "a forerunner to Happenings" in 1966 that the group's actions and experimental works on stage were acknowledged as being predecessors to performance art. Since that time, the narrative of art history, and modernism in general, has become less about a hierarchical relationship between the center and periphery, and more of a transnational exchange of ideas, much of which was happening concurrently in Japan, the United States, Europe and elsewhere in the postwar period.

Since the exhibition New Japanese Painting and Sculpture, held at the Museum of Modern Art (MoMA) in 1965, U.S. museums have increasingly turned their attention to expanding the narrative of global art history to include the art of non-western cultures. It is in this new context that Gutai has been recognized as the foremost avant-garde group of postwar Japan, and the work of Gutai artist has increasingly gained the interest of institutional and private collections. Beginning with Alexandra Munroe's groundbreaking exhibition, Scream Against the Sky in 1994 and most recently in 2013 with the exhibitions Tokyo 1955-1970: A New Avant-Garde at MoMA and Gutai: Splendid Playground at the Guggenheim, the U.S. art world has caught up to the important scholarship art historians have been doing on the subject of modern and contemporary Japanese art. Now, art historians like Ming Tiampo are connecting Gutai not only to performance art, but reexamining the group's influence on land art, and new media art as well.



Kazuo Shiraga and Sadamasa Motonaga

In addition, the work of Gutai-members such as Kazuo Shiraga and Sadamasa Motonaga are becoming increasingly popular with art collectors worldwide, with paintings now selling for millions of dollars on the international market. However, amidst this increased attention on Gutai as a group, we begin to lose sight of the nearly sixty artists who were members of Gutai at one time or another. It is for this reason that we must refocus our attention on the artists that made-up Gutai and the rich careers they had both prior to and after being members of Gutai. The exhibition Between Action and the Unknown: The Art of Kazuo Shiraga and Motonaga Sadamasa at the Dallas Museum of Art aims at reconsidering the careers of Shiraga and Motonaga, not only as members of Gutai but first and foremost as artists in their own right.

   


Left: Kazuo Shiraga, Tenshosei Botsuusen 1960, oil on canvas, The Rachofsky Collection
Right: Sadamasa Motonaga, Red and Yellow 1963, oil paint, synthetic resin paint, and gravel on canvas, Mie Prefectural Art Museum


Prior to joining Gutai, both Shiraga and Motonaga had arrived at their own unique forms of abstraction--Shiraga most notably by painting with his feet, Motonaga taking inspiration from nature and his surrounding environment. But it was under the tutelage of Jiro Yoshihara, who demanded all of his protégés "create what has never been done before!" that both artists produced their most radical and experimental works. It was also during these formative years that each artist set off on his own path of creative exploration. For Shiraga, Gutai provided a platform to explore individual subjectivity through physical action and the emancipation of the carnal body. For Motonaga, Gutai would begin a lifelong pursuit of giving form to the "unknown" which the artist defined as awe in the face of nature's beauty and creative power.



Shiraga's Action

The work of Kazuo Shiraga is largely defined by his "action paintings"--large works the artist painted with his feet while suspended from a rope attached to the ceiling. These works, revel in the excess of bodily exertion and violence as the embodiment of artistic freedom and individual expression--two themes that were central to Gutai and other Japanese artists working in the aftermath of World War II. For Shiraga, this struggle for individuality and artistic freedom was enacted in his action paintings, which made the body itself the site and literal embodiment of emancipation. The physicality and violence of this struggle is most palpable in works such as Challenging Mud and Please Come In (both 1955) in which the artist used not only his feet but his entire body to perform the act of painting. In my opinion, Shiraga's interest in action, violence, and the body are closely related to the Japanese postwar embrace of "nikutai," or the physical body (as found in the writings of Taijiro Tamura and Ango Sakaguchi), as opposed to the wartime "kokutai," or national body.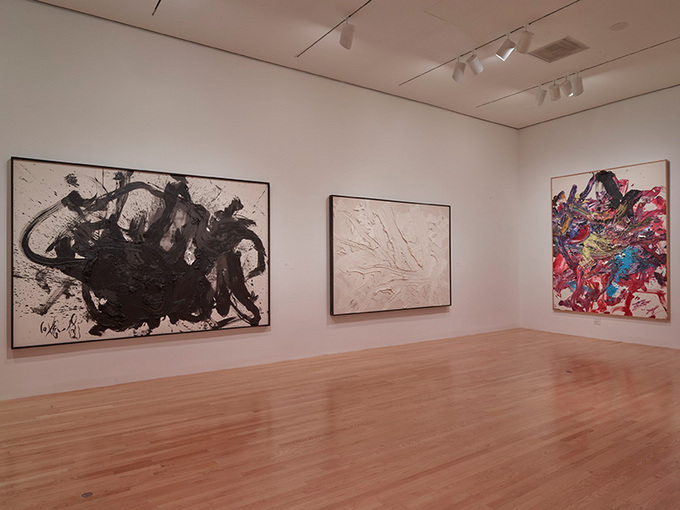 Photo courtesy of Dallas Museum of Art

While Shiraga's action painting has been read through the lenses of heroic folk tales, machismo, childlike play, and even political statement, there is a hedonistic aspect to the brutality enacted in his work. Many of Shiraga's early works embrace battle, violence, blood, and bodily excess as a way to liberate the individual. In this light, I read Shiraga's indulging in pleasures of the flesh was a tacit acknowledgement of one's humanity and an attempt to recognize one's true self.

Later, following the disbanding of Gutai in 1972, Shiraga would turn to Esoteric Buddhism (mikkyo) as a new inspiration for his works. These incorporated a new circle motif and a brighter, more pastel palette. In the late 1970s, Shiraga would return to his "action painting," continuing to paint in this style until the early 2000s.



Motonaga's Unknown

Whereas action was the underlying structure of Shiraga's paintings, and physical struggle or excess a metaphor for his pursuit of individuality, the work of Motonaga is most closely linked to an exploration of nature in the pursuit of what the artist called the "unknown." Motonaga first introduced this idea in a text titled "The Unknown" in the third issue of the Gutai journal in 1955, linking it, specifically, to his concept of beauty and, more generally, to nature, being, and the act of creation.
According to the artist, what once instilled fear and surprise in primitive man had become commonplace in the present day through a gradual process of assimilation and cognition. In response, Motonaga advocated the attempt to experience the world anew; to live in awe of nature, its power, and its forms; and to create a "new beauty" re-instilled with the wonder of the unknown.
Motonaga's early abstract paintings take inspiration from the neon lights flickering in the distance atop Mount Maya in the Rokko Mountains. For Motonaga, it was not enough to simply imitate nature. Instead, he felt the role of an artist was to create nature itself. In his series of works titled Work (Water), the artist filled small bags as well as vinyl hammocks with colored water in order to encapsulate the natural phenomena that fascinated him. Rather than depicting these phenomena in paint, the artist's initial instinct was to take water itself as his medium, which then shifted to a gradual distillation of its properties into visual form by means of highly fluid paint on canvas.

Following his initial experimental works utilizing water and smoke, Motonaga channeled his energy back into painting as he began to develop a new, fluid style. He first used a tarashikomi technique allowing the wet paint to pool and mix, but then in 1959 he had a breakthrough when he placed the canvas on the floor of his studio and allowed layers of resin enamel and turpentine to run across the canvas in rivulets, like a river. As he further developed this pouring method his works not only referenced the flow of a river, but paintings such as Work (1962) allude to other natural phenomena such as cellular division or the Big Bang. Whether depicting a microcosm or macrocosm, Motonaga's flow paintings all reference the concept of creation.
After one-year stay in New York, Motonaga's style radically changed from his hallmark flow paintings to a more hard-edged style as he started using Liquitex acrylic paint together with a new airbrush technique. Many of these later, playful paintings, have a cartoon-like quality and titles that come from Japanese onomatopoeia such as "Nobi Nobi" and "Z Z Z Z Z." Later in life, Motonaga would go on to create furniture, tapestry, and picture books, such as the popular Moko MokoMoko, with words by the poet Shuntaro Tanikawa.


Photo courtesy of Dallas Museum of Art

Redefinition of Drawing

Under the mentoring of Jiro Yoshihara, Shiraga and Motonaga created some of the most experimental and iconic works of postwar Japanese art. Beyond their vibrant paintings, works such as Challenging Mud and Work (Water) represent major milestones in the postwar development of the Japanese--and by extension, the global--avant-garde. Whether through the use of smoke and water or by painting with one's feet, their inventive use of materials and pioneering techniques expanded the definition of painting in singular ways that are only now being fully recognized by art history.

Reference article: "A Revised Sketch of Postwar Art: Tokyo 1955-1970: A New Avant-Garde Exhibition at the Museum of Modern Art, New York"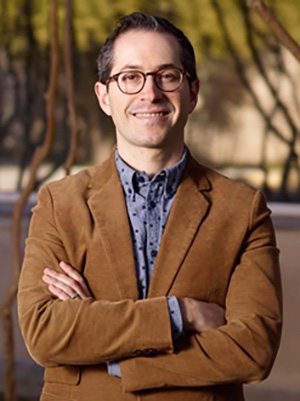 Gabriel Ritter (The Nancy and Tim Hanley Assistant Curator of Contemporary Art at the Dallas Museum of Art)
Gabriel Ritter was born in 1980. He has been at the present position since 2012. The exhibitions he curated include Out of the Ordinary: New Video from Japan (The Museum of Contemporary Art, Los Angeles, 2007), TOKYO NONSENSE (Scion Installation LA Gallery, 2008), Sculpture by Other Means (ONE AND J. Gallery, Seoul, 2012), Never Enough: Recent Acquisitions of Contemporary Art and Concentrations #57: Slavs and Tatars (both at Dallas Museum of Art, 2014). In 2013, he co-curated Roppongi Crossing 2013: OUT OF DOUBT (Mori Art Museum, Tokyo).