Interview with Marie Collin: A close-up look at performing arts program for the Festival d'Automne à Paris
This year's Festival d'Automne à Paris (the Paris Autumn Festival) will kick off in September, coinciding with the nearly eight-month gala of Japanese culture that Japonismes 2018 will stage in France. Since its inception in 1972, the festival has remained at the forefront of the European art scene as an annual celebration of performing and visual arts held in and around the French capital. As always, the program for this fall will feature a stunning array of theatrical, dance, and other artistic performances at many public venues, including national theaters and the Théâtre de la Ville. And, an extra dimension will be added this year as the festival and Japonismes 2018 team up to present ten-plus works from Japan. To find out more about the story behind the festival's special bonds with Japan, we spoke with Marie Collin, artistic director for the Festival and face of the French performing arts world.
―You've served as the artistic director for the Paris Autumn Festival's theater, dance, and visual arts program since 1980. What was it that attracted you to the performing arts in the first place?
Back in 1968, I was studying philosophy and sociology at the University Paris Nanterre, which means I was a student at the university at ground zero of the unrest that erupted in May of that year. So, I spent more time joining in protests than attending classes. I had long been a fan of the cinema, but I wasn't well-versed in the performing arts. It wasn't until I was in my twenties that I was given many opportunities to savor the world of performing arts, thanks to my acquaintance with Michel Guy, the founder of the Paris Autumn Festival. For around ten years I immersed myself in travel and watching performances while doing one-off jobs here and there. So, that's really where I got my start, that decade of experiencing all sorts of performances. To do what I do, you have to see a lot of productions, including the flops (laughs).
―Where did you develop your fondness for Japan?
That's something that Michel Guy passed on to me. He loved Japanese literature, music, and architecture. When Michel founded the organization in 1972, he highlighted artists who were obscure to French audiences back then, people like musician John Cage and dance choreographer Merce Cunningham. His contributions played a big part in putting zest back into the Paris art scene in the eighties. Over the years, the festival has added special features to its program to mark certain international events, such as anniversaries. This includes Japan, which was in the spotlight in 1978, 1997, and 2008.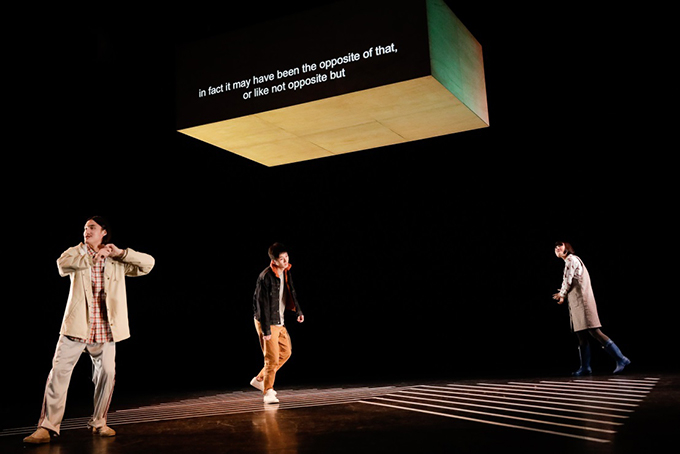 Toshiki Okada, director of the chelfish Theatre Company and torchbearer for Japanese contemporary theater, is known for creating new frontiers and points of departure for theatrical art.
Photo: Hideto Maezawa
―The festival has actively presented Japanese theater even in years without some sort of Japan-related anniversary. In fact, there have been years when the festival organization printed and distributed flyers specifically for Japanese performances.
To people in France, Japan is a well-known yet unfamiliar land. I think that our Japan-themed programs have helped our audiences to acquire a special interest in the country. The Japan Cultural Institute in Paris provides us with a very big window into the world of Japanese theater. In fact, it's where I got to see my first production by Toshiki Okada in 2007. And that's when we entered into a collaborative relationship with him. Toshiki has developed a special language of theater. He has mesmerized Parisians with performances that incorporate the alienation effect and unique modes of physical expression. What's really amazing about him is his never-ending quest for new directions in theater. His recent creations show a stronger philosophical bent couched in a minimalist perspective. French theater is filled with chatter, so when French audiences see one of his shows they find a lot of meaning packed in between the pauses and the lines.
In addition to Toshiki, I've met other incredibly fascinating directors through the Japan Cultural Institute in Paris, such as Daisuke Miura, Kuro Tanino, and Suzuki Matsuo. They produce this explosion of zaniness and imagination, but it's not presented as chaos--instead, it's a given gravity by the precise, meticulous approach they take. That, I think, is a unique strength of Japanese theater.
To me, Suzuki Matsuo, as someone who can freely flit back and forth between commercial and experimental theater, possesses a talent that can't be found anywhere but Japan. Not even the inspired artists of America show such a level of daringness. Ask me why tickets sell out so quickly for shows at the Institution, and I'll say it's because our festival has helped French theatergoers to discover the fresh world of Japanese theater.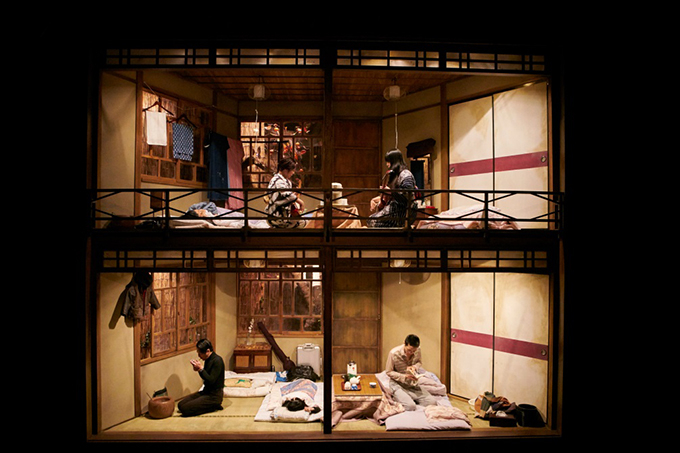 The Kuro Tanino-led Niwa Gekidan Penino company performs Avidya - The Ignorance Inn, winner of the Kishida Prize for Drama.
©Shinsuke Sugino
―This year the festival is making a rare move by restaging Kuro Tanino's Avidya - The Ignorance Inn, a mere two years after its premiere in France. Why?
One reason is that many people missed out on the first run at the Japan Cultural Institute in Paris because it was such a big hit that it was practically impossible to get tickets--in fact, we couldn't get reservations for all of our festival club members. One person who did see it, though, was Daniel Jeanneteau, who had just been appointed director of the Théâtre de Gennevilliers. As seen in his production of The Glass Menagerie at Shizuoka Performing Arts Center, Daniel has a special attachment to Japan, and he wanted to bring Avidya - The Ignorance Inn back to France. So, for this year's festival, it will be staged along with another Kuro Tanino production, Dark Master. What's more, Hideto Iwai, who has demonstrated his artistic genius with a recent performance of his Hikky Sotonidetemitano at the Institution, will join with a French partner to put on a new work at the Théâtre de Gennevilliers, another show that we're all very excited to see.
Performance of an early signature work of Shuji Terayama, directed by Takahiro Fujita, the young leader of Mum & Gypsy.
©Nobuhiko Hikiji
I also think that everyone will be wowed by the performance that will be staged at the Institution by Takahiro Fujita, a director who can craft grand productions like Satoshi Miyagi does. In addition, I look forward to seeing a presentation by Hiroshi Sugimoto, who got rave reviews for his bunraku show at the festival a few years ago.
So, there are all sorts of very nice additions to this year's program, and I can't thank Japonismes 2018 enough for making this possible. Of course, this is a special year of celebration, but I hope that our festival can continue collaborating with the Japan Cultural Institute in Paris and other Japanese theaters in the years to come!
Interview/Text: Aya Soejima
Marie Collin
Since becoming the artistic director of dance, theater, and visual arts for the Festival d'Automne à Paris in 1980, Marie Collin has passionately worked with the festival's succession of directors--Michel Guy, Alain Crombecque, and Emmanuel Demarcy-Mota--to spotlight artists from France and abroad, including Peter Brook, Robert Wilson, Merce Cunningham, and Romeo Castellucci. At the same time, she has held stints as head of production for Georges Lavaudant and Robert Wilson, head of programming at the Centre Pompidou, and director of the Théâtre de Nîmes, among others, pursuing a career that has made her a dominant figure in France's performing arts world.