Chinese Film Festival 2018
Special Interview in Japan with Directors Xin Yukun and Da Peng
Since 2017, the Japan Foundation, together with UNIJAPAN (Tokyo International Film Festival Secretariat) and the Shanghai International Film & TV Festival Co., Ltd. (Shanghai International Film Festival Secretariat), has been promoting Japan-China exchange programs in commemoration of the 45th anniversary of the normalization of diplomatic relations between Japan and China. In May 2017, the "1st Japanese Film Week in Guangzhou" took place. In December, the Japanese Film Festival was held in the Chinese cities of Shanghai, Shenzhen and Kunming, during which nine new films were screened in each city.
Further, in Japan, the Chinese Film Festival 2018 was held starting on March 8 in Tokyo, followed by Osaka and Nagoya. Ten of the newest Chinese films were shown in Tokyo, while nine were screened in Osaka and Nagoya. For the occasion, film directors and actors flew into Japan from China to give talks. The event offered a prime opportunity for a total of around 3,000 participants to hear the thoughts and feelings that the creators put into their work, as well as their first-hand stories about the making of the films. This program will promote further exchanges in 2018, a year that marks the 40th anniversary of the conclusion of the Treaty of Peace and Friendship between Japan and China.
We spoke with directors Xin Yukun and Da Peng, who were among the Chinese guests invited to Japan for the film festival. Xin Yukun directed Wrath of Silence, and his previous work and directorial debut for full feature film, The Coffin in The Mountain, has won high international acclaim. Da Peng is a popular multi-talented personality who is known as an actor, comedian, and television show host who starred in The Thousand Faces of Dunjia. We asked the two about the films they made, as well as their thoughts about Japanese films and the exchange through films between Japan and China.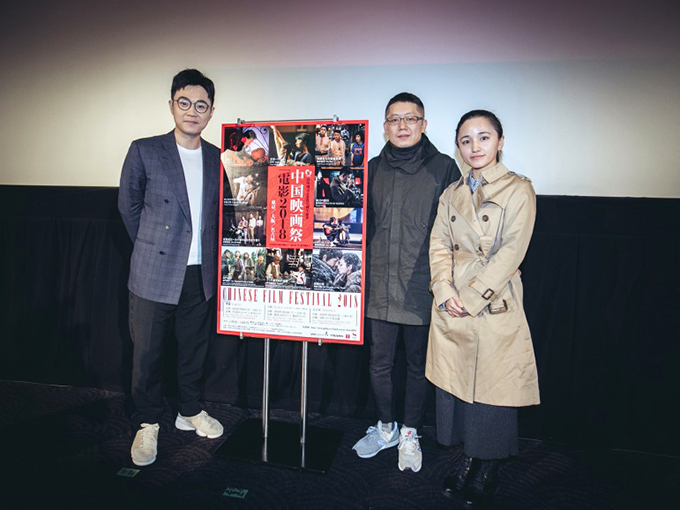 At the Chinese Film Festival 2018 opening ceremony (from left to right): City of Rock director Da Peng, Wrath of Silence director Xin Yukun, and producer Susie Wen
Director Xin Yukun: Cutting-edge director leaves an intense impact
―The Coffin in the Mountain, which opened in China in 2014, is a crime suspense drama that takes place in a small village in Henan. In this village, the residents' speculations converge over a single dead body. The way you arranged the respective stories―how they go back to the past and unfold like puzzle pieces―was brilliant. The fact that this is your debut work makes me realize the depth of layers that exist in the Chinese film industry.
In my case, I'd dreamed of becoming a film director since I was little, but I kept running up against setbacks (laughs). Since it's hard to become a director, I thought I'd take an alternative route into the film industry by becoming a camera crew member or editor, but even that was almost impossible. I went on to work in television, but I couldn't let go of my dream, so I applied to the Beijing Film Academy, but got rejected two years in a row. I somehow got into the filming course as a trainee for about a year and was able to learn some techniques and theories. I met a cameraman while I was there, and he is the director of cinematography for The Coffin in the Mountain, which was his debut work as well. I was in my late 20s and was feeling the pressure of needing to establish some stability in my life, so it was a piece that I worked on while thinking it was going to be my last chance to realize my dream. I always believed that I could do it, but I'm so glad I never gave up. Looking back now, I'm grateful I did not get a job as a cameraman (laughs).
―Your second film, Wrath of Silence, was screened at this festival. Its story takes place in Inner Mongolia, an autonomous region in northern China where you grew up. A miner named Zhang Baomin who has lost his ability to speak due to an accident goes in search of his missing son, and in the process, various social issues, including illegal mining, start coming into view. But there's also a suspense-thriller element to it, as in your previous work. What things are you particular about when choosing a theme?
Since my first film came out, I've been wanting to depict, in my own style, social issues and, particularly, human complexities. I feel that conveying those things is how you can elicit empathy in viewers. When I think about the films I've seen in the past, I believe that the kind of stories or narratives that moved me and the things that stayed with me even after I've left the theater are what the themes of a film are. I think that these themes are what come alive at various places in our lives that have nothing to do with films. This is something that you can clearly feel when watching Kurosawa films, which I adore. There are no humans who are extremely bad or extremely good. The question is how to portray the identities of individuals, neither black nor white but in that gray zone. I hope to make films that lead viewers, after having seen them, to think about some answers or possibilities, and to realize things they had not realized before.
―So you were influenced by Kurosawa.
I've seen almost all of his films. I am surprised at the fact that his works are all filmed with such profound creativity. This is true starting with his early works that have left an incredible impression, all the way to his later ones. They are made in ways that are enough to send shockwaves through me. He uses a classical style, but there is depth. I was greatly influenced by the stance and power he had toward his creative work. I believe the influence can be seen in the various details in the Wrath of Silence, like the composition and story development.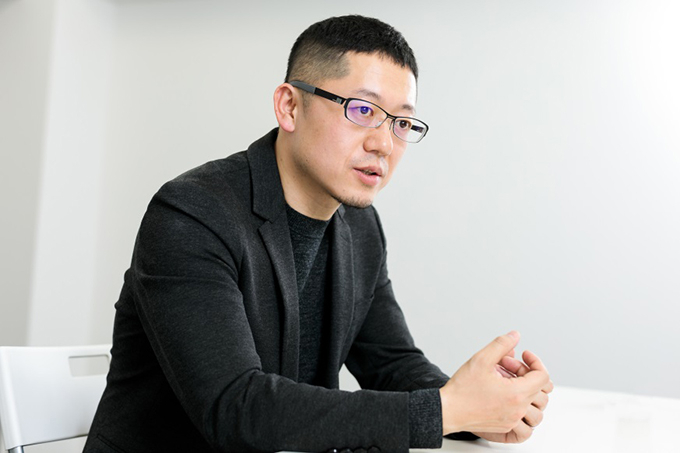 Director Xin explains that his style is to depict social issues, especially human complexities.
―For this film festival, the most recent Japanese films are being screened in China, and the latest Chinese films are shown in Japan. Do you believe that understanding one another's country and culture and deepening interactions through films like this makes a difference in a way that is only possible through films?
I believe this is quite wonderful. China has been changing significantly in recent years, and there is a flood of new things coming out. This is true in the film industry, too. New, cutting-edge directors are actively showing works that are very different in style and content from conventional Chinese films. Having people see such films means that they get to see the China of "today," which is different from China of the past. I believe motion picture is a medium that can vividly and dynamically show the lives of people living in a certain country and touch the hearts of those living in other parts of the world. So I think that to showcase ten new films at a time at these film festivals provides an excellent opportunity. I hope that people will be moved by the films, thereby promoting mutual understanding between both Japanese and Chinese people.
―You flew to Japan for the first time for this festival. What are some things you are looking forward to here?
I'm excited to see how the people of Japan will see the film and am looking forward to their reaction to my talk. This is one of my reasons for taking part in this festival. Another is that I would very much like to connect with those in the Japanese film industry. It would be great to discuss many things with each other like philosophies and technical aspects. If there is enough time, I would also like to visit a filming site. What I'm most interested in currently is the production site of Studio Ghibli. I watched a documentary about director Hayao Miyazaki. His aura is completely different from that of anime creators in China. The way he stays in the studio and diligently stays on task of drawing is truly amazing to me. While the scope of the Chinese film market has expanded, there is a lot and so many ways in which we can learn from the film industries overseas. I would definitely like to visit film production sites and offices in Japan and learn in various ways.
―I believe that the Japanese moviegoers were surprised and pleased by the new talents such as that of yours. Can you share with us the concept of your next work, if you have one?
I started thinking about my next project around the time the editing for Wrath of Silence was getting completed. What I'm specifically thinking of is a science-fiction type piece. I want to capture the idea that, as our technologies advance, people are likely feeling more and more empty inside. Although I don't have a firm storyline yet, I hope to create a film that lets me fully exercise my creativity.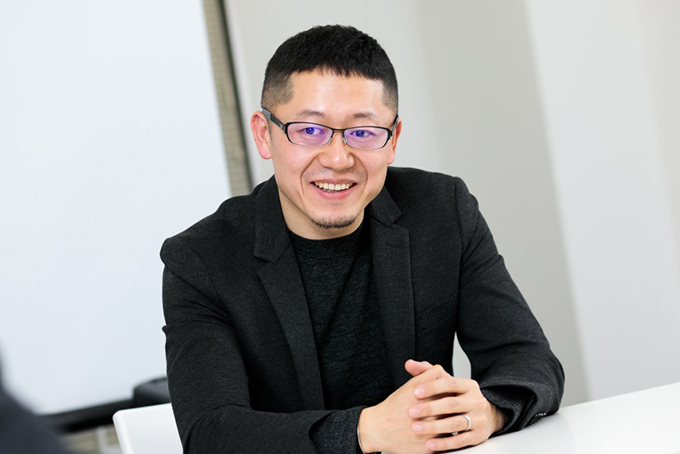 Director Xin hopes that the film festival will deepen understanding between Japanese and Chinese people.
Director Da Peng: An entertainer who freely demonstrates all of his multiple talents
―You do so many things, from television show host to comedian, singer, and actor. What was the original catalyst that led you to become a film director?
I have been a long-time film lover. But you can't become a director of films just because you love them. Becoming a director, for me, was something very sacred. The catalyst was my taking part in an Internet drama in 2012. At a time in China when the Internet was spreading like wildfire, the drama series caused a sensation, becoming a huge hit. Its impact was so great that the production company decided to make it into a film. Since I had directed the drama, it was deemed appropriate that I also go ahead and direct the film. I was taking more of a passive role, and honestly, I was not prepared at all to become a film director, even though that was my dream job.
―You're talking about Jian Bing Man that was released in China in 2015. It's amazing that your directorial debut was such a great hit.
In China there is a saying, "results happen for a reason." The reason the film was a hit was in no way due to my ability as a director, but it was because the original drama was so good. Personally, I felt that I was such a fledgling and needed to improve more. I later went on to perform in films by internationally prominent directors like Feng Xiaogang, Tsui Hark, and Wong Kar-wai, and through working with them, learned about film techniques and approaches as a director. And in 2017, I was finally at a place to film City of Rock.
―City of Rock is a comedy about Ji'an, a town where rock-and-roll is popular, and a young man who forms a rock band in order to mobilize the townsfolk to stop a landmark from being torn down. It is a comedy, which has songs, action, drama, and is full of great scenes. What made you decide to make a film on this subject matter?
In all honesty, when I chose this material, those around me including the producer said it was too risky, because there had never been a successful music-themed film before. But as a film director, I felt that it's unproductive to put great energy into thinking about what the viewers might expect or any standardized market preferences and production models, so I thought instead about what I myself wanted to express. I believed that because directors are all different in terms of where we were born, raised, and educated, and this difference is precisely what creates variety and films that are so enjoyable. The location this film takes place is a town I grew up in. The story is of course fiction, but the characters' feelings and emotions are exactly what I wanted to capture. I wanted to portray my own experiences through the film and by doing so, I could visualize these experiences as lasting record. I wanted to make something whose visuals and music could be enjoyed by everyone.
―Something that only you, Director Da Peng, could make.
I think that different directors can take the same theme and, from different angles, depict different experiences of growth. So I would never make claims like the piece is something only I could make. But the processes through which we creators find and shoot films we want to make, I believe, are very important. At this point, I am very happy with the way this film turned out. For the future, I want to study more and make even better films.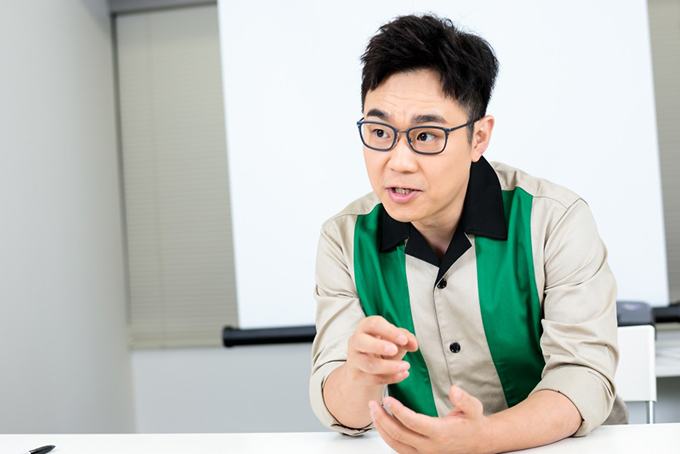 Through City of Rock, director Da Peng wanted to portray his own experiences.
―Where do you place the greatest weight when making a film?
What the film viewers ended up thinking and feeling after seeing the film. In other words, I think it is very important for directors to engage in interactive dialogue with their audiences. So, at this Chinese Film Festival 2018, I would like to hear direct feedback from members of the Japanese audience. I believe it is something that offers spiritual fuel that helps us improve and gives us power to build confidence. It is also a great way to find areas in which we need to make corrections or improvements. The fact that films by up-and-coming directors are being screened in Japan at events such as this is something that brings joy to both filmmakers and moviegoers. I feel proud to be a part of that. Cultural exchanges like this allow us to discover our differences and special characteristics, and to mutually enhance ourselves. I think it is a wonderful occasion for both film fans and us filmmakers.
―I understand this is your first visit to Japan.
I am very sad that it is a very short stay of only 36 hours. China and Japan are geographically close and I have always thought that the two countries have a lot of similarities. I have particularly loved manga and anime ever since I was a child. I am extremely drawn to the worldviews and stories I find in them and feel a sense of affinity toward them. Yesterday, I saw a poster for the Weekly Shonen Jump Exhibition being held at the Mori Arts Center Gallery, which is close to the site of the Chinese Film Festival 2018, and I found myself staring at it intently. I knew all of the characters and stories. I want to find time in between work to come back to Japan while this exhibition is still going on (laughs).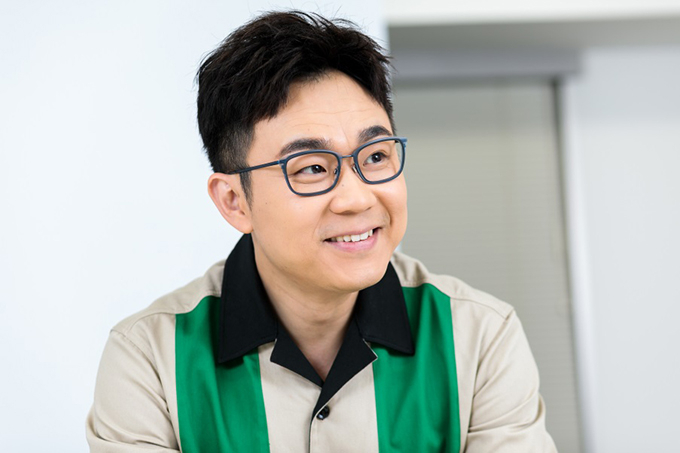 Director Da Peng looks forward to receiving direct feedback from the Japanese audiences at the film festival.
―Are there works that you have been heavily influenced by?
There are many, but right now, I would say SLAM DUNK. After reading it, I got into playing basketball. I want to someday do a film with a sports-related theme. I also watched Dragon Ball and City Hunter a lot.
Since all of the films I've been in and made are feel-good comedies that make people laugh, you might find this surprising, but among Japanese films, I was influenced by Battle Royale. Beat Takeshi, who played the leading role, is an actor, but he is also internationally recognized as a film director. He also hosts shows and is a comedian. So am I. I have such great respect for him as someone with so much experience, and I have seen all of the films he has played in and directed. Watching him makes me realize there is so much more I need to learn.
The next opportunity I get, I really would like to interact with ordinary people of Japan. Most of the characters in works that I create are regular folks who don't stand out. But these people are the ones that are creating our current world, and I believe there is immense power there. If I can find the time, I'd like to go to street corners and see and learn what the street performers as well as creators and artists who are still in the process of maturing are doing. Films are not made because of the directors. Films are made thanks to regular, inconspicuous folks. Of course, I would like to meet and collaborate with various directors and others in the film industry. It would be great, for example, if I could make films with them, and if they are accepted by the people of both Japan and China, there is nothing that would bring me greater happiness.
Interviewer/text: Yuko Okazaki
Interview photos: Yuta Hinohara