A Look Back at Japonismes 2018's Performing Arts Program
Shintaro Fujii (Professor, Faculty of Letters, Arts and Sciences, Waseda University)
 One of the more fascinating aspects of the Japonismes 2018 performing arts program was that many of the presentations were, from the perspective of both the theaters and the audiences, bold ventures into uncharted realms. Most were reinterpretations that are somewhat reminiscent of honkadori—Japanese poems that allude to older poetry but add a new slant—but in fact set up strong contrasts by distancing themselves from the works that inspired them. Examples include Takao Kawaguchi's About Kazuo Ohno, Toshiki Okada's "Five Days in March" Re-creation, the Kinoshita-Kabuki company's Kanjincho (the original itself is an adaptation of the Noh play Ataka), Takahiro Fujita's Throw Away Your Books, Let's Get onto the Streets (original by Shuji Terayama), and, to a certain extent, Hideki Noda's In the Forest, Under Cherries in Full Bloom, which is based on Ango Sakaguchi's short story of the same name, and Hideto Iwai's WAREWARE NO MOROMORO, a title shared by many varied works. Regardless of the boldness of their visions, these productions drew positive reactions from critics and audiences on the whole, which suggests that they have the power to stand on their own and appeal to people unfamiliar with the material they reinterpret.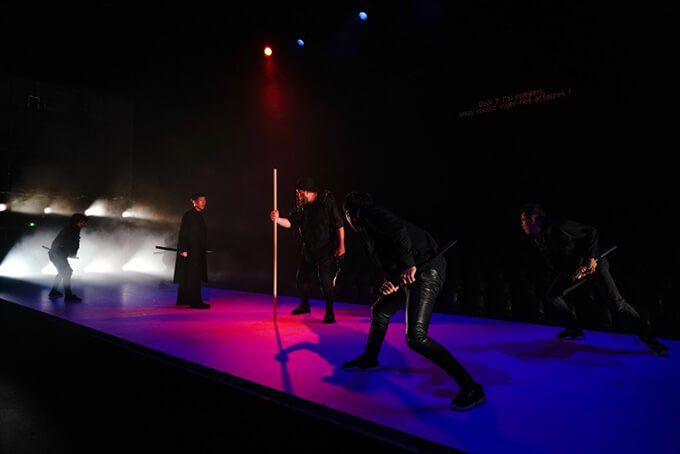 Kinoshita-Kabuki performs Kanjincho, an adaption of the Noh play Ataka
(c) Yusuke KINAKA

Takahiro Fujita presented his reinterpretation of Shuji Terayama's early signature work Throw Away Your Books, Let's Get onto the Streets. (c) KOS-CREA
 This broad media coverage visibly paid off by helping the performing arts projects to draw a total turnout of around 60,000, according to a rough count made in January 2019, as the end of Japonismes 2018 approached. Of course, this figure may seem to pale in comparison to the 1 million people (also as of January 2019) who attended the 17 art exhibitions of Japonismes 2018—the teamLab exhibition alone attracted 300,000 visitors. By their nature, however, performing arts shows are at a distinct disadvantage in terms of attendance, given that each production can bring in no more than the venue's number of seats, multiplied by the number of performances held. Taking into account this and the fact that the Festival d'Avignon has a typical pull of somewhere over 100,000 (excluding the fringe program), we can see that 60,000 is in fact a very significant number. And, from my own experience of attending 18 of the performing arts productions—half the total—I can say that nearly all the venues were filled to the rafters and that the audiences on the whole displayed a positive and sometimes ecstatic reaction to the performances.
 Needless to say, nothing of this scale can be a 100% success, and so you can end up with an almost endless wish list of could have, should have, and would have. I have to admit there were things that I wish had been different. For example, it would have been nice if there had been clearer delineation of who was responsible for selecting the artists and the works, and the process of selection. And, perhaps too many performances were scheduled for later September and early October. Maybe more productions should have been held in cities other than Paris. Couldn't we have created tie-ups with other programs spotlighting Japan, such as those at Strasbourg Opera House and the Centre Pompidou-Metz? Why couldn't a fuller program have been put together for the dance and music performances, like the theatrical program? And, it was somewhat of a disappointment that the majority of the projects were one-way affairs, with Japanese artists taking works created in Japan (Tokyo) to France (Paris) and presenting them to the local audiences, rather than using a more interactive approach. There were exceptions, such as WAREWARE NO MOROMORO Gennevilliers, which Hideto Iwai meticulously crafted together with professional and amateur French actors during his long residence at the Théâtre de Gennevilliers, and another international collaboration, Pratthana - A Portrait of Possession, which Toshiki Okada forged in Bangkok with a Thai writer and actors. Unfortunately, however, such collaborations were few and far between.
 Yet, in spite of those areas for improvement, the Japonismes 2018 performing arts program exerted an enormous, positive impact in that it provided opportunities for new and renewed encounters among artists, theater operators and crews, critics, scholars, and theatergoers of not only Japan and France, but from other countries and regions. Looking ahead, I think that the personal relationships and bonds of trust that emerged from those encounters will be fertile soil for giving birth to collaborative projects on a more interactive and more multidirectional level. And, I believe it is our duty to continue cultivating that soil—the original meaning of the word "culture" is to cultivate land—and thus grow the seeds planted into great achievements.
Shintaro Fujii
Professor in Waseda University's Faculty of Letters, Arts and Sciences whose focuses include theater studies and cultural policy. His publishing work includes overseeing the compilation of Posuto-dorama jidai no Sozoryoku [Creativity in the Postdramatic Age] (Hakusuisha Publishing, 2014) and co-translating Qu'est-ce que le theatre? (Kokushokankokai, 2009). He has also translated a number of plays, including Wajdi Mouawad's Incendies and Littoral, which were staged at Theatre Tram, the former in 2014 and 2017, the latter in 2018. He took a sabbatical in Paris for the 2018 academic year.