Tomohiro Maekawa: On Being a Resident Playwright in UK 001
Tomohiro Maekawa
Playwright and director
I'll put this simply. The Royal Court Theatre (RCT) is a theater in London. This theater is famous for hosting new dramas, and has produced many masterpieces and playwrights. Every summer, the RCT offers a program called the International Residency, where they invite young playwrights from countries around the world to write a new play. This program has a history of over 20 years, and I'm the first Japanese to participate. It might sound like I'm bragging, and I am. To be honest, I didn't fully understand it at first either. After I found out I'd been chosen to participate, many of my colleagues in theater told me, "That's a really big deal." So now I'm belatedly boasting about it.
The program lasts the entire month of July. Participants send in their first draft, which is translated into English at the RCT. We'll then spend a month polishing the translated script with RCT staff. I discovered that I would be participating in mid-February, so I only had four months to go. I had to begin writing the first draft of the play, but instead of returning to my room, I went to an English conversation school in Shinjuku and said, "I want to be fluent in English in four months." "Impossible," they told me. "That's what I thought."
Time flew by as I wrote my script while attending the English conversation school and oversaw my theater company's performances in May. I remember that the wheels on my brand-new suitcase moved very smoothly. It was as if my luggage was in a rush to get to London, and I hurried after my suitcase and boarded the airplane. I arrived at Heathrow Airport. Time really did fly. I came to London a week before the program was to start. I thought I would need time to get used to being overseas. More than anything, I wanted to take my time walking through the home of theater.
It was wonderful walking down the beautiful streets lined with old, stately buildings. There are also theaters everywhere. The local magazines have so much information on the plays being performed that I can't decide which one to go see. It was just how I had imagined the home of theater would be like, but what does that even mean? Hiroshima may be known as the home of oysters, but I think that's different from London being the home of theater. It might be the same in the sense that both places have the best of what they are famous for. After spending a week going to theaters both big and small, though, the audience is what made me feel that this is the home of theater the most. I was impressed that there are so many people who enjoy theater. I could feel that this city values theater, and, as I myself am involved in theater, I got a curious sense of satisfaction from that. By the way, I also discovered this week that my English is completely useless. Tomorrow is my first day at the RCT. What am I going to do?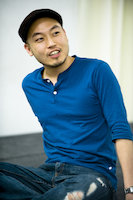 Tomohiro Maekawa
Playwright and director. Maekawa was born in 1974 in Kashiwazaki City, Niigata Prefecture. His style is to use props based on science fiction to bring out the "supernatural" that exists in our daily lives. He formed the theater company 'Ikiume' in 2003 as the base of his activities.He has written and directed a number of plays, including: Sanposuru shinryakusha (The Strolling Invader), Toshokan-teki jinsei (A Library-like Life), Kansu domino (Mathematical Domino), Kikkai--Koizumi Yakumo kara kiita hanashi (Mysterious--Stories I Heard from Koizumi Yakumo), Miezarumono no ikinokori (Survivors of the Invisible Ones), Semakimon yori haire (Enter through the Narrow Gate), and Omote to ura to sono mukou (Outside, Inside and Beyond). Maekawa won the excellent play award and excellent director award at the 16th (2008) Yomiuri Theater Awards, the excellent director award at the 17th (2009) Yomiuri Theater Awards, and the individual award at the 44th (2009) Kinokuniya Theater Awards. He was also given the 60th (2010) Minister of Education, Culture, Sports, Science and Technology's Art Encouragement Prize for New Artists.