Contributed Article Series "Chinese Intellectuals Visit Japan" <1>
The Japan Foundation invites influential young and mid-career researchers and intellectuals from China to Japan to deepen an understanding of Japan and to build an intellectual network (between Japan and China). This invitation program began in FY2008 and in the following 11 years, a total of 192 individuals (101 as individuals and 21 groups) have visited Japan (as of the end of 2019).
This series introduces articles by past participants of this program on social issues common to both Japan and China. The first article is by Huang Shengli, Executive Director of the 21st Century Education Research Institute, who specializes in educational research (FY2019 individual invitation).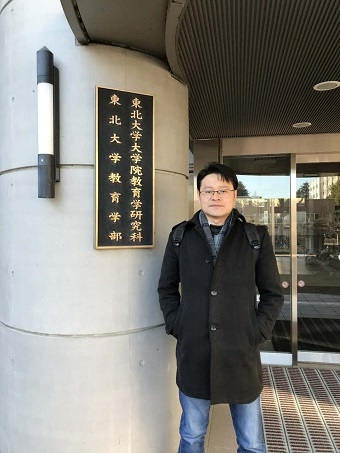 Mr. Huang in front of the Tohoku University Graduate School of Education building, where he studied rural education in Japan
Rural Education in Japan: Developing Individuals Who Truly Love Their Hometown
Paved and modern streets and polite people... every single Chinese person who visits Japan compliments it on its level of civilization and the characteristics of the Japanese people. To explain the generally high educational level of Japanese people, I must first touch on the basic education provided in Japan. After the Meiji Restoration, Japan's modernization began. The government prioritized education and put all its efforts into funding it. In 1907, it completed the creation of the six-year free compulsory education system and by 1909, 98% of children were being educated in this system. Meanwhile, in China, the compulsory education program was finally developed in this century.

After WWII, the Japanese economy soared. Rapid urbanization led to a large percentage of the population moving from farming villages to cities where they found work. As a result, the population of farming villages declined rapidly and accordingly, rural schools kept shrinking. Note, however, that rural education in Japan is different from that in China. In present day China, cities are crowded, countryside towns are weak, and villages are empty, meaning that rural schools continue to shrink and weaken, while the number of elementary and junior high schools with a few thousand to tens of thousands of students keeps increasing in cities.
In 1954, the Japanese government formulated the Law for the Promotion of Education in Remote and Isolated Areas consisting of nine sections. The objectives of this law have been to promote rural education, clearly lay out the roles of the national and local governments, and legally protect the rights of children in rural Japan to receive education.

Currently in Japan with its aging society, the size of the student population in farming villages is gradually declining because the younger generation has a strong longing for city life. While local governments are facing the challenge of how to retain and attract young people in their communities, they are placing particular importance on education and on funding it, because they think education plays an important role. I talked to Kuroyanagi Toshiharu, Chair of the Board of Education in Achi Village, Nagano Prefecture. He noted that, "To make city people settle in a rural area, the natural landscape cannot be the only attraction. We must also have a good educational environment to attract them."

As with elementary schools in Chinese villages, Japanese rural schools are small. However, they have educational facilities such as a swimming pool and their quality of education is admirable. As far as I observed, the educational level of some rural schools exceeds that of city schools. I learned that many families moved from a city to a rural area because parents wanted their children to receive education at a rural school, and these families became the new generation of "educational settlers." In Chinese villages, on the other hand, although there are over 100,000 elementary schools and educational facilities with 100 or less students, they are the weakest schools in underdeveloped areas. These are the kind of schools studied at my organization, the 21st Century Education Research Institute. Learning how Japanese rural education developed was therefore one of the objectives of my visit to Japan this time.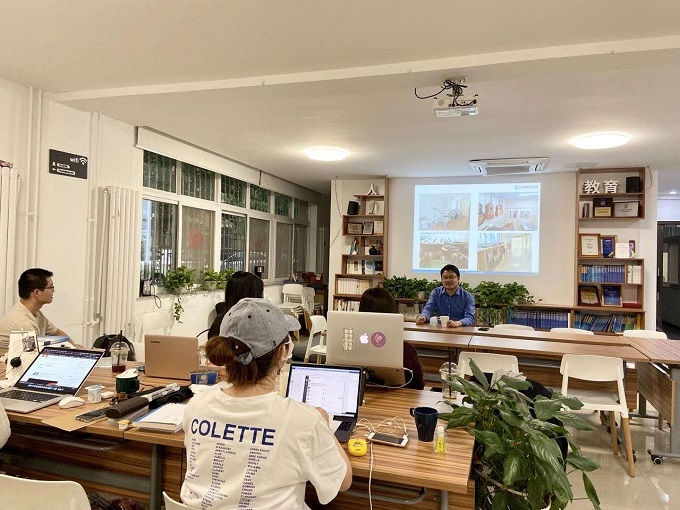 An online session to report the outcome of research in Japan (at the 21st Century Education Research Institute)
To address issues and hardships faced by small schools in Chinese farming villages, the 21st Century Education Research Institute established the Rural Small School Alliance in November 2014. The Federation widely encourages small schools in farming villages to voluntarily seek development and change by connecting resources and exchanging information. After a few years of exploration and cultivation, the number of member schools now exceeds 1,500. Currently, the Federation offers three subprograms: (1) a resource matching platform, (2) a small rural schoolteacher development program, and (3) the development of small yet sophisticated, countryside schools (Xiao er mei).

I visited Yamahana Elementary and Junior High School in Kushiro City, Hokkaido, at the end of January 2020. An elementary school and a junior high school were integrated into a nine-year school, and there were 14 elementary school children and 15 junior high school students. Among them, only four of them were Kushiro natives, the others having moved to Kushiro City for various reasons. Multi-grade classroom education begins from the elementary level due to the small number of students. The first and second grades are integrated, and similarly, the third and fourth grades, and the fifth and sixth grades are integrated. Each integrated class uses one classroom. When the principal showed me an elementary school room, students from different grades sat, looking away from each other, and a teacher was teaching both grades smoothly. The meticulous curriculum design and teaching assistance tools used there were beyond comparison with those used at elementary schools in Chinese villages.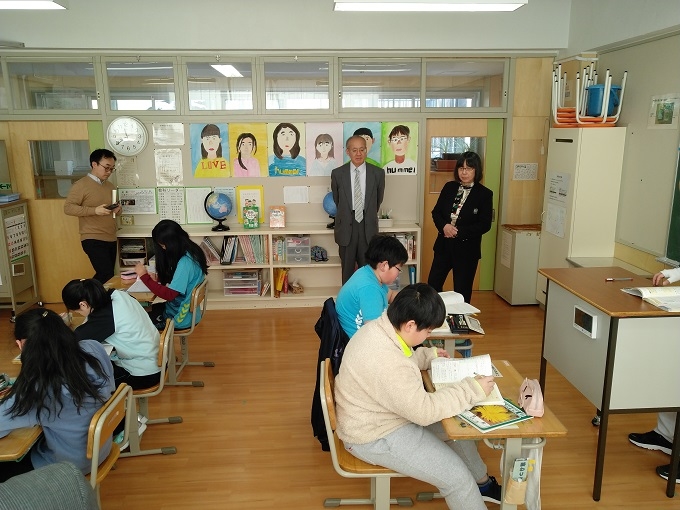 Observing multi-grade classroom education at Yamahana Elementary and Junior High School in Kushiro City
Stable investment in educational expenses and scheduled transfers of public-school principals and teachers, who are government employees, also provide powerful security to ensure consistently high-quality rural education. A teacher who has taught for six years at Yamahana Elementary and Junior High School has 20 years of teaching experience. While the teacher was teaching Japanese and math to fifth and sixth graders when I visited the school, the City Board of Education had already decided that she was going to be transferred to another school in the future.

In Japanese farming villages, every school focuses on nurturing students' love for their local area and developing individuals who truly love their hometown. I felt this was the most attractive feature of Japanese rural education. Working in the educational field myself, I was very impressed by the residents' passion for and the capital investment in the local area and community-based education. Meanwhile, Chinese rural education develops young individuals who will leave the rural area. As soon as children enter a school, both teachers and parents teach them to study very hard so that they can leave their hometown and go to a city to continue in higher education.

School education is organically fused with the education unique to its area and is inseparable from the local community or established systems. Achi Village in Nagano Prefecture launched the Hometown Learning Curriculum Development Committee to create textbooks for students to learn about their hometown. By encouraging children to learn and think about the characteristics of their community, the curriculum strengthens the children's identity as members of the hometown. Schools in Achi Village use the curriculum to develop children's self-esteem and views on society, labor, and occupations.

Suzuki Masaharu from the Asahi District of Toyota City, Aichi Prefecture, left his position as an elementary school principal in 2007 and is currently Chairman of the Asahi Tourism Association and a coordinator at the Community School Collaboration Headquarters for Asahi Junior High School in Toyota City. His regular routine includes making the music, art, and cooking classrooms, gymnasium, and library of the school accessible to community members on weekends. He also hosts, twice a month, workshops in which community members teach children local traditional culture, such as rope making and stick fighting, and Chinese lessons in which Chinese trainees of local companies teach children Chinese. In addition, he invites elderly people to the school to talk about how they lived a long time ago and local history and hosts a program to send sunflower seeds to Fukushima Prefecture. Through these activities, he deepens ties between people.

According to Mr. Suzuki, a school is the main community hub and is a powerful tool to attract people from outside. The school-community tie deepens personal relationships, strengthens their exchanges, transfers lifestyle and survival techniques, and uses cultural activities to bring out people's power and capabilities to work together. Therefore, it is not a coincidence that schools in rural areas play a role in bringing people together.

The 21st Century Education Research Institute is planning the following activities as the next step; increase the number of the Rural Small School Alliance member schools and their capabilities to make their resources work together, support the voluntary creation of a federation by local small rural schools, increase the number of small yet sophisticated (Xiao er mei)schools in farming villages while referring to the practical experience of operating elementary schools in farming villages in Japan, and strengthen exchanges and increase mutual visits with the National Association for the Study of Education in Remote and Isolated Areas.
Contributed in August 2020