Tomohiro Maekawa: On Being a Resident Playwright in UK 003
Tomohiro Maekawa
Playwright and director
I know that we're here to write a new play, but how are we supposed to do that? I found out when I took a good look at the program leaflet we were handed on the first day. I've come all the way to London, so there's no way I'll be writing the entire play by myself. I'll be a part of a team made up of a director, translator, script advisor and writer. I'll be the one doing the actual writing, but all four of us will work as a team to finish up the script.
First, we'll read through my translated script with a few performers. Performers from all over London have gathered at the Royal Court Theatre (RCT) just for this program. Since there are nine playwrights, a huge number of theatrical people will come to the theater. This is a really extravagant project. As I often double as a director, it's rare that my scripts are finished up in this manner. In particular, I had never heard of a "script advisor" while I was in Japan.
My team will listen to the actors read the lines, exchange opinions and talk about how we can fix the problems in the script. I'll re-write my script based on those discussions. Then, my team will work with the actors again, this time in a workshop, which is more similar to a rehearsal. I'll then edit my script again based on that feedback. The leaflet makes it look quite simple. But there are special sessions in between the main activities. There are workshops and lectures by top playwrights, parties where we can socialize with local writers of our age, about three theater visits planned a week, and so on. All nine program participants will be together for these sessions. To be honest, there's a lot to do. There's no time for sight-seeing.
As the first three days are an introduction to the program, our schedules are filled with workshops and meetings so we can socialize instead of working on our scripts. Since I had realized how limited my English was on the first day, I entered the rehearsal room with my heart in my mouth. Just seeing the chairs arranged in a circle made me nervous. We go around the room introducing ourselves, talking about the state of theater in each of our countries and where we stand as playwrights. Of course, this is all in English. To compensate for my poor English skills as much as I can, I strain my senses to understand what everyone is saying. I try to gather information from the few words I can make out, the expressions and gestures that the others make, the reactions of the listeners and the general mood to figure out what is being said. Everyone else is talking in a relaxed manner, but the air around me is full of tension. In my efforts to keep up with the conversations, my posture is that of a person playing a card game for a lot of money or a sprinter waiting for the starting gun. Perhaps my efforts were met with success, because I more or less understood what was being said. But when I was asked for a comment, I was speechless. There's a lot I want to say, but I lack the vocabulary. I'm really sorry, but I have to confess: my description of the state of theater in Japan was pretty clumsy. Please forgive me--I was having a hard time. Once all nine of us have introduced ourselves, we have a sense of each other's personalities. Obviously, I'm the millstone around everyone's neck that can't even express his opinions. Not bad. Next, we'll finally begin the first read-through of our scripts.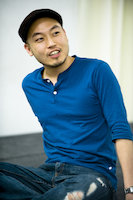 Tomohiro Maekawa
Playwright and director. Maekawa was born in 1974 in Kashiwazaki City, Niigata Prefecture. His style is to use props based on science fiction to bring out the "supernatural" that exists in our daily lives. He formed the theater company 'Ikiume' in 2003 as the base of his activities.He has written and directed a number of plays, including: Sanposuru shinryakusha (The Strolling Invader), Toshokan-teki jinsei (A Library-like Life), Kansu domino (Mathematical Domino), Kikkai--Koizumi Yakumo kara kiita hanashi (Mysterious--Stories I Heard from Koizumi Yakumo), Miezarumono no ikinokori (Survivors of the Invisible Ones), Semakimon yori haire (Enter through the Narrow Gate), and Omote to ura to sono mukou (Outside, Inside and Beyond). Maekawa won the excellent play award and excellent director award at the 16th (2008) Yomiuri Theater Awards, the excellent director award at the 17th (2009) Yomiuri Theater Awards, and the individual award at the 44th (2009) Kinokuniya Theater Awards. He was also given the 60th (2010) Minister of Education, Culture, Sports, Science and Technology's Art Encouragement Prize for New Artists.