01 Thailand: The Land of Smiles
Naomi Kawase
Film Director
My first experience filming in a foreign country was in 2008 when I shot Seven Nights. I was told that religion and massage therapy are closely connected in Thailand and that you can get a massage within the temple grounds. Such a thing would be inconceivable in Japan and I was immediately captivated by the idea. The role of religion is to wash away the stagnation of the mind, and the role of massage to wash away that of the body; here, the two coexisted. Come to think of it, both are essential to human beings; if the flow of either body or mind is interrupted, we soon become ill. I realized that it's important for us to make changes in our own actions and ways of thinking as we go on with our lives, before going to a hospital and seeing a doctor.
The members of the Thai crew were excellent and diligent workers. They all spoke English and did what I asked them to do impeccably. I was pleasantly surprised when I was looking for a house to use in the film. As soon as I said that I liked a house, all the neighbors came out, started cleaning and the house was spick-and-span in just a few hours. The house was standing by a river, so I asked if they could build a pier and, in a couple of hours, a fine pier which can even be used to hang washings was constructed. They brought in beds and kitchen utensils from nowhere, one after another, and before I knew it, the house was ready to live in, or should I say, it looked as though someone had been living there all the time.
A catering service prepared the meals, and the caterer would remember the drink I had ordered the day before. So on the following day, he would ask me if I wanted the same thing, and hand me the drink without my having to name it. I was deeply impressed by this Thailand hospitality. The headlines in Japan give the impression that Thailand is a dangerous place, but on the contrary, it is indeed a friendly country. It was genuinely delightful working in "The Land of Smiles." There was one episode in particular that really tempted me to stay and work in Thailand. I met a professional massage therapist when we were auditioning people for the film. She was turned down because she didn't quite fit the image of the character. But the masseuse was so intent on becoming a member of the crew we took her on as my private massage therapist. Thanks to her, I was able to free myself from the day's fatigue even after the hardest shooting, and be refreshed and ready for work the following day.
Ever since then, I'm inclined to think that a masseuse is indispensable on the film set.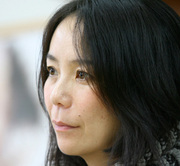 Naomi Kawase
Kawase continues to work out of her hometown Nara. She was awarded the Camera d'Or at the Cannes International Film Festival in 1997 for her film Suzaku (1996) as the youngest winner in its history. Her The Mourning Forest was awarded the Grand Prix at the Cannes International Film Festival in 2007. She has directed many documentary films including Genpin. She lobbied for and is now executive director of the Nara International Film Festival (http://www.nara-iff.jp/en/), which will mark its second year from September 14 to 17, 2012. Nippon Archives series, for which she filmed her beloved Nara and many other sights of Japan, is currently broadcast online. (http://nara.utsukushiki-nippon.jp/)
Official website:http://www.kawasenaomi.com/
Official twitter: http://twitter.com/kawasenaomi