04 Sputniko! Goes to Myanmar
Sputniko!
Hi everyone!
Have you heard of the World Economic Forum?
It's an international organization that has its headquarters in Geneva, Switzerland, and here, leaders from business, political, and scientific arenas get together to discuss many current issues. Their annual meeting held every January is known as the Davos forum, and it often appears on the headlines as it predicts the upcoming year's economy.
Global Shapers is a community within the Forum that brings together young people under 30 years old and I'm also a member of this community.
The World Economic Forum on East Asia was held from June 5 in Naypyidaw, the capital of Myanmar, so I decided to go and check it out.
Some people may ask, "Where's Naypyidaw? Isn't the capital city Yangon?" Well, the capital was just moved in 2006, so Naypyidaw is a really young city.
Recently, Myanmar has steered a course towards democracy, and is eagerly accepting foreign capital. The business world has called the country "Asia's last frontier," and large companies are racing to seize the initiative in areas such as electricity, construction, and telecommunications.
Aung San Suu Kyi, who had visited Japan recently, was one of the presenters at the forum, and made a speech about the future of Myanmar. She had a very charming character!
* Original text in Japanese, translated to English by the Japan Foundation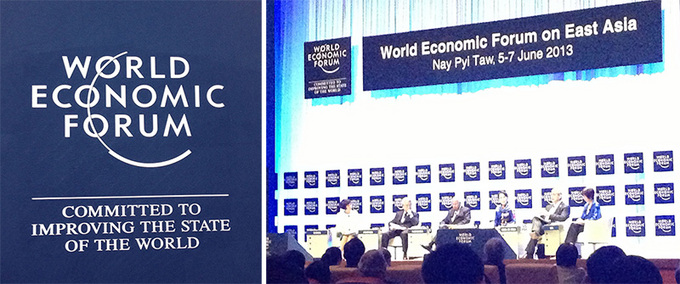 (Left) The logo of the World Economic Forum, (Right) At the symposium. Third from the right is Aung San Suu Kyi

A snapshot with Myanmar girls