1. Growing up between Taiwan and Japan


Chu ci jian mian. Nice to meet you.

As the title "Japanophone Taiwanese, That's What I Am!" says, I am a Japanophone born in Taiwan.

I grew up going back and forth between Japan and Taiwan, or, more specifically, between Tokyo and Taipei.

My father and mother grew up in Taipei, so for me Taiwan meant Taipei, where my grandparents and relatives lived.

To this day, my parents use the verb huí (return) to describe their trips to Taiwan, but for me, ever since the lower grades of elementary school, going back to Japan and the apartment where our family of four lived felt more like "returning home."

I remember well the excitement I felt every time I traveled to Taiwan. We would leave the apartment early in the morning, and as we waited at the airport to board the plane bound for Taiwan, I would eagerly look forward to the in-flight meal, my uncle taking me for a ride on his scooter, playing with my cousins, and visiting the temple where my aunt helped as a volunteer.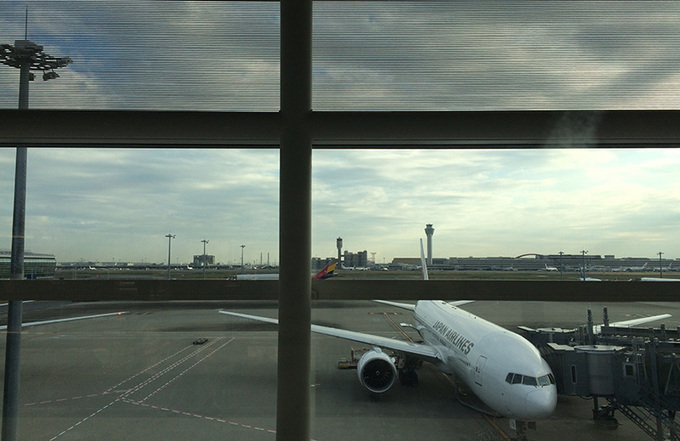 Even to this day, I feel thrilled every time I travel from Tokyo to Taipei, and always take photos


For me, Taiwan was a place where I spent my spring and summer breaks, and the New Year's holidays, in the noisy and joyful company of relatives whom I rarely got to see.

As the end of these joyous vacations approached and the day of my return to Japan grew nearer, all kind of upsetting thoughts would come to me about the homework I had to finish after going back home, the unpleasant possibility of having to sit next to someone I did not particularly like after the change of seats at the beginning of the new school term, the embarrassment I would suffer if I bungled the ball game at school (not being particularly good at sports), etc. In such moments, I would wish that I did not have to go back to Japan, and that I could stay in Taiwan forever.

We would say goodbye to our relatives, and by the time we arrived at the airport to board to plane bound for Japan, I would have braced myself for getting back to the routine of my ordinary life.

Perhaps my mother felt the same when, on the morning after returning to our apartment in Tokyo, she would drive me and my little sister out of bed despite our sleepy protests, saying, "Huīfù zhèngcháng! (Back to life as usual!)" Of course, when in Tokyo, my father, too, also worked from Monday to Friday.

We lead our ordinary lives mainly in Tokyo, Japan, but in fact the four of us--my father, mother, younger sister, and I--do not have Japanese passports. Our passports are issued by Taiwan. That is why we are processed as foreigners by the immigration control sections at airports in Japan.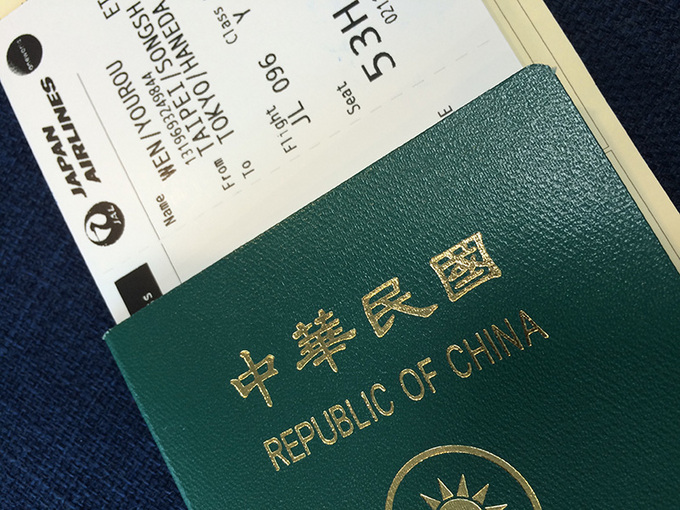 The passport under which I have been living in Japan all these years


Still, since we live in Japan, we are issued a re-entry permit from the Tokyo Regional Immigration Bureau. When foreigners like us, who for some reason reside in Japan for a long period of time, temporarily leave the country, our return is handled as a "re-entry."

So even if it feels like coming back home, at the airport my arrival in Japan is not treated as a return, because I do not have a Japanese passport.

Conversely, when I go through the arrival procedures at the airport in Taiwan, I am treated as a person who "returns" to her "home country."

In this sense, I have been a "Taiwanese" all my life, from the moment I was born to today. To be more precise, I am a "Taiwanese" raised in Japan.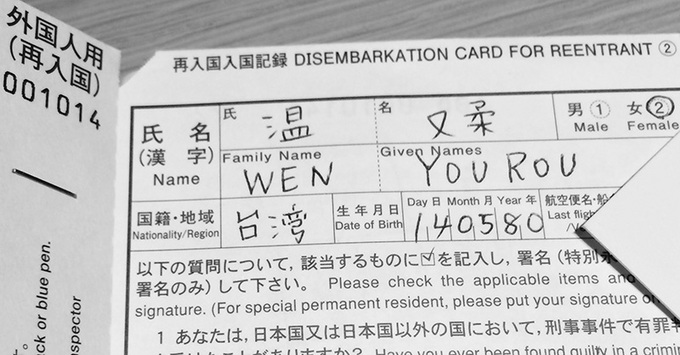 I get a real feeling that I am a Taiwanese when I write "Taiwan" in the space for nationality


I remember explaining to my then still-little younger sister, "We are Taiwanese, so we spend our holidays in Taiwan."

"We are special because we are Taiwanese," I would proudly declare to her, and she would happily imitate me: "I am Taiwanese!"

I am special.

As a child, I half-seriously believed that to be true.

Or rather, I wanted to believe.

My desire to be special was very strong, and I needed a reason to be special.

Eventually, my secret self-importance as a young child found a solid reason by which to set myself apart from other children.

I am Taiwanese.

That is why I am special.

I lived in Japan and went to a Japanese school, so I was immersed in an environment where everyone apart from me was Japanese. It was surprisingly easy to convince myself that, as a Taiwanese, I was more special than the other children.

Looking back at myself in those years, I realize that, apart from being Taiwanese, I was a completely ordinary, run-of-the-mill child. It makes me wonder what reason I would have come up with for being special had I been raised in Taiwan.

In any case, there are many things that I would not have experienced, felt, or even considered had I not been a Taiwanese raised in Japan.

I am really excited to write about of all these things in this series of essays, just as excited as I was when waiting to board the plane bound for Taiwan as a child all those years ago.

I look forward to keeping you company during this year.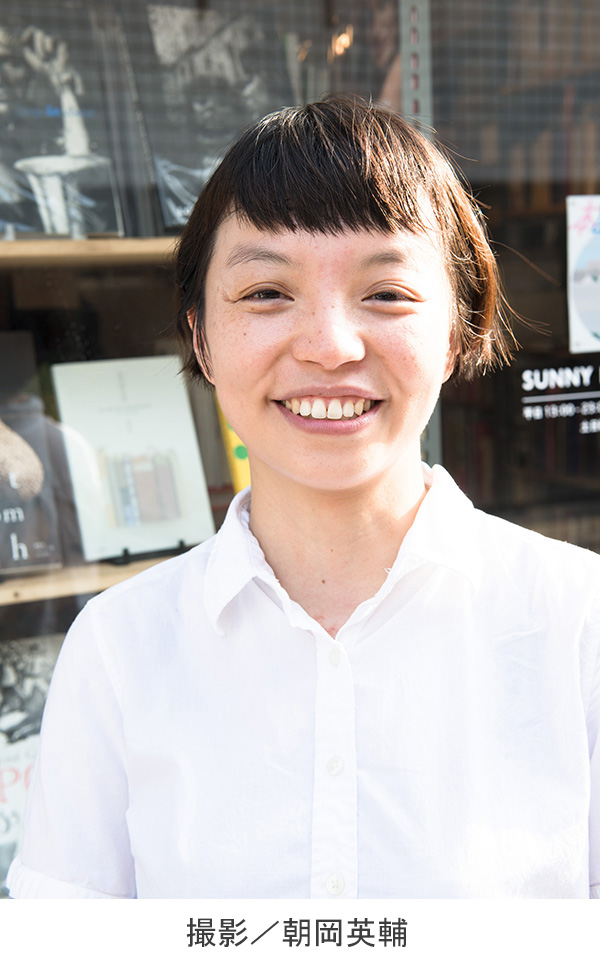 Wen Yuju
Author Wen Yuju was born in 1980 in Taipei, Taiwan and moved to Japan with her Taiwanese parents before she turned three. In 2006, she completed the Master's Program of the Graduate School of Intercultural Communication at Hosei University. In 2009, she won the Subaru Prize for Literature with Kokyokoraika. As a Taiwanese person who writes in Japanese, in her creative work she explores the themes of language and identity. Her works include Raifuku no ie (2011, Shueisha), and Tatta Hitotsu no Watashi no mono dewa nai Namae (2012, Happa-no-Kofu; for Kindle). In 2014, she formed a duo with musician Keitaney-Love Kojima, and launched a series of collaborative performances under the title "mapo de ponto--Kotoba to Oto no Ofukushokan [Correspondence of Words and Sound]," featuring Wen's reading and Kojima's music. Her most recent work is Taiwan umare Nhongo sodachi (2015, Hakusuisha), a collection of essays born from her experience as a Taiwanese person raised in Japan. She appears in Homeland in the Borderland, a documentary film directed by Keiko Okawa, which follows author Hideo Levy as he returns to Taichung, Taiwan, for the first time in 52 years.

Follow Wen Yuju on Twitter https://twitter.com/wenyuju