Vol. 4 Experience "Skill in the Pursuit of Beauty" at Bonsai Exhibitions
One of the tasks performed during the month of May is leaf pruning. In this process, all of the leaves that grew in the current year are pruned off to encourage new buds to grow.
Leaf pruning is an effective method when you wish to grow more branches.
Last month, the 8th World Bonsai Convention, Saitama City was held over three days, visited by approximately 45,000 people. The event is held once every four years. This year's edition attracted both men and women of all ages.
The venue bustled with the crowd, which was more than double the size predicted. But I imagine the hosts were jumping with joy over the fact that the number of visitors to this convention, the first to be held in Japan in 28 years, far exceeded their initial expectations, and it can be said that this year's World Bonsai Convention was a resounding success.
The convention successfully shared the appeals of bonsai with so many visitors thanks to the hard work of those who spent so much time in preparation. I feel that I should take this opportunity as a bonsai artist to express my profound gratitude.
I was able to observe numerous bonsai and decoration exhibitions in the various venues involved in promoting the World Bonsai Convention. I found the atmosphere of the convention wonderful as it united well with the local area. From Omiya Station, I walked a nostalgic route that passed through Hikawa Shrine, the Omiya Bonsai Village, and the Omiya Bonsai Museum, before arriving at Saitama Super Arena as I enjoyed the exhibitions.
The exhibition that left the greatest impression on me would have to be the Japan Bonsai Suiseki SHIHO-TEN held at Saitama Super Arena, which was the main venue of the Convention. A variety of expensive bonsai works were on display there, which appeared to be looked after very well. This sight was, to me, both without precedent and likely unsurpassable, and simply mind-boggling.
When bonsai aficionados see top class examples, they often say, "After seeing such amazing works, my heart sinks when I look at my own bonsai."
My role when hearing such comments is to inspire them by saying, "When you see such a good example, observe what it is that makes it great, and then dream of making such a beautiful bonsai yourself one day!"
However, I myself was disappointed this time, wondering when I would ever be able to create a work of bonsai of this level. Overwhelmed by this masterful exhibition, I felt a sense of powerlessness for some time when seeing the bonsai works at home.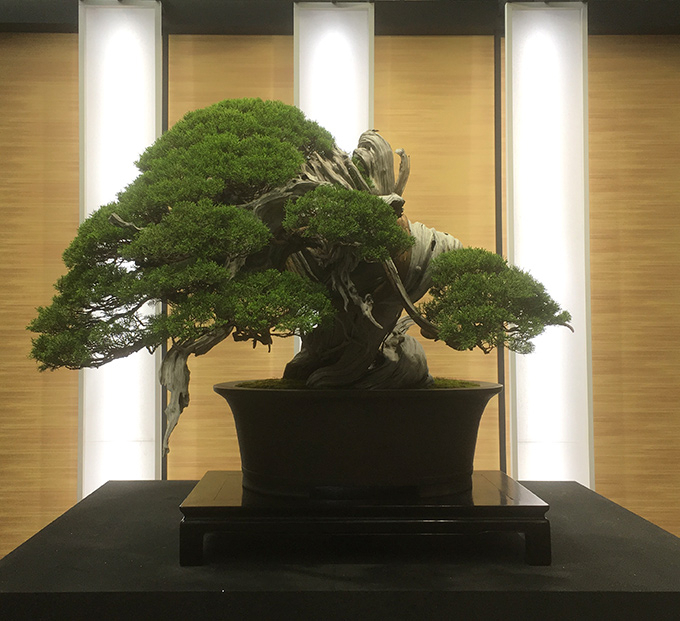 A Chinese Juniper estimated to be over 1,000 years old which was displayed at the entrance to the venue for the Japan Bonsai Suiseki SHIHO-TEN as the exhibition's symbol work.
Separately from major exhibitions, such as this World Bonsai Convention, organizations of bonsai aficionados hold their own exhibitions throughout Japan. Holding a bonsai exhibition is one of the pleasures, and the goal, of aficionados. Each organization works to attract attendees and deepen the level of exchange with their local community in various ways by holding bonsai sales, lectures, or even soba noodle making workshops.
However, there is one particularly severe problem emerging for this type of activity.
Namely, it is the aging population and shortage of young people.
While you can easily enjoy bonsai in your garden well into your 80s, hosting an exhibition requires quite a bit more effort, making elderly aficionados force themselves into action to set up display tables and panels.
Incidentally, not counting myself, the organization of which I am a member has an average age of 73 years.
Thus, bonsai fans from their late 60s to early 80s groan as they carry and assemble heavy meeting tables and exhibition panels.
I am sure that the shared desire of bonsai organizations throughout Japan is for young people to join them.
It is said that bonsai became quite popular at one point roughly 40 years ago, and it is the aficionados who were in their 30s and 40s then who are the same people doing it at a more advanced age today.
I wonder why later generations took no interest in bonsai at all.
While many members of overseas organizations are over the age of 60, my impression is that about a fifth are in their 30s and 40s, and about a half are aged around their 50s or younger. It appears then that these people of different age groups are fascinated by Japanese culture and have a keen interest in creating works of art.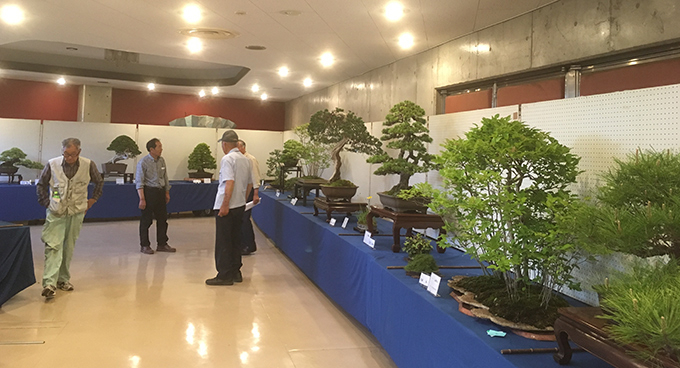 An exhibition held by an organization of bonsai aficionados.
The other day, I visited the Asakura Museum of Sculpture in the Yanaka neighborhood of Tokyo.
The museum is housed in the former atelier and home of Fumio Asakura, a sculptor who was active during the Meiji, Taisho, and Showa eras. In addition to exhibiting his works, it has the building designated as tangible cultural properties and Japanese garden designated as National Site of Scenic Beauty by the Japanese government.
I was repeatedly moved by the uncompromising attention to detail and sense of aesthetic that can be observed throughout the atelier, home, and garden. I was also pleased to learn that this famed sculptor worked on hosting the very first Kokufu ten Exhibition, a bonsai exhibition with 91 years of history, at highly distinguished Tokyo Metropolitan Art Museum (formerly Tokyo Prefectural Art Museum).
His life's work connected the ongoing pursuit of beauty to modern times. When you observe the stately procession of bonsai at an exhibition, the history of the trees and the painstaking care with which they have been cultivated will surely tug at your heartstrings.
I wonder what kinds of people will become aficionados in the future and support the continued development of bonsai.
While I am concerned over the ongoing aging of the bonsai community, I believe that bonsai has the power to awaken the innate sense of beauty possessed by the younger generation of Japan. I, therefore, continue to have great conversations with aficionados, while also being mindful of their health.
Do come and visit an exhibition.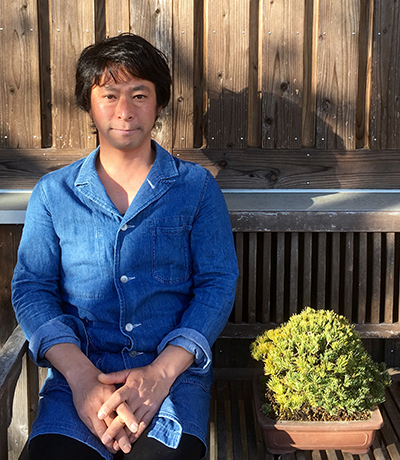 Takahiro Mori
Bonsai master Takahiro Mori was born in Tokyo in 1979. After graduating from the College of Applied International Studies at Tokiwa University, in 2002 he began studying bonsai as an apprentice at Katsuta Koushouen, a bonsai garden in Ibaraki Prefecture. In 2006, he became independent and launched his own activities. In 2009, one of his works won the Kokufu Award at the Kokufu-ten Bonsai Exhibition, an event with a long and distinguished history. From 2009 to 2013, he worked as an in-house bonsai artist at the Omiya Bonsai Art Museum, Saitama. In 2013, he traveled to Kosice in Slovenia, the European Capital of Culture 2013, as a bonsai demonstrator, and participated as a representative of bonsai masters in the presentation for Saitama's bidding to host the 8th World Bonsai Convention, which will be held in 2017. Mori conducted demonstrations at Bonsai Slovakia 2014, and participated as a bonsai expert in the Japan Government exhibit at the EXPO 2016 Antalya International Horticultural Exposition held in Turkey in 2016. Today, in addition to his work as a bonsai master, Mori is actively engaged in initiatives to promote the art of bonsai in Japan and abroad through workshops for beginners that he conducts at his atelier Bonsai Mori established in 2013 and bonsai classes he organizes in California in the United States.
Bonsai Mori website:http://bonsaimori.jp/
Bonsai Mori Facebook page:https://www.facebook.com/Bonsaimori/