Vol. 6 Why Not Keep Cool with Bonsai this Summer?
I always thought my body was resistant to heat but unable to deal with the cold, but with the arrival of deep summer, I find myself struggling in the ongoing heatwave. I wish I could escape to a cooler climate or take a dip in the pool, even for a moment. Unfortunately, the demands of daily life get in the way.
So to handle the summer heat, I have been thinking of various ways to stay cooler using all five senses. There are many traditional things we do to stay cool in Japan, such as listening to wind chimes, trying tests of courage, wearing traditional yukata made with pleasantly textured fabric, or eating soft mizu-yokan (azuki-bean jelly) and flavored shaved ice.
However, in this issue I would like to propose adding bonsai as another way to keep cool in the summer.
To be sure, bonsai is not going to reduce your body heat or cool your palate.
But, you might be able to imagine cooler conditions by looking at them.
At this time of year, maintenance and skill is required to make cut flowers last longer, so it can be challenging to add seasonal decoration to your room with the flowers.
This makes it the perfect season for "plant bonsai."
When we say bonsai, we normally imagine something representing a majestic tree in miniature, but with plant bonsai, plants are used to create natural scenery instead of trees.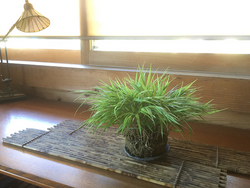 Japanese forest grass has an atmosphere of coolness about it.
Japanese forest grass is a perennial member of the Hackonechloa genus in the Poaceae family found growing on cliffs and rocky areas in mountainous regions on the Pacific coast of Japan between the Kanto and Kinki regions, and it also grows in the summertime.
Its scientific name, Hakone chloa macra, was designated by Tomitaro Makino, the father of botany in Japan, after the plant's native habitat of Hakone, but the Japanese name of the plant, "Fuchiso," literally means "the grass that knows the wind."
Thus as the name implies, it is perhaps a plant that can bring cooler temperatures.
When decorating your room with plant bonsai at this time of year, one technique that can provide an added touch is the use of a "shoku" (flower stand) made with bamboo or similar materials.
In fact, the use of bamboo, or woven strips of bamboo, is limited to the summer only, so it would be a loss not to try this now. You can also use an inexpensive and readily available makisu rolling bamboo mat used in Japanese cooking if you don't have access to raw bamboo.
Unlike normal bonsai, plant bonsai are not subject to deterioration of shape due to withering.
Or, that is to say, the plants will dry up completely over the winter, but new growth in the spring will return them to their original shape.
Less work is required to trim the shape, and there is no need to train them with wire. Thus the best part of plant bonsai is simply watching the natural wild beauty emerge as you observe its growth.
But that is not all there is to it.
There is a Japanese word called "mochikomi" (literally meaning "to bring") which in bonsai represents the amount of time a bonsai has been grown in the pot.
Like normal bonsai, plant bonsai must also extend their roots and grow in the limited soil of a pot.
For that reason, the plant bonsai must also be replanted once every two years, and a major difference can be seen between a plant being replanted for the first time, and one which has been growing 10 years.
The number of buds increases, while the size and length of leaves and the length of the stem are reduced, and the result is said to be a good example of bonsai that has adapted to the pot.
This change is called "mochikomi" in Japanese in this context. Thus, the bonsai takes on a certain dignity born of time.
There is also one point you should keep in mind when purchasing a plant bonsai, namely the natural habitat of the plant.
Each tree and plant has a natural habitat, and in the case of plants, adequate thought must be put into preparing the appropriate environment.
Mountain plants are now commonly available for purchase at gardening shops, and there are many plants among those that come from higher altitudes.
These plants often come from a natural habitat that is at a higher altitude than the timberline. Some of them will dry out in the heat of lower altitudes because they are used to the cooler temperatures found at high altitude.
Thus even though they are capable of adding a touch of coolness to the mood during the summer, many are unable to withstand direct sunlight or high temperatures. Accordingly, it is important to consider providing adequate water and shade to prevent wilting and drying out of the leaves.
When you purchase such a plant, be sure to ask about the preferred environment, and consider where to keep the plant in your home.
In the event the leaves do dry out and wilt during the summer, do not just abandon the plant. If you move the plant to a shady area and water it appropriately, it will likely sprout strong new leaves the following spring. That is one of the strengths of plant bonsai.
So, why not enjoy a "cool" summer with plant bonsai?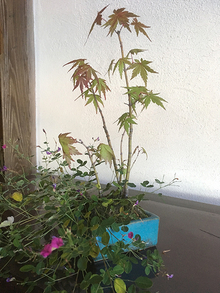 Maple and Yakushima bush clover are symbolic of summer.

Plants are often used together with trees in bonsai workshops for beginners, and these pretty plants can add a touch of presence that expresses each season.
Many of the workshops at the Bonsai Mori also include planting trees and plants together, so I will return to the topic more in the future.
In the meantime, do what you can to keep yourself and your bonsai healthy this summer as temperatures continue to rise.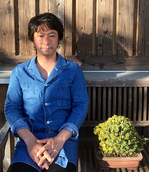 Takahiro Mori
Bonsai master Takahiro Mori was born in Tokyo in 1979. After graduating from the College of Applied International Studies at Tokiwa University, in 2002 he began studying bonsai as an apprentice at Katsuta Koushouen, a bonsai garden in Ibaraki Prefecture. In 2006, he became independent and launched his own activities. In 2009, one of his works won the Kokufu Award at the Kokufu-ten Bonsai Exhibition, an event with a long and distinguished history. From 2009 to 2013, he worked as an in-house bonsai artist at the Omiya Bonsai Art Museum, Saitama. In 2013, he traveled to Kosice in Slovenia, the European Capital of Culture 2013, as a bonsai demonstrator, and participated as a representative of bonsai masters in the presentation for Saitama's bidding to host the 8th World Bonsai Convention, which will be held in 2017. Mori conducted demonstrations at Bonsai Slovakia 2014, and participated as a bonsai expert in the Japan Government exhibit at the EXPO 2016 Antalya International Horticultural Exposition held in Turkey in 2016. Today, in addition to his work as a bonsai master, Mori is actively engaged in initiatives to promote the art of bonsai in Japan and abroad through workshops for beginners that he conducts at his atelier Bonsai Mori established in 2013 and bonsai classes he organizes in California in the United States.
Bonsai Mori website:http://bonsaimori.jp/
Bonsai Mori Facebook page:https://www.facebook.com/Bonsaimori/