Vol. 10 How the Combination of Tree and Vase Can Transform the Appearance of Bonsai
As I reread my past essays in this series, I am reminded of the difficulty of communicating through words. There will be a point when, as the reader interacts with bonsai, the words of these essays and the reader's actual experience will coincide perfectly. This is my hope as I struggle, with great care, to compose this penultimate essay in the series.
Replanting is one of the tasks that professional bonsai artists are asked to perform. I often travel to my client's bonsai garden to do the replanting, and when I do so, I consult with the client on which vase to use. Though we frequently reuse the same vase that the tree had originally grown in, it is the professional's job to propose a vase that is optimal for the growth of the tree.
There is an expression used in bonsai, "hachi-utsuri," which roughly translates as "appearance of the vase" and refers to the balance between tree and vase. We say a bonsai plant has good "hachi-utsuri" when that balance is good.
However, balance is something very difficult to quantify. There are numerous aspects of the vase that must be harmonized with the tree, including shape, size, depth, color, and apparent age, and the decision is difficult even for veteran aficionados. Imagining the type of vase that a given tree would go best with as you water the tree every day is one of the pleasures of cultivating bonsai, but the task of selecting the vase in fact requires a great deal of taste and an eye for beauty.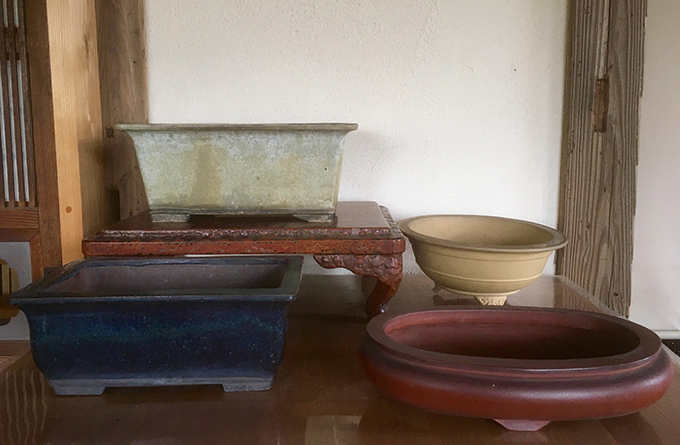 Vases come in countless shapes, sizes, and colors.
What shape comes to mind when you imagine a bonsai vase?
Many readers are likely to imagine one that is rectangular and brown. However, there is in fact an almost infinite variety of shapes, such as rectangular, square, elliptical, round, hexagonal, octagonal, and even ones shaped like a flower or an ancient mirror. Moreover, the rim and base also come in diverse forms, and the presence or absence of dohimo (raised decorative band around the pot) also adds another dimension of variety.
Generally speaking, conifers are usually matched with unglazed vases called "dei-mono" earthen vessels, while deciduous trees are paired with "iro-hachi" colored vases glazed in colors such as white, blue, or green.
However, this is not a universal rule.
For example, even for deciduous trees, if the bark of the tree is particularly old and has exceptional character, a mellower dei-mono vase might be used.
The following pointers may serve as a general guide for vase selection.
Trees with thick trunks are matched with pots that have a weighty appearance. Those with narrow trunks are wedded with shallow, lithe vases. Older trees are complemented with somber, reserved vases, while younger ones are combined with brightly colored vessels. Vases without sharp corners are selected for trees with a soft presence, and shallow containers can be used to accent the height of the plant. Mimono (fruit-bearing trees) and hanamono (flowering trees) bonsai are given vases in colors different from that of the fruit or flower.
Another rule of thumb is to match the trunk's thickness (diameter) with the depth of the vase, but there are exceptions.
At any rate, it is important to understand that the ability to differentiate good hachi-utsuri from bad hachi-utsuri comes from viewing many bonsai and remembering how they look. Thus, I recommend visiting bonsai exhibitions and closely examining the balance between each tree and its vase so that you can hone your eye for beauty.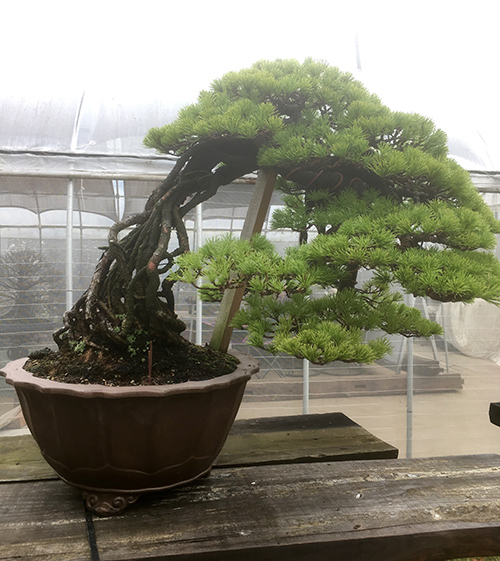 A deep flower-shaped pot paired with a Japanese white pine featuring exposed roots.
Once you take an interest in vases and begin to learn about them in detail, you will rapidly expand your knowledge of their many different facets, including ceramic texture, periods, places of origin, and artists.
One class of pots highly valued in the world of bonsai is "kowatari" (literally, "old crossing"), antique vases imported from China centuries ago. In bonsai circles, the end of the Qing Dynasty is the widely accepted cutoff for kowatari, so this term is applied to vessels produced from the Song up through the Ming and Qing dynasties. Every bonsai aficionado dreams of owning at least one of these vases. These containers alone can be richly savored for their dignified texture and aura of ages gone by, and when combined with a tree of exceptional character, the result carries bonsai into the realm of art.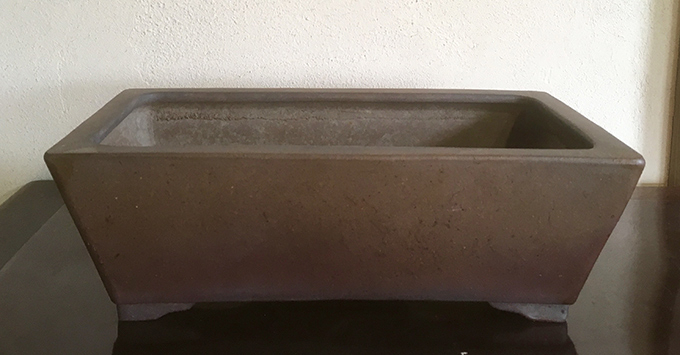 An unglazed rectangular vase colored in purple sporting a pleasantly sedate color.
There are also many different names for pots depending on where they were produced.
"Nanking pottery" is the name given to those crafted in Jingdezhen in Jiangxi Province, China. Containers made in Guangdong Province are known as "Canton vases," while ones imported from southern China near Vietnam are called "Jiao-zhi pottery." Unglazed pottery from Southeast Asia is known as "Nanban." Vases procured from outside of Japan feature unique characteristics depending on where and how they were produced, which accordingly defines how they are named.
There are, of course, pots made in Japan as well.
A leading example is "Tokoname pottery" produced primarily in Tokoname in Aichi Prefecture, a place that has long supported the world of bonsai through its vase artisanship. Today, bonsai pottery techniques are still passed down in an unbroken line from famed masters to up-and-coming artists.
As bonsai becomes increasingly popular and overseas markets become more knowledgeable about the art, bonsai companies overseas are apparently seeing an annual rise in demand for handmade Japanese vases, as opposed to mass-produced Chinese vessels. It seems that many bonsai lovers from overseas visit pottery kilns.
Though Tokoname is better known for the production of pottery such as teapots and maneki-neko (beckoning cat figures that symbolize good fortune), I recommend that you also visit the area to look for bonsai vases. It is fun simply to walk through the streets lined with pottery studios and their climbing kilns.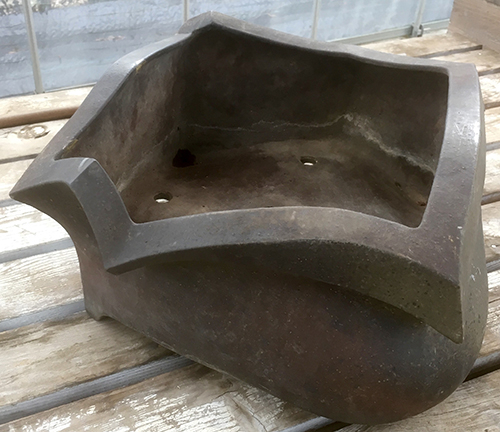 A unique vase created by a famous Japanese artist.
The "bon" in bonsai refers to the vase, so it would not be an exaggeration to say that the vase defines half of the value of the bonsai itself.
The image cast by a bonsai plant can be completely transformed by changing the container. While the old adage that "the clothes make the man" may not apply directly to bonsai, I would recommend purchasing several vases in advance so as to be prepared for each new evolution in the character of your tree.
I am sure that when the tree and vase become perfectly matched, you will be overwhelmed with the joy of having put so much effort into cultivating your plant.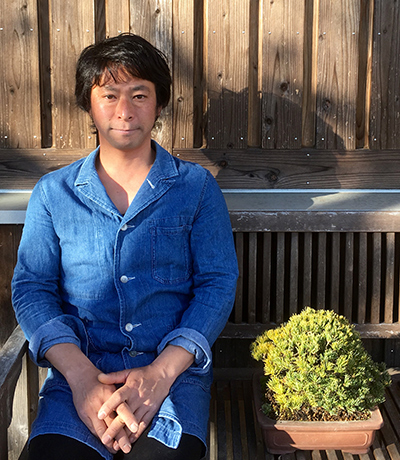 Takahiro Mori
Bonsai master Takahiro Mori was born in Tokyo in 1979. After graduating from the College of Applied International Studies at Tokiwa University, in 2002 he began studying bonsai as an apprentice at Katsuta Koushouen, a bonsai garden in Ibaraki Prefecture. In 2006, he became independent and launched his own activities. In 2009, one of his works won the Kokufu Award at the Kokufu-ten Bonsai Exhibition, an event with a long and distinguished history. From 2009 to 2013, he worked as an in-house bonsai artist at the Omiya Bonsai Art Museum, Saitama. In 2013, he traveled to Kosice in Slovenia, the European Capital of Culture 2013, as a bonsai demonstrator, and participated as a representative of bonsai masters in the presentation for Saitama's bidding to host the 8th World Bonsai Convention, which will be held in 2017. Mori conducted demonstrations at Bonsai Slovakia 2014, and participated as a bonsai expert in the Japan Government exhibit at the EXPO 2016 Antalya International Horticultural Exposition held in Turkey in 2016. Today, in addition to his work as a bonsai master, Mori is actively engaged in initiatives to promote the art of bonsai in Japan and abroad through workshops for beginners that he conducts at his atelier Bonsai Mori established in 2013 and bonsai classes he organizes in California in the United States.
Bonsai Mori website:http://bonsaimori.jp/
Bonsai Mori Facebook:https://www.facebook.com/Bonsaimori/