The Japan Foundation, Bangkok:Exchange and Networking between Japan and Thai through Contemporary Art
The Japan Foundation, Bangkok


Jim Thompson is famous as a brand of Thai silk, and the Jim Thompson Art Center, supported by the James H.W. Thompson Foundation, holds "Tomyam Pladib" an art exhibition of Thai and Japanese contemporary art on March 19 through June 5. The exhibition features Japanese art eminences: Yoshitomo Nara; Yasumasa Morimura; Tsuyoshi Ozawa; and Ryota Suzuki as well as Thai artists: Apichatpong Weerasethakul, film maker; Jarupatcha Achavasmit, young fashion designer; and Wisut Ponnimit, manga artist.

The Japan Foundation, Bangkok supported Tomyam Pladib seminar JAPANESE ART AND CULTURE: INSIDE OUT/OUTSIDE IN, held by the Jim Thompson Art Center. The seminar featured presentations by three renowned curators from Japan: Yuko Hasekawa, chief curator, Museum of Contemporary Art, Tokyo; Mami Kataoka, senior curator, Mori Art Museum, Tokyo and Hayward Gallery, London; and Raiji Kuroda, chief curator, Fukuoka Asian Art Museum, Fukuoka. Each museum they work involves in introducing Asian artists. They talked enthusiastically about the phenomenon of Japanese contemporary art and what museums are doing from their own viewpoint. Moreover, they expressed their views and introduced examples showing that Japanese art now is a complex of diverse genres, how performance-oriented or politics-oriented artists are working, a position of Japanese art in the context of the Western art, artist's view based on his/her generation, artist movement relying on local communities. Later, they had a question-and-answer session with audience of about 90.

In Asian countries including Thailand, contemporary art draws increasing attention. The Japan Foundation, Bangkok believes it is important to provide an opportunity for searching background and meaning of exchange, and to build a network for artists and curators, in addition to supporting events. In that sense, we would like to thank Ms Gridthiya Gaweewong, Artistic Director, and the staff of the Jim Thompson Art Center, who made every effort for Tomyam Pladib exhibition.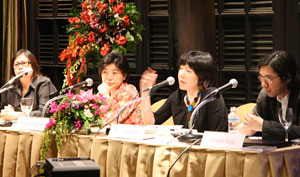 Photograph: Courtesy of the Jim Thompson Art Center