The Japan Foundation, Jakarta:Lecture-Demonstrations by Koto Player Chieko Fukuda
The Japan Foundation, Jakarta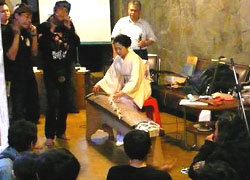 After conclusion of Japan-Indonesia 50th Anniversary Year in 2008 brought some relief to us, we welcomed Ms. Chieko Fukuda on February 17, 2009 for her one-week visit to Indonesia. Ms. Fukuda is a leading player of classical styled koto, and she was appointed as Special Advisor for Cultural Exchange by the Agency for Cultural Affairs in 2008.

While she had performed in Europe and the U.S., this was her first performance in Asia. In addition, this was her first performance tour on her own because, in principle, a Special Advisor for Cultural Exchange had to travel to the destination by him/herself. In her past performance tours, she was accompanied by her staff for tuning and preparing the instrument.

With this restriction, we planned the itinerary for Ms. Fukuda's visit to Indonesia focusing on lecture-demonstrations. In Jakarta, we hosted lecture-demonstrations at the Jakarta Institute for the Arts and the University of Indonesia in Jakarta, as well as at Indonesia College of the Arts in Bandung and Common Room, city located about two-hour drive on the highway from Jakarta.
In addition to these lecture-demonstrations, Ms. Fukuda performed at Japanese Language National Speech Contest at the Japan Foundation, Jakarta and an event hosted by the Embassy of Japan in Indonesia at an Islamic boarding house. Every performance was well-received.

Since Ms. Fukuda traveled without her staff, the Japan Foundation staff had to guide her to the venues of her performances or prepare and put back the instrument. We were not familiar with such tasks, so they gave us a glimpse of hard works of performance art staff.

Ms. Fukuda's performance tour traveled to Indonesia, Philippine, and Malaysia in one month, and she received favorable reviews in each country. We hope that this performance tour delivered the heart of the historical legacy of Japanese traditional music to people in above countries and would result in further cultural exchange between these countries and Japan.