The Japan Foundation, toronto:Premiere Screening of Cinema Kabuki in Canada
The Japan Foundation, toronto


Cinema Kabuki has achieved its premiere screening in Canada. It was accepted by the Japan Foundation's internal submission program for fiscal 2008 and took place as a pilot project. The result was a promising success in spite of some room for improvement in the near future.

Shochiku Co. Ltd. has been developing the Cinema Kabuki since 2003. It is a presentation of live Kabuki theatre on a big screen at a cinema. But, there are significant differences from regular film screenings. Cinema Kabuki is a new type of screening expression which enables the audience to experience the excitement of the live stage so vividly through the full use of the wide range capability of high-definition (HD) images and 6-channel sound.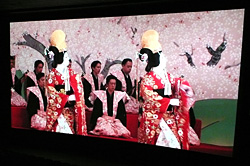 From the screening test. HD image on he big screen,
16.76m wide X 9.44m high.

As a background of the project proposal from Toronto we have satellite live broadcasting of operas in Canada. Presentations from the stage of the Metropolitan Opera in HD at over 80 movie houses across the country are very popular. We expected that the technology for HD opera broadcast could be used for Cinema Kabuki as well. Our expectation was only partially right. Digital film projectors for high definition have been increasing their market share in North America, so we were easily able to prepare the projector for Cinema Kabuki here. However, Cinema Kabuki is not satellite broadcasting, but rather uses computer data in Q-type format. This Q-type cinema server was originally a North American invention, but is disappearing in North America due to competitive formats which have been promoted by Hollywood. Eventually, we successfully rented the Q-type machines, but Canadian technicians had to go through so much trouble, simply because they were not used to this format. We gradually built the foundation of the screenings by repeating some technical tests one by one.

We took advantage of opera broadcasting in our publicity and marketing. Some of the opera goers seem somewhat resistant in their acceptance of non-Western cultures. By contrast, at the same time, many opera goers welcomed Kabuki as a world cultural heritage, and expressed enthusiasm towards Kabuki. This is a far better, more favourable reaction than we expected.

Through the three programs, Nezumi: The Japanese Robin Hood (March 26), Dojoji - A Lover's Duet (March 28), and The Sentimental Plasterer (March 28), the diversity of Kabuki was introduced from multiple points. The crisp images of HD captured the exciting scenes created by Kanzaburo and Mitsugoro. The beauty of the dances by Tamasaburo and Kikunosuke blossomed on the full screen through the striking colours of digital images; it was a breathtaking experience for the audience. We presented the screenings at a commercial theatre with paid admission, and still achieved an attendance of 900, which is remarkable when compared to regular audience number.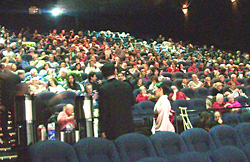 A moment before the screening of "Dojoji - A Lover's Duet".
The excitement already fills the atmosphere.

Under the circumstances, the tour abroad of performing groups from Japan in general, not only Kabuki, is becoming increasingly difficult. Cinema Kabuki can be useful as a new tool of cultural exchange. And, by requiring an admission fee, the project cost can be reduced, so it can be an attractive project from the viewpoint of cost performance. Our project in Toronto established a new brand "Cinema Kabuki", and we are exceedingly delighted that we were able to create a workable technical environment and that we have confirmed the existence of an interested audience group which is limited by neither age nor cultural heritage.