The Japan Foundation, Sao Paulo:Activity report of The Japan Foundation, Sao Paulo
The Japan Foundation, Sao Paulo


The first animated feature film in Brazil was created by Japanese illustrator the late Ippei Nakashima in 1972. The film "Piconze" was shown in major cities across the country, but its original print was discarded and has never been shown in public since then.

The Japan Foundation, Sao Paulo reproduced "Piconze" by digitizing the film recorded in video tapes, and hosted a special exhibition of Ippei Nakashima with his original celluloid pictures and story boards, as well as his personal photography (specifically pictures of his family taken when they had just settled down in Brazil) to bring the public the world of the cartoonist. During the exhibition period, a panel discussion with film directors and scholars of Brazilian animation film was held. In addition, there was a screening of a documentary film describing his life, "Ype Nakashima." This film was produced under the Japan Foundation's Support Program for Film and TV Program Production on Japan 2008-2009, and appeared in Anima Mundi International Animation Festival 2009.

The Japan Foundation, Sao Paulo has been introducing Japanese food culture from various perspectives to Brazilian public. In June 2009, we co-hosted a series of lectures "Wednesdays on Japanese Gastronomy" with Consulate General of Japan in Sao Paulo. Lecturers were: Mr. Arnaldo Lorencato, food journalist who was invited to Japan by the Japan Foundation in 2005; Mr. Josimar Melo, food critic; and Mr. Jun Sakamoto, famous sushi chef. Each of them told the audience what fascinates him about Japanese food.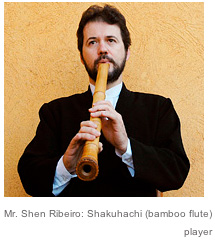 Another program co-hosted with Consulate General of Japan in Sao Paulo was a concert and workshop of Shakuhachi (bamboo flute) by Mr. Shen Ribeiro who spent long years in Japan to master the instrument. In addition to his performance, this program included a screening of a documentary film in which Mr. Ribeiro talked his encounter with shakuhachi and the possibilities this instrument has on the sounds. There was also a workshop of shakuhachi for people involving in Japanese traditional music. The combined effects of these activities resulted in an integrated program.

The Japan Foundation, Sao Paulo has been supporting outstanding artists who are inspired by Japan. This year, it supported a performance tour of Ms. Leticia Sekito, up-and-coming young choreographer. Recommended by the Sao Paulo State Bureau of Culture and hosted by the Social Service of Commerce (SESC) Sao Paulo, this performance tour was held at eight sites across the state from April through June, 2009.