The Japan Foundation, Beijing:Lecture Series "Environment Issues: Let's Start with Something Close to You - Awareness-raising for Everyone"
The Japan Foundation, Beijing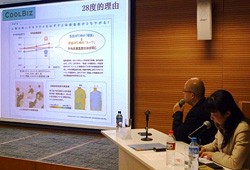 "緑色家電" (Green Home Appliance) and "生態旅遊" (Eco Tour) are examples of new terms for ecology that has been coined recently in China where the environmental awareness has been growing. On Saturday afternoons from December 2009 to January 2010, the Japan Foundation, Beijing hosted three lectures to introduce approaches to environmental issues in Japan.

The first lecture entitled "Environment Issues that Japan, China, and South Korea are Learning Together: Case Studies of Environmental Education" was delivered by Mr. Tetsuo Suwa (Professor at Gakushuin University, Director of the Association for Japan-China-Korea Environmental Education). He compared Japanese, Chinese, and Korean approaches to environmental education and introduced cases of participatory education of recycling that has been attracting more attention recently. Mr. Suwa let the audience experience some of these programs, and the audience really enjoyed this opportunity.

The second lecture was delivered by Mr. Kenji Someno, former official of the Ministry of the Environment and currently Tokyo Foundation Policy Research Project Manager and Research Fellow. On the theme "Government-Business Collaboration against Global Warming: Approaches of 'Team minus 6%'", Mr. Someno described the Ministry initiative to fight against global warming, including social movements such as "Cool-biz". As a special guest, Mr. Hisashi Yamada, a radio personality famous for his eco-friendly activities, appeared. Mr. Yamada presented his belief that people should enjoy dealing with environmental problems, by participating eco-friendly concerts, for example. He was always carrying with him a handmade bag with solar battery that attracted attention of the audience.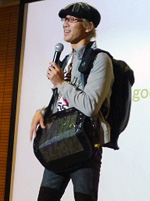 The speaker of the last lecture was Mr. Toshimitsu Hirose, the founder of the first nature school in Japan, Whole Earth Nature School. Entitled "Nature School and Eco-tourism to Revitalize the Local Community", the lecture gave the audience a detailed picture of eco-tourism and the concept of nature school management from a perspective on civilization. Members of Chinese non-government organizations who participated in this lecture gave us favorable feedbacks that they learned a lot from the lecture.

Regarding this series of lectures, the Japan Foundation, Beijing started a new program called "Plus Lesson" in which our Japanese-language specialists gave a preparatory lesson to those who wanted to learn Japanese relating to the topics prior to the lecture. It was expected that people who have already attained a certain level of proficiency in Japanese would improve their language ability in their professions by attending to these lectures on environmental issues.

The Japan Foundation, Beijing will develop a variety of activities that address shared interests of Japan and China to help mutual understandings between two countries.