The Japan Foundation, Manila:Expanding the Japanese-Language Network! - Completion of "enTree" teaching materials for High Schools
The Japan Foundation, Manila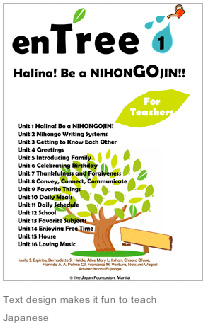 Since 2009, the Special Program in Foreign Language: Japanese (Nihongo), Spanish, and French has been implemented as a pilot project under the initiative of the Bureau of Secondary Education of the Department of Education (DepED/BSE, Philippines). The said program - a pilot project in Science and Public High schools in Metro Manila - will be conducted until 2011.

The Japan Foundation, Manila, in seeking to develop a curiosity in different languages and culture through the study of Nihongo, has recently completed the "enTree - Halina! Be A NIHONGOJIN" materials (referred to as "enTree" below). This includes instructional guidebooks and workbooks that will improve the preparation of original teaching materials that focuses on cultivating one's communication skills and problem-solving abilities.

This "enTree" which is composed of 16 lessons for 1 year (2 years in total), aims to promote the study of Nihongo for communication, in addition to producing an understanding of different cultures through an exchange among the current generation of youth studying Nihongo worldwide. Moreover, it seeks to direct a rediscovery of the value of Philippine culture by reflecting on the similarities and differences of the Philippines with Japan and other countries, while exploring the Japanese culture.

As the title "enTree" entails, it seeks to provide students an "Entry" to the global community that will enable them to enjoy (e: enjoy, experience) the study of the Japanese-language (n: Nihongo), while expectantly looking forward on the growth of their own study tree (Tree). The subtitle "Halina! Be a NIHONGOJIN!" extends an invitation to be part of the network of "Nihongojin:" the network of people who speak Nihongo.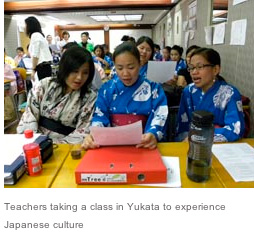 Furthermore, the Japan Foundation, Manila conducted a teacher training course - "Course on Japan for High School Classroom Instruction (CJH)"- over a 6-week period from April 12 to May 21. 29 Filipino high school teachers from the English language and Social Studies departments of 14 schools in Metro Manila participated in the said course, and are set to teach Nihongo in their respective schools for school year 2010-2011. Edward sensei, a participant from F. Torres High School, expressed his enthusiasm in being able to teach, in his own way, the importance of being culturally-sensitive.

The Japan Foundation, Manila, continues its unwavering support for the "Special Program in Foreign Language : Japanese"; we are earnestly looking forward to the time when the Japanese-language education "tree" is deeply rooted in Philippine High Schools - sturdy, continuously nurtured, grows bigger, and bears fruits.