Activity Reports:Japanese-Language Education Overseas:Japanese-Language Program for Foreign-Service Officers and Public Officials for FY 2009 was Concluded
Educational Training Section,
Learners' Support Department
(Japanese-Language Institute, Kansai)
The Japan Foundation Japanese-Language Institute, Kansai is providing Japanese-Language programs for foreign-service officers and public officials who need to learn Japanese to carry out their duties. This is a report of the course that was held for about eight months from September 30, 2009 to May 28, 2010 with 26 young participants from 25 countries.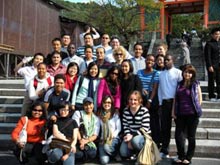 Most of participants had no prior experience of learning Japanese, so the program focused on oral communication skills, i.e. speaking and listening comprehension. They started with learning Japanese for daily life and proceeded to acquire the language that satisfied their professional needs in order to perform social intercourse, speeches, presentations, and diplomatic service. Lectures on social issues and cultural experiences were offered in collaboration with Osaka School of International Public Policy of Osaka University in order to help participants to pursue their own interests.

The program was not limited in classrooms. Through a variety of opportunities including trips, visits to government offices and private corporations, and exchange programs with university students and volunteers in the neighborhood, participants could communicate with Japanese people face-to-face and deepen their understanding of Japanese society and culture. On visits to elementary schools, they took on a challenge to explain their own countries to children in Japanese.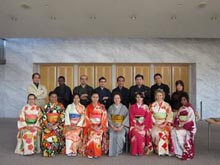 At the conclusion of the course, many of participants said that they could build a network of personal contacts thanks to this program. Contact with people at the government offices and private corporations they visited who are dealing with participants' countries and regions, as well as with their fellow participants who shared the whole eight-month experience at the Japanese-Language Institute, Kansai will be their invaluable asset.

It has already been two months since the participants completed the course and returned to their home bases. They are expected to demonstrate their achievements in Japanese-language education at the embassies in Japan or Japan-related departments of government offices of their countries and regions in the near future.