The Japan Foundation, Toronto:Exhibition: Tenugui Towels - Design Excellence in Japanese Daily Life
The Japan Foundation, Toronto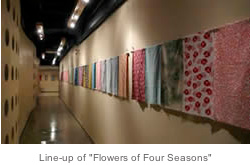 From May 26 to July 30, 2010, The Japan Foundation, Toronto was filled with 220 Tenugui towels in bright colours and brilliant designs. The attendance during the exhibition period was over 2,000 visitors, an indication that it was one of the most popular exhibitions we have had.

This Tenugui exhibition has been planned and produced by The Japan Foundation, Toronto on our own and was accomplished with extensive support from The Kamawanu Co. Ltd., a production/distribution company of Tenugui in Tokyo. During the span of over four years, including the initial planning to realize the exhibition, the Kamawanu Co. has been a most reliable, observant, and patient partner of the project in the selection and assembly of the exhibits and the shipping of the dyeing tools and stencil.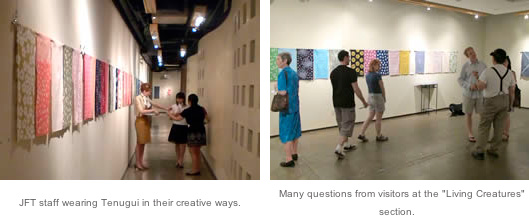 Motivated by the idea that we wish to deliver the excellence of design and colours in Japanese daily life and the skills of craftsmen, this project of a Tenugui exhibition was established. Rather than incomprehensible explanations, we instead aimed at the enjoyable look of bright colours. The exhibits were grouped in four categories: "Flowers in four seasons", "Living creatures", "Traditional designs of the Edo period", and "Food" so that Canadian visitors could identify the subjects more easily. We also had a video introducing the Tenugui dyeing process produced by the Kanto Chusen Manufactures' Organization. The newly produced English version of this video was screened at our exhibition and received amazed comments such as "What a number of process it goes through!". The reproductions of Ukiyoe prints produced by the Adachi Woodblock Institute were also a part of our exhibition, indicating how Tenugui were used in daily life in the Edo period and on the Kabuki stage. As for contemporary use, we displayed the samples of Tenugui used in our own lives, such as book covers, cutlery cases, and wine bottle wrappings. During the exhibition period, office members and volunteers of The Japan Foundation, Toronto wore Tenugui in their own creative ways such as scarves, ascot ties, and hair bands, displaying the charms and potential of Tenugui.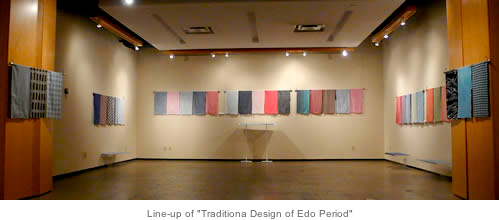 In terms of visitors' reactions, we encountered several cases in which some Japanese-Canadians and immigrants from Japan started to recall old memories around Tenugui, which proves how intimate Tenugui have been to Japanese people. To Canadian visitors' eyes Tenugui were filled with a fresh sense of the colours and attractive designs, inspiring them to purchase Tenugui after only a single look. The intimate attraction was most evident in the glittering glances of Canadian visitors. The exhibition revealed that there would be more possibilities of cultural exchange in the limited rectangular space of Tenugui: one Shaku x three Shaku (approximately 30 cm x 90 cm).