The Japan Foundation, Jakarta:Japanese Culture to Ease the Thirst in Ramadan
The Japan Foundation, Jakarta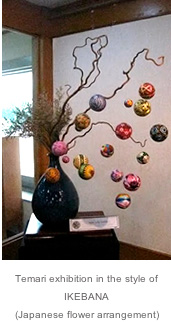 Have you ever heard the word "Ramadan" (a month of fasting)? This is not a term that most Japanese people come across often, except for those who are familiar with countries and regions with large Islamic populations. Ramadan is the ninth month of the Islamic calendar in which many Muslims refrain from eating and drinking from dawn until sunset as a religious duty.

It is hard for non-Muslims to even imagine that once they have a meal before dawn, they have to refrain from even drinking water until sunset. It should be noted, however, that travelers, people in heavy physical labor, pregnant women, people in sick, and infants and small children are exempt from fasting. Using Ramadan as an excuse for neglecting everyday duties such as work and study is considered as a violation of the teachings of Islam. In Indonesia, with an Islamic population of approximately two hundred millions (90% of the entire population), people were spending their days as usual during this year's Ramadan month from August 11 to September 9. Therefore, the Japan Foundation, Jakarta also operates as usual but with regard for practice of fasting.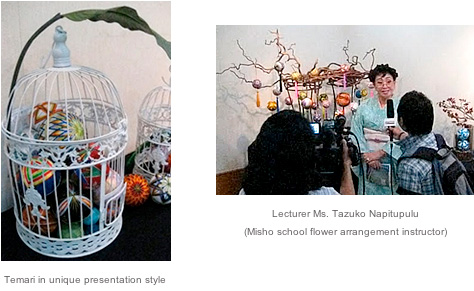 This year's main events during Ramadan were Temari exhibition and Japanese film screenings. This Temari exhibition was the first occasion in Indonesia to introduce this Japanese traditional craft of embroidery balls, thanks to cooperation of Japanese and Indonesian Temari lovers in Jakarta. Workshops held during the exhibition period attracted more registrations than we expected, but we could manage to receive them because the lunchtime hours could be allotted to additional sessions. This was one of unforeseen advantages of the fasting period.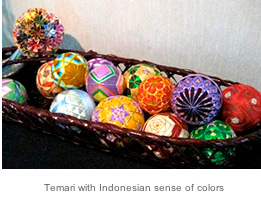 For Japanese film screenings, we consulted with Indonesian staff to select innocuous films without scenes of people satiated with food and drinks, or sexually explicit scenes, in respect to people in fasting as spiritual refinement. As a result, each of seven selected films, including Twenty-four eyes and Waiting for Akira that depict friendship and school days, attracted many more young audience than usual.
While our regular film screenings take place in the evening or at night to suit the convenience of the audience, the screenings during Ramadan were held in the early afternoon to be closed before sunset. Most people have meals after sunset with their families and friends to celebrate that they made it through another day of fasting. The month of fasting came to end at last, and a great festival for breaking fast called Lebaran was celebrated on September 10. The fall has come to islands of perpetual summer, Indonesia, with many more events to introduce Japanese culture.