The Japanese Culture Department "Japan Foundation" of the All-Russia State Library for Foreign Literature:Don-don, Doko-doko (Dub-a-dub, Rub-a-dub): Eitetsu Hayashi Wadaiko Workshop
The Japanese Culture Department "Japan Foundation" of
the All-Russia State Library for Foreign Literature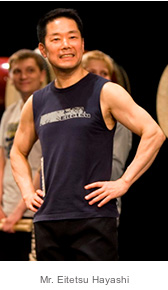 On August 26, the vibrant beat of Wadaiko drums from the Strastnoy Theatre echoed through the center of Moscow in the twilight. It was a special workshop by Eitetsu Hayashi, the internationally acclaimed Taiko player with a stellar 40-year career.
15 participants of the workshop were the lucky ones selected among many applicants for prior open call on the Internet. With different ages and backgrounds, they got together to play Wadaiko drums for the first time in their lives under Eitetsu's instruction.
To warm up before playing the drums, Eitetsu started jumping. It was not an ordinary jump, though; he and the participants were jumping up and down for 500 times while pretending to be Japanese kites or Sumo wrestlers. Encouraged by cheerful applause and laughter from the audience that filled the seats of the theatre, they managed to go through the warm-up. Now they could start learning how to play the drums. Eitetsu simply explained how to stand and hold drumsticks. This playing style employed by many Wadaiko groups today was formulated by Eitetsu himself 40 years ago.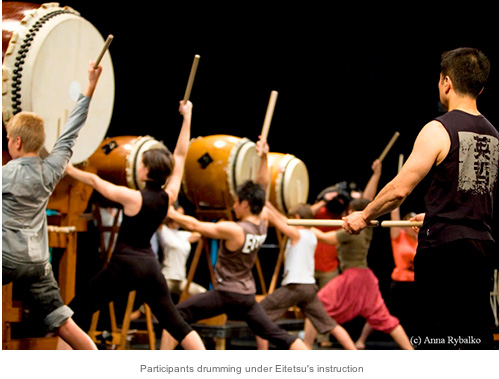 Wadaiko drummers do not use the score as pianists or other musicians do. They learn a song by singing with onomatopoeia, Don-don, doko-doko, that describes the beat of drums. This unique way of learning a song aroused the participants' interest. At first they were struggling to beat the drums in unison, but after practicing for a while, they could play in total synch.
Finally the moment came to the participants to exhibit their achievements of their practice. They played the drums in a sweat and a no-nonsense manner. The performance with their heart and soul, with a don-doko song on their lips, received an ovation from the audience.
Music has no border or language barrier. This was the moment when the beat of Wadaiko resonated with the heartbeats of the participants and audience, as well as the heart of Japan with the soul of Russia.