Japan's Quest for a Harmonious Society: A "Universal Fashion" Show in Uzbekistan and Russia
Hana Fujiwara
Europe, Middle East and Africa Section
Japanese Studies and Intellectual Exchange Dept.
The Japan Foundation

The Japan Foundation sends scholars and experts in various fields overseas to hold seminars for the purpose of promoting Japanese studies and fostering a deeper understanding of how contemporary Japanese society is diversifying and evolving. Seminars held in Tashkent and Moscow on the theme of "Japan's Quest for a Harmonious Society: Making Fashion Universal" provided an opportunity to think about what kind of society Japan and the world should be seeking.
"Universal Fashion" in Demand
"Студенты все в восторге! (The students are all thrilled!)" So spoke the vice-president of the Tashkent Institute of Textile and Light Industry after a lecture on universal fashion at the university. Despite the early hour on Sunday morning, the event attracted about 110 participants, mainly students. They crowded eagerly around the lecturers, Professor Akira Oda of Sugino Fashion College and a young designer, Naoshi Sawayanagi, asking questions and taking pictures.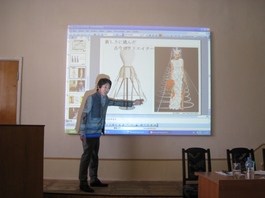 "Universal fashion" was originally developed for disabled or elderly people as clothing that would be easy to put on and take off, but it has since come to mean fashionable and comfortable clothes for everyone. Using stretchy fabric and large buttons that are easy to grasp, each piece is an ingeniously contrived example of sophisticated Japanese technology. According to Professor Oda, there has been a shift in the apparel industry recently, away from the cheap, mass-produced, trendy clothes known as "fast fashion," and towards durable, high-quality, tailor-made clothing that suits individual tastes and needs. Universal fashion has been drawing attention as a way to make clothing that meets consumer needs. Illustrating his talk with survey results and slides, Professor Oda explained how this trend is reflected in the attitudes of young Japanese people, who now prefer to buy one item that will last for a long time, rather than a constant series of new things. In other words, there is a tendency towards valuing a sustainable society.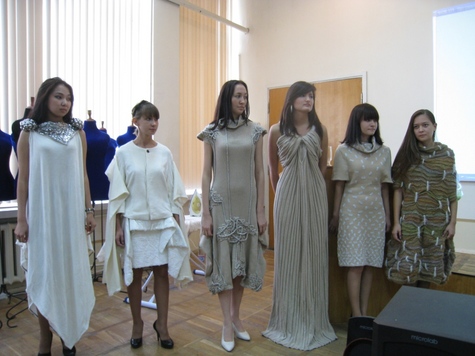 Toward a Society Where Everyone can Feel at Home
Uzbek students listened attentively to the lecture, comparing the situation in Japan with that in their own country. Comments on the questionnaire included: "I had never thought about the waste produced by the fashion industry. The environmental issues are serious and deeply interesting." "The lecture opened my eyes to things I wouldn't usually think about." "Compared to Japan and Europe, I think Uzbekistan is still conservative when it comes to fashion." "It would be nice to have more lectures like this at our university." The theme of the lecture seemed to resonate strongly with the participants. I could see the promising future of their country in the curiosity that sparkled in their eyes.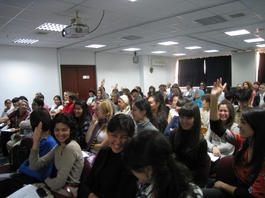 Professor Oda said in his lecture, "Uzbekistan may overtake Japan economically in the future. That's why I'd like you to think about what problems economically advanced countries have, and how lifestyles and consumer attitudes in those countries have been changing." We should share our experiences and work hand in hand across national borders to create a society where people can lead a happy and comfortable life.
As part of the lecture, designer Sawayanagi showed some of his collection. What amazed the audience was a dress knitted from a single piece of yarn, using a Japanese-born technology called "whole garment." No waste is produced during the manufacturing process, and the knit material fits all shapes and sizes. The audience burst into applause when Mr. Sawayanagi talked about the dress, and many of them came up after the lecture to look at the garment, touching it to see how it felt, and turning it inside out.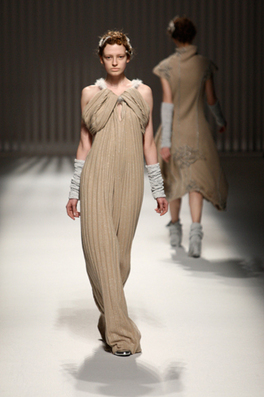 Professor Oda and Mr. Sawayanagi also visited the Uzbekistan-Japan Center for Human Development and A. N. Kosygin Moscow State Textile University to give lectures, all of which enjoyed great success.