Social Entrepreneurs from Japan Leap into the World--Dispatching Social Entrepreneurs to the "Regional Social Enterprise Knowledge & Partnership Symposium: Social Enterprise for a Sustainable Future in Asia"
Yokota Yuki
Europe, Middle East and Africa Section
Japanese Studies and Intellectual Exchange Dept.
The Japan Foundation
Social enterprises are attracting attention around the world in recent years as a new type of business which contributes to society. Unfortunately, the concept of social enterprises is still new in Asian countries, and opportunities for those in the region to work together and share information are still very limited.
The Japan Foundation and the British Council cosponsored the dispatch of 15 Japanese social entrepreneurs to the "Regional Social Enterprise Knowledge & Partnership Symposium" held in Bangkok, Thailand, in November 2010.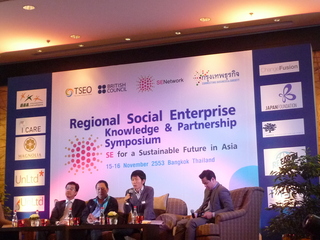 This symposium had the objective of gathering social entrepreneurs and other business leaders in Asia and the United Kingdom to share and exchange their knowledge and experiences, and to construct a network which would benefit Asian countries.
Perhaps few people have a specific image of what a social entrepreneur does. Let us take a look at the activities of the Japanese entrepreneurs who participated in the symposium.
One enterprise supports the mental and physical health of mothers after child delivery, which is not covered under Japan's present mother and child health legislation. Another makes house calls to provide hairdressing and barber services to the elderly and disabled who find it difficult to step out of the house. Another assists people with hearing disabilities in IT-related areas. And yet another supports the self-reliance of Filipinos by employing them as teachers of online English conversation classes. All these activities are oriented towards fulfilling a certain social need which had been overlooked up until now--a need for which services are in great demand and yet which nobody provided because everybody thought they already existed.
* The profiles of the 15 entrepreneurs are provided here. (in Japanse)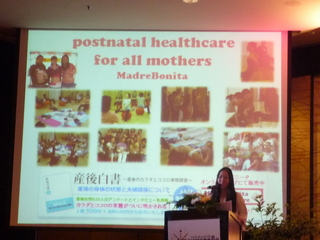 Another common characteristic of the entrepreneurs who attended the symposium is their youth, their average age being 30.6 years. Observing these young business leaders, I was left with two strong impressions.
One is that not all young people in Japan are as insular as is commonly believed. In recent years the decline in the number of youths studying overseas is often lamented, leading to the opinion that youngsters today only look inward within Japan and lack vitality. However, the 15 members we dispatched to the symposium do not fit that description at all.
Since the symposium was conducted entirely in English, each participant delivered his presentation before a large audience in English and took part in discussions with entrepreneurs from other countries. During visits to social enterprises in Thailand after the symposium, they did not hesitate to ask questions, and moreover communicated actively with their Thai fellows and explained about the situation in Japan.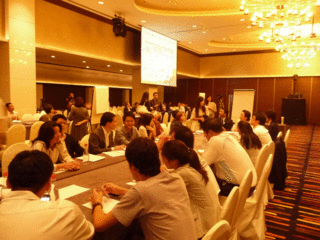 The other is the expanding circle of exchange. Through this symposium, participants were able to connect with fellow entrepreneurs from other countries, creating an international network transcending national boundaries. At the same time, they were also able to create a new network within Japan, by interacting with entrepreneurs from other business sectors whom they never had the opportunity to meet before. A happy outcome of the symposium is the organization of many collaborative events between them, and we have been notified of such joint events as: guidance on job-hunting for the physically challenged to be held together with a seminar on dressing appropriately; providing support for the self-reliance of Filipinos and also offering them training in beauty-related professions; and aiding the needy and holding an event on fashion for them.
The Japan Foundation is committed to extending continuous support for the efforts of social entrepreneurs to improve the society.