The Japan Foundation, Sao Paulo:Dairakudakan Temputenshiki Performance in Brazil
The Japan Foundation, Sao Paulo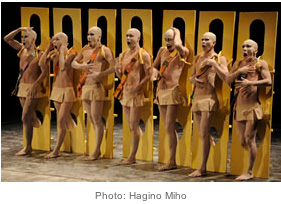 In November 2010, a group of shaven-head people arrived in Sao Paulo. In this multi-ethnic city, people are usually hard to surprise with one's appearance, but many people turned to look at this group as they passed. They are members of Dairakudakan Temputenshiki, a Butoh dance company led by Akaji Maro, a leading Butoh dancer and actor.

The Japan Foundation, Sao Paulo invited Dairakudakan Temputenshiki members to have three performances in two cities in Brazil: on November 3 and 4 in Sao Paulo and on November 6 in Santos.

Entitled "Segredos da Humanidade (Secrets of Mankind)", this program was based on the theme: "A dazzling tower / persons shivering in exaltation / every boundary has vanished / there is no life or death / only lights, lights, lights are dancing wildly / Finally, the secret of mankind manifests itself / in the dark tower." 22 dancers led by Akaji Maro performed 10 scenes including Evil Spirits and Children's Make Believe of Shamans for over 100 minutes.

Butoh dance is quite popular in Brazil where many Butoh companies had visited for performances, but it was the very first opportunity for the Japan Foundation, Sao Paulo to introduce Dairakudakan Temputenshiki to the audience in Brazil.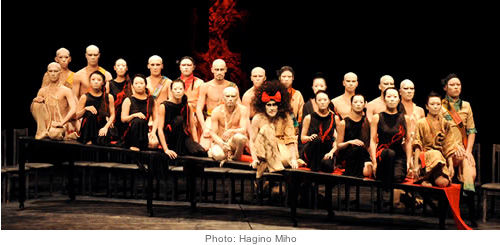 Brazilians give unstinting applause to a performance they love, but they leave their seats in the middle of performance without hesitation when they do not like it. This tendency made us anxious about whether the audience would enjoy the dance company or not. It turned out, however, that we were overanxious; the overwhelming power of their dance received standing ovation. The audience was mesmerized by the dancers and thrown into an illusory world where they were swallowed up in the dark. The thunderous applause, whistling, and shouts of "Bravo!" are still ringing in our ears.

Dairakudakan's performances evoked many responses from the audience. The comment sheets were filled with remarks from excited audience; for example, "It was marvelous! I was lost for words and I'm still thrilled." We also received some comments from the audience via emails to our office, such as "It was wonderful, very sensitive and filled with respect for art. Congratulations on a superb performance!"

Dairakudakan Temputenshiki revealed the new world of Japanese Butoh to those living on the opposite side of the globe.