The Japan Foundation, New York:Programs for U.S. Based Japanese Specialists in Latin America
The Japan Foundation, New York


Every year, The Japan Foundation, New York conducts the "Japanese Arts in Latin America" program, or JAILA, which assigns Japanese specialists living in the U.S. to offer lectures, workshops and performances of their own expertise in Latin America. Since the distance between Japan and Latin America is so great, JAILA enables further and deeper cultural exchange between Japan and Latin American countries by tapping into the robust talent pool of Japanese arts and culture professionals living in the U.S. In 2010, four groups of professionals participated in the program and were received with great enthusiasm at every locale. Here are glimpses of their activities.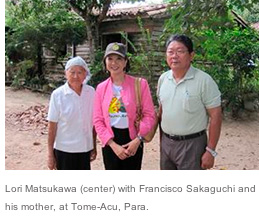 Lecture Tour by Lori Matsukawa in Brazil
The first tour was by Lori Matsukawa, Co-Anchor at Seattle's KING5 News, who traveled to four cities in Brazil (Sao Paulo, Tome-Acu, Belem, Brasilia), where there are large populations of Japanese-Brazilians. Her talk was titled "Telling Our Story: Coalition Building and the Asian American Journalists Association," in which she discussed the history of Japanese-Americans, shared her own experience, and explained to the audience the current situation of Japanese-American journalists.

Although having the same Japanese roots, the history of Japanese-Americans and Japanese-Brazilians are quite different. Audience members commented,
"It was worthwhile to know about the Japanese-Americans, who I didn't know too much about before."
"I learned that those immigrated to America went through a lot more hardship than those immigrated to Brazil."

Traditional Japanese Music Concert Tour in Central America
The second group to tour was the New York-based fue and taiko player, Kaoru Watanabe, and 21-string Koto player, Yumi Kurosawa. They traveled to Costa Rica, Honduras, Trinidad and Tobago, and Panama. Performing traditional pieces and their own original scores, they also played the popular music unique to each country they visited. Needless to say, their performances received a huge rounds of applause and standing ovations.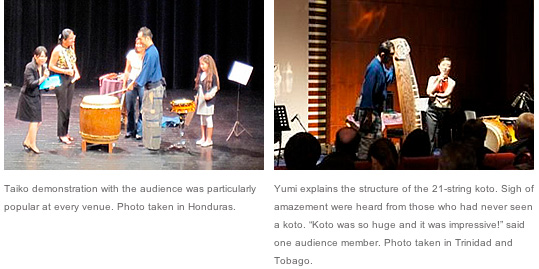 Classic Piano Concert Tour in Three Latin American Countries
Pianist Junko Ueno Garrett, based in Los Angeles, conducted a concert tour "East Meets West: A World Journey on the Keyboard." She traveled to Cuba (the first program to go to Cuba through JAILA!), El Salvador and Mexico to gave lecture/demonstration style performance, surveying the history of Western and Japanese music. In Cuba, Junko conducted an open-class piano lesson and was impressed with the students' high level of ability. Junko explained that this experience, with everyone so attentive and passionate allowed her to spend "time without borders" through music.



Bringing Japanese Jazz to Jamaica
The final group to tour was the New York based jazz flutist YUKARI and jazz pianist Eri Yamamoto, performing "An Evening of Japanese Jazz" and workshop in Jamaica. Fruitful exchanges were made during the performance through a session with local musicians, and at a workshop where the artists incorporated Japanese phrases such as "Ohayo (Good morning)" and "Konnichiwa (Hello)" to teach participants about rhythms in jazz. Eri commented that it was surprising to know that Japanese songs such as Sukiyaki and Ringo Oiwake are covered by many Jamaican musicians, but that not many people knew that they are original Japanese songs. YUKARI felt the importance of sharing the beauty of Japanese culture on a personal level.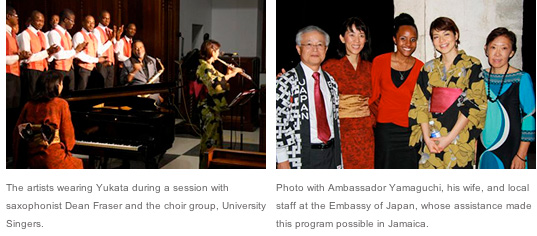 For information on the 2010 JAILA program, please visit: http://www.jfny.org/arts_and_culture/jaila.html