Thirty Energetic High School Students Visit from South Korea!―The Lee Su Hyon Youth Exchange Program
Naoko Tomioka
The Japan Foundation Japanese-Language Institute, Kansai
Do you remember LEE Su Hyon?--He is the South Korean international student who died in 2001 while trying to save a Japanese passenger who had fallen on the tracks at the JR Yamanote line Shin-Okubo station in Tokyo.
To honor his courageous actions, we organize a project called the "Lee Su Hyon Youth Exchange Program" and invite high school students studying Japanese in South Korea to Japan. The aim is to further the students' understanding of the Japanese language, culture and society. In 2011, 30 energetic high school students from various parts of South Korea stayed in Japan from January 17 to 27 under the exchange program.
"Impressed by how considerate the host families were!"
We talked to two girl students who were among the participants.
OH Sun Jin (from Taegu Foreign Language High School) says she came across a Japanese book in the library when she was a fourth grader, and was drawn to the cute and mysterious hiragana characters. She began teaching herself Japanese. She watched Japanese dramas and variety shows and practiced by talking to herself. She says she's particularly fond of Japanese comedy shows.
This time, the trainees from South Korea stayed with the families of students of Osaka Prefectural Sano High School for one night and two days.
Sun Jin says, "I was moved by how warmly my host family greeted me. I was offered the bath first, but I was hesitant to agree. They sensed that and told me I could take it later if I wanted to. They were very considerate, which I thought was a very Japanese thing."
She says that coming to Japan and learning about and feeling many things firsthand in this program was a wonderful experience. She says she wants to tell people in South Korea about the Japan she experienced.
"I'm currently aiming to go to a Japanese university. My dream is to be a scholar and study sociology. I want to become someone who can come up with solutions to various social problems," says Sun Jin.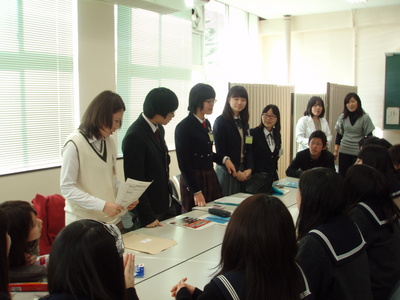 "I want to treasure these once-in-a-lifetime meetings"
The students also toured Tokyo, Kyoto and Hiroshima within the short 11-day period. BAEK Han Seul (from Daejeon Foreign Language High School) says, "Japanese cities are very clean. We found no trash left on the streets wherever we went, and that made a big impression on me."
Han Seul says she began studying Japanese when she was in fifth grade. She happened to hear some J-pop and liked it, and became interested in Japanese dramas and movies as well. At first, she says, she memorized Japanese by looking at song lyrics and subtitles for dramas.
We at the Japanese-Language Institute, Kansai have created an educational site called "Japanese in Anime & Manga" to support those learning the Japanese language. As expected, there seems to be a large number of people who become interested in the Japanese language and culture because of Japan's pop culture.
Han Seul says her favorite Japanese phrase is "Ichigo ichie" (literally "one time, one meeting" and meaning "treasure every meeting, for it will never recur").
"Japanese people are very kind and warmhearted. I was so sad when I had to say goodbye to my host family. At the end, we hugged each other and cried," she says.
"I was taught the phrase "Ichigo ichie" during a Sado or tea ceremony lesson at Sano High School. In South Korea, though, it's a borrowed foreign phrase we use, and even people who don't study Japanese know it. I met many people this time, and felt how important the ties between people are. I want to keep treasuring these once-in-a-lifetime meetings."
Han Seul says she wants to become a diplomat and improve relations between Japan and South Korea. She also happily tells us of how she was able to further her understanding of Japan during the program by mingling with Japanese people of her age.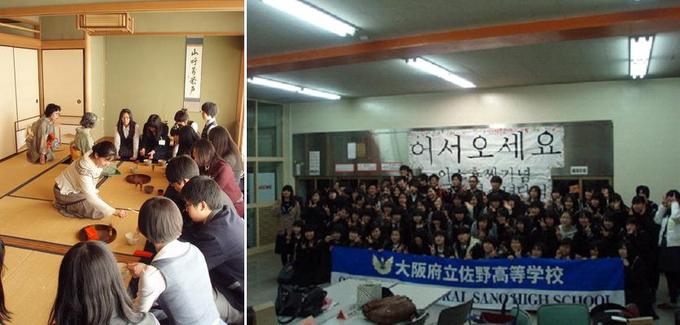 The ceremony marking the end of the program was held on January 26, which was also the tenth anniversary of LEE Su Hyon's death. He dreamed of acting as a bridge between Japan and South Korea before his untimely death. We at the Japanese-Language Institute, Kansai have accepted a total of 170 trainees so far under the program. We are once again thankful for his courage, which has allowed us to bring about these various new meetings.